Visitor Information
Famous for: scenic beauty, photography, monument.
Entrance Fee: 10 per head for Indian Nationals Rs.50 for Foreigners.
Visiting Time: 9am to 5pm (Restricted access only)
Visit Duration: 3 to 4 hours
Rajasthan's capital city is Jaipur, and with good reason, because there is a beauty and charm about Jaipur that is rather unmatched. With the numerous architectural wonders that the city of Jaipur is home to, Jal Mahal situated in the middle of Lake Man Sagar is no exception. Jal Mahal has been one of the most popular tourist destinations of Jaipur, what with it being the most photographed spot of the city, and romantic boating trips across the lake will give a visitor the spectacular view of Jal Mahal in all its magnificent glory. Plan your next visit to Jaipur with the Jal Mahal in mind and a few tips to get you through below.


Interesting Facts
Lake Man Sagar, home to Jal Mahal, lies in the north on the route from Jaipur to Amer, and has a distinct quality about itself with the Aravalli Hills in the background adding to its allure.
Sharing the common ground of Mughal and Rajasthani architecture and design, Jal Mahal is a five-storey building built of red sandstone.
Only the top floor of Jal Mahal is accessible and visible, since the remaining four floors remain submerged under the water of Lake Man Sagar.
Jaipur's government continuously makes attempts to preserve and develop the area surrounding Jal Mahal in order to maintain it as a tourist attraction.
Jal Mahal was originally constructed by Maharaja Madho Singh in 1750 for himself and his companions to rest during their duck hunting endeavours.
Maharaja Madho Singh II developed the interior and exterior of Jal Mahal later on in the 18th
Since the palace was used more as a picnic spot than a residence, there are no specific personal or common chambers.
Things to See
Jal Mahal, although just a picnic spot for the royal family of Jaipur, has a lot of architectural brilliance in it, which is why it attracts a lot of tourists.
Once there, you can visit the Palace Chhatris which are domes of traditional Rajput design, and will provide insight into the kind of architecture the royals of Mewar preferred.
The Chini Burj is a dome in the interior, made of traditional blue Rajasthani pottery.
The Pitli Burj is a dome made of brass while the Aina Burj is a charming mirror dome with a distinct allure.
The main attraction in all of the domes is the Shoba Burj, which boasts of typical designs of Rajasthani jewellery.
Jal Mahal is home to a sprawling and rich garden known as Chameli Bagh, which has been developed by the government and is now used as a platform for singing and dancing performances.
If you wish to witness the true regal patterns of the Rajput rulers, Anand Mahal Tibari in Jal Mahal is an example of intricate design made of blue and gold décor.
Raas Niwas Tibari is the hallway that depicts art and paintings of Lord Krishna, while Badal Mahal is filled with paintings of an overcast sky and rains.
Gulab Tibari adds to Jaipur's identification of being the pink city, as it consists of radiant pink colours across the hallway, making it a distinctly beautiful decoration.
Boating is a popular activity in Lake Man Sagar, which gives an ethereal view of the Jal Mahal during evenings.
Things to Carry
Comfortable shoes should be worn to ensure a hassle-free tour of the palace.
Hats and sunglasses are recommended in the summer or day time as it gets quite hot during those hours.
Cameras can be carried along but will require a fee to be paid for the same.
Entry Fees
Indian Visitors: (Adult/Child)- Rs.10
Foreign Visitors: (Adult/Child)- Rs.50
Camera Fees: Rs.25
Timings
9am to 5pm daily
Best Time to Visit
October to March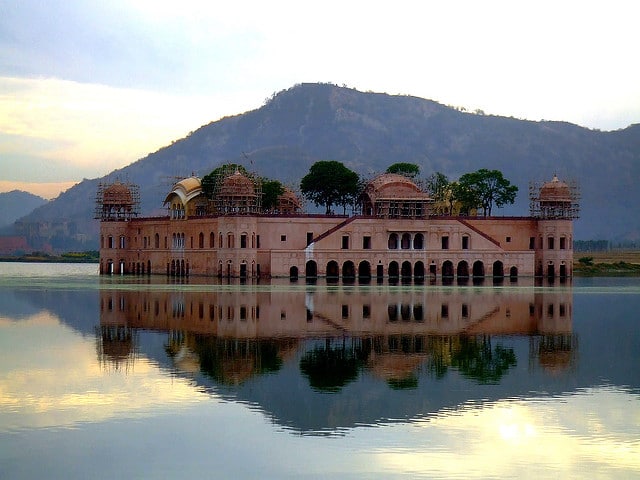 How to Reach
Jal Mahal is located a little outside of Jaipur, so using a private vehicle or a taxi to access Lake Man Sagar is the easiest way of transport. The palace is then accessed through a manual boat ride.
Nearby Attractions
The nearby Amer Fort is a very famous tourist attraction and is an 8-minute drive from Lake Man Sagar.
Hawa Mahal, Jantar Mantar, City Palace etc. are all located close by.
Jal Mahal textiles and carpets is a shop situated close to Jal Mahal where one can find authentic Rajasthani textiles.
Jaigarh Fort is a few minutes away from Amer Fort, which is also a great spot for a splendid view of the city below.
Gaitore is the cremation ground of the royal families of Mewar and especially Jaipur, where the greatest of the Jaipur's royalty have been cremated. The tombs can be seen from Jal Mahal.
With the many monuments of Rajput and Mughal architecture adorning the city of Jaipur, Jal Mahal is one that cannot be ignored for its sheer splendour mainly because it was just used as a picnic spot by the royal family. Despite it not being used as a permanent residence, Jal Mahal is quite a great example of Rajput royal lifestyle.