Experiencing a bliss as fresh as the morning dew is a rarity in this fast-paced world. Enter Dungarpur, with its charming palaces and exquisite terrains, one can feel that precious bliss at almost every step of the way. Running through its marvellous beauty are two rejuvenating rivers, Mahi and Som. Its growing prominence in the tourism industry is largely owed to its breathtaking architecture and even more mesmerising interiors, that open doors into the rich history of this place, in the most pleasing way possible. Never before have the lives of kings and queens been so beautifully etched in stone as in the intricate palaces of Dungarpur. Adding to its uniqueness are the goldsmith and silversmith industry, that provide a delicate touch of their expertise to the toys and picture frames they make. A green marble stone is also an exotic specimen found in Dungarpur and exported to various national and international markets.
Enter into the historic trance of Dungarpur by visiting these top 5 sights in this city, for the ultimate adventure experience.

1. Udai Bilas Palace
Your dream of staying in a lavish Rajasthani palace is fulfilled by Udai Bilas Palace, with the rich designs of the palace proving to be even better than a dream. Serving as a heritage hotel, the palace is embraced by the traditional Rajput architecture in the built of its balconies, windows and arches. The Ek Thambiya Mahal is one of its many sections, adorned with delightful designs in its pillars, bracketed balconies, windows and striking sculptures that could take up to a day of examining. Pareva is another wing in this exquisite palace that is decorated with the local and exotic coloured stone, and which also overlooks the lake. Have a gala time at this regal palace that you can even convert into your place of slumber of it makes your senses dance to the Rajasthani rhythm.
2. Gaibsagar Lake
The gorgeous Gaibsagar Lake is not just any other piece of naturalistic marvel that is now serving as a tourist spot. The lake has a deep cultural, historic and even spiritual connect to its people. Built by Maharaja Gopinath, the lake has a number of legends and stories attached to its waters. The banks of this lake are adorned by Badal Mahal, a dome shaped palace that offers vibrant views of the lake and the famous shrine of Srinathji, a temple dedicated to Lord Shiva. The temple showcases the splendid craftsmanship of the famed sculptors of Dungarpur, that have carved some magnificent temples in the shrine complex. Visit the Gaibsagar lake for experiencing something beyond the boat rides and recreation, visit it for the cultural connect.
3. Juna Mahal
A mammoth seven storeyed edifice, built back in the 13th century, is a true testament to the architectural marvels of our ancestors that achieved such feats without the aid of modern technology. The Juna Mahal has a rugged exterior, complete with watch towers, fortification and marrow corridors, all serving to throw the enemies off track. But once inside, the place reveals into true colours. The palace is densely decorated with murals, paintings, and delicate mirror and glass work on its walls. The blue Pareva stone is used to decorate arches, windows and pillars of the palace. The classic Rajput architecture is used beautifully to create this masterpiece, that is deemed to be unparalleled in the world.
4. Bhuvaneshwar- Shiva Temple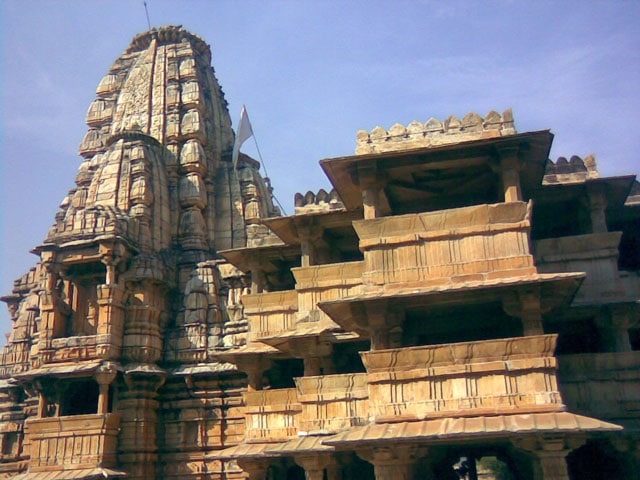 Bhuvaneshwar is located a few kilometres away from Dungarpur- a drive worth the spiritual wonders that await in this district. The place is famous for a hill top Shiva temple, surrounded by green and picturesque valleys. A naturally carved Shiva Lingum serves as the key point of marvel in this temple. The hill top also offers a number of ancient monasteries for its spiritual travellers. An annual festival called Rangpanchami showcases the Gair Dance, that becomes the centre of attraction in Bhubhneshwar. For a spiritually fuelled outing, be sure to visit this serene Shiva Temple.
5. Badal Mahal
When the Mughal and Rajput architecture combine, one is sure to expect some fireworks. That is exactly what happens at the lovely Badal Mahal, located on the banks of the Gaibsagar lake. Another monument utilising the local Pareva stone, this palace was built by Maharaja Gopinath as it served as his leisure home. Having three domes, with each of them sporting a carved half ripe lotus, the palace is sure to be a splendid addition to your itinerary in Dungarpur.
A beautiful mix of temples, palaces and lakes, Dungarpur has everything your wandering eyes year for. Take a trip down history lane and meet nature, spirituality and a lively culture on the way!
Some More Tourist Destinations In Rajasthan: