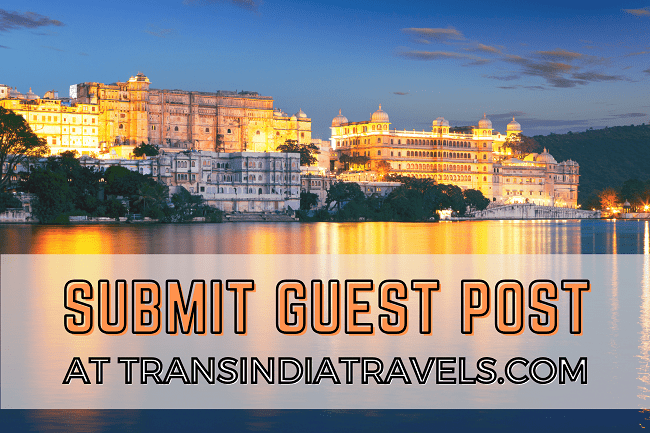 Hello there travel buffs!
We're excited to inform you that Trans India Travels is looking to expand its writers' community and you all are most welcome to join this expedition. We are sure you have some wonderful stories in your backpack, tucked neatly with some cool travel-friendly advice. We're sure that our audience will be keen to see your experiences, knowledge and travel diaries unfold.
Guest writers, welcome aboard!
We value contributions that can make the content on our website more varied. But at the same time, we'd love the guest posts to strike an instant connection with the travelers, backpackers, budget vacationers, you know ordinary people just like you.
Submitting a guest post on our website will work for our mutual benefit. In reciprocal of your quality content, you'll automatically get more traffic to your own blog or website. The backlink to your site will give it some SEO advantage too. Besides, we'll be promoting the content on our social media and email marketing campaigns.
So you see, this is a win-win situation!
Guest Post Topics We Accept
Please refrain from submitting posts that sound like a travel agent's two-day itinerary. We'd rather have content that sounds personal (and not commercial), like a friendly travel guide or a hotel review.
Let's be more specific about what we're looking for. Here are some broad topics that'll give you a better idea of the kind of guest posts we expect.
Destination guides
You can write about popular tourist destinations. Give us the details like the best places to visit, the best time to visit, recommended places to stay, how to reach the destination etc. Of course, the destination should be someplace new, not already featured on the website. Your chances to get featured will be high, if you could write about off-beat destinations.
Road trips
Did you recently take a road trip vacation? Why not tell us more about it? Road trips need extensive planning – determining the routes, timing the travel and laying out the halts. Your prior experience can guide the readers about the latest road conditions and the recommended halt points.
Things to do in a city
Your guest post can be exclusively about the things to do in the city. Tell us about the popular city attractions, museums, parks, temples, historical monuments and other spots that travelers would love to explore. Give us all the details about the hours of visit, entry fee etc.
Travel tips
The travel space is bursting with new trends and revelations. The way we travel today is significantly more advanced than it was a couple of years ago. Yet there are new challenges, travelers have to face. If you are a frequent voyager, we're sure you have some terrific tips that will help other tourists sail through their holidays.
Other travel topics
We'll love to get your post on other travel related topics, hotel reviews, destination reviews, trekking or hiking trails, anything that relates to travel in India. If you own any business related to travel apps or travel related gadgets, a guest post about your venture would be highly appreciated.
Guest Post Guidelines
The guest post should be

at least 1000 words

.

Our website is about

Indian travel

. So we're looking only for guest posts about tourist destinations in India.

Give us your original content only. We will not accept posts that are copied or spun from any other website (

even if it's your own blog

).

You can add one outbound link in the article. But the anchor text should be contextual and not be outright promotional.

You can send images and videos along with your post. The media should be relevant and royalty-free. If you're submitting your personal photos or videos, you'll be giving us the copyright to use it on our website. You can send a maximum of four images and one short video (

10 mins duration

).

Your post should be free from grammatical, punctuation and spelling errors.

We expect a well structured post, with short distinct paragraphs and appropriate headings and subheadings. Make use of bulleted or numbered lists wherever suitable.

Feel free to add a brief introduction for yourself. Please limit the introduction to 80-100 words only.
We hope this information gives you a fair idea of our expectations from a guest blogger. If you'd like any clarification, please don't hesitate to contact us.
So what are you waiting for? Get your ideas rolling and send in your submission for the guest post. You can send us an email with your submission or Google Docs / Dropbox link.
Once we receive your post, our editorial team will look into it for quality and accuracy. If your post is selected for submission, you'll hear from our editorial team within 7 days. You'll also be informed about any revisions (if required) in that email.
Please submit the form below to reach us.