The Group of islands covering a total area of 8,073 sq kilometers, the Andaman and Nicobar Islands are a union territory of the republic of India. Initially inhabited by multiple groups of indigenous tribes, the island was later used as a penal colony during the British occupation of India. Despite of the horrid reputation during the colonial period, the Andaman and Nicobar Islands this day are one of the most sought after tourist destination of India. The islands are famous for its serene, white sandy beaches characterized by sparkling blue waters. In this article we shall discuss the best places to visit in Andaman and Nicobar Islands.
1. Port Blair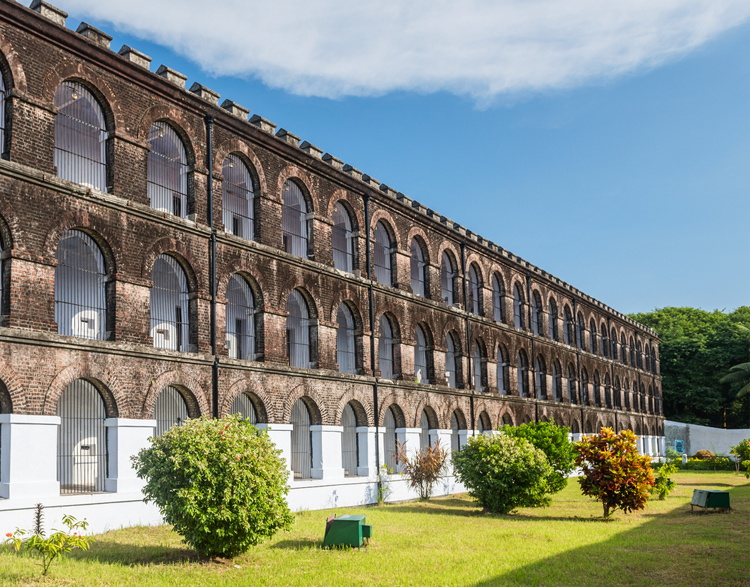 Visitor Information
Famous for: Freedom struggle, History, Nature.
Major Attraction: Cellular jail.
Nearby Islands: Ross and Viper Islands.
Ideal Visit Time: 1 day.
About Port Blair
The capital of Andaman and Nicobar Islands, Port Blair is poignant reminder of the many sacrifices of freedom fighters. The Cellular jail here is perhaps one of the most infamous remnants of India's struggle for independence. The main motive of the establishment of this prison was solitary confinement of the prisoners. The wings were built in a manner that the face of each cell only saw the back of the cell opposite to it. Many freedom fighters were incarcerated in this prison colony including Veer Savarkar and Batukeshwar Dutt. Port Blair is also a gateway to other tourist attractions in Andaman and Nicobar Islands, due to its accessibility from the mainland. Ferries operate mainly from Port Blair to other islands.
Places to Visit
Cellular Jail
Wandoor & Mahatma Gandhi Marine National Park
Japanese Bunkers
Chatham Saw Mill
Corbyn's Cove
Chidiya Tapu
Samudrika Marine Museum
North Bay Island
Jolly Buoy Island
Mount Harriet
Anthropological Museum
Sippighat Agricultural Farm
2. Havelock Islands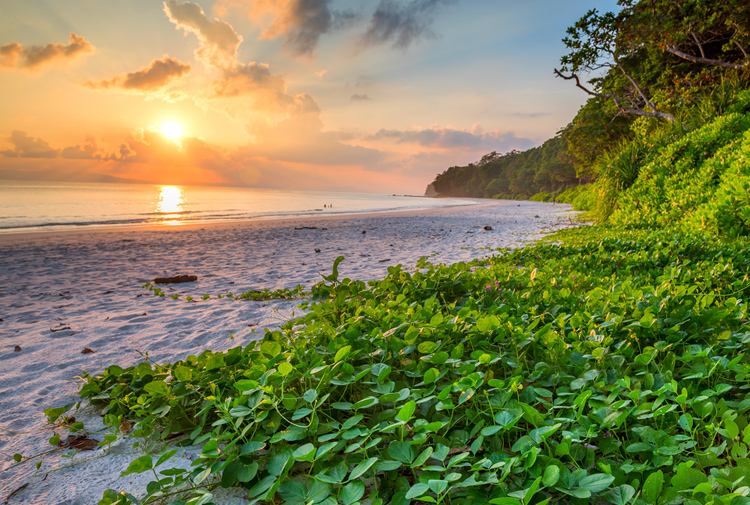 Visitor Information
Famous for: Beaches.
Major Attraction: Radhanagar beach.
Nearby Islands: Neil and Baratang.
Ideal Visit Time: 1 day.
About Havelock Islands
Havelock islands is home to Radhanagar beach, one of the most popular beaches in India and also awarded the best beach in Asia by TIME magazine in 2004. The beach is situated around a distance of 12 kilometers from the Havelock islands and is a must visit site. The waters are sparkling blue and devoid of any wave action. There are a huge number of activities that one can do like scuba diving, snorkeling, boating, fishing etc. The beach is especially popular for couples as it is almost vacant and the serene environment adds to the romance. One can also enjoy elephant rides here. The best way to enjoy the beauty of the beach is to take a camera and go on a long stroll and click photographs amidst the white sands and the blue waters, the sunset at this beach is a marvel to behold.
Places to Visit
Radhanagar Beach
Elephant Beach
Kalapathar Beach
Vijaynagar Beach
3. Baratang Island
Visitor Information
Famous for: Jarawa tribe, Caves.
Major Attractions: Limestone Caves and Mud Volcanoes.
Nearby Places: Havelock Island, Rangat.
Ideal Visit Time: Half day.
About Baratang Island
The Baratang Island are a must visit site for all the people who are planning their itinerary for the Andaman and nicobar islands. The boat ride is covered with a canopy of the forest which is also a home to the indigenous 'Jarwa' tribe. However one needs to be careful of the sea crocodiles and should not go near the water. The Limestone caves here will immediately gather your attention as the erosion have formed some unique shapes. The company of an experienced guide will make the trip more enjoyable as you might get to know some interesting facts about the local tribes and the history of these caves.
Places to Visit
Limestone Caves
Mud Volcano
Parrot Island
Baludera Beach
4. Neil Island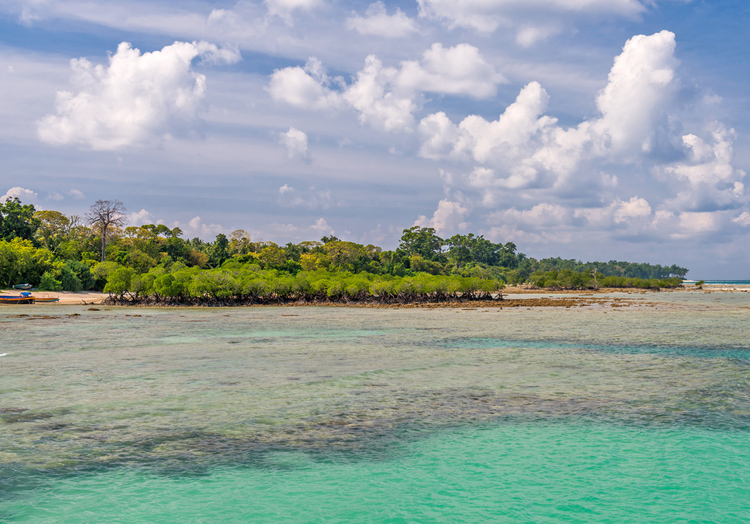 Visitor Information
Famous for: Corals, Adventure Sports, Beaches.
Major Attractions: Bharatpur Beach and Laxmanpur Beach.
Nearby Places: South Andaman, Havelock Island.
Ideal Visit Time: 6 hours.
About Neil Island
Neil island is famous for its coral reefs and white shores. The best time to visit its beaches is during mornings and evenings. The morning time is especially good for the people who would like to go snorkeling and enjoy the view of the coral reefs located here. Because of the beauty of the reefs located here, Neil islands are often termed as the coral capital of Andaman. Do not worry if you're not much of a snorkeling enthusiast, you can enjoy the beach simply by carrying a hammock and a book and enjoy the calm and cool sea breeze and indulge yourself. There are a number of benches for strollers to rest their feet and local vendors who sell coconut water.
Places to Visit
Bharatpur Beach
Sitapur Beach
Lakshmanpur Beach
Natural Bridge
5. Ross Island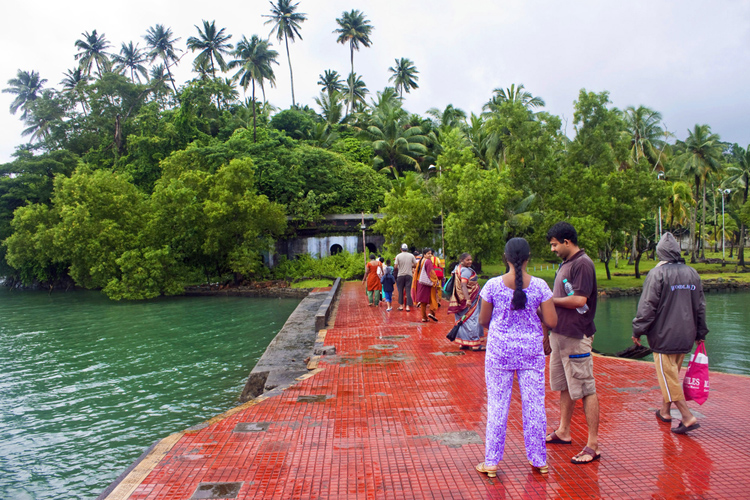 Visitor Information
Famous for: Penal colony, Colonial ruins.
Major Attraction: Indian Penal Colony.
Nearby Places: Port Blair, Viper Island.
Ideal Visit Time: Half day or less.
About Ross Island
Ross islands are famous for the ruins of Penal colony that precedes the cellular jail or the Kaala paani. The jail was formerly used to incarcerate political prisoners and we can still see the ruins of the gallows at this island. The jail had many notable political prisoners from India's struggle to independence. The island also has ruins of British's opulent colonial past in the form a bakery, bungalows etc. The place no matter how notorious it was during the colonial period is a picturesque location which is one of the most important tourist destinations in the Andaman and Nicobar Islands.
Places to Visit
Ross Island Penal Colony
British Colony Ruins.
Japanese bunkers
Barren Island
Forest Department Museum
6. Rangat
Visitor Information
Famous for: Turtles, Mangroves, Beaches
Major Attraction: Cuthbert Bay Beach.
Nearby Places: Baratang, Havelock Island.
Ideal Visit Time: 1 day or less.
About Rangat
The scenic beauty of Rangat is perfect for flora and fauna lovers. It is located on Middle Andaman Island and is famous for Cuthbert Bay Beach, which is the breeding ground for turtles. These include olive ridley turtles, green sea turtles, hawksbill and leatherback turtles. The Cuthbert Bay Wildlife Sanctuary on the beach provides an undisturbed view of newly born turtles scrambling towards the sea. Visitors can also help in marine conservation efforts by releasing turtle hatchlings.
Places to Visit
Cuthbert Bay Beach
Panchvati Hills
Amkunj Beach
Long Island
Dhani Nallah Mangrove Nature Walkway
7. The Great Nicobar Island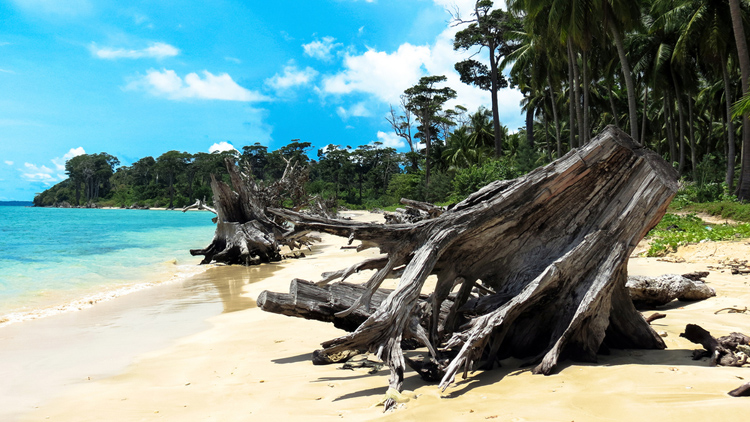 Visitor Information
Famous for: Ecological hotspot, Wildlife, Nature.
Major Attraction: Great Nicobar Biosphere Reserve, Indira Point.
Nearby Island: Little Andaman.
Ideal Visit Time: 1 day or less
About The Great Nicobar Island
The largest of the Nicobar Islands in India, the great nicobar island covers an area of 1,045 sq kilometers. The island is however sparsely populated with a population of around 10,000. The area was severely affected by the 2004 tsunami in the Indian ocean resulting in many deaths and was cut off from the outside world for a couple of days. Nevertheless, the great Nicobar island is known widely for its rainforest that houses a diverse wildlife, and is also a part of the World biosphere reserve.The island also contains the indigenous tribe called 'Shompen' which is one of the oldest tribes in the world. Wildlife photographers can also visit the Campbell bay which is home to a number of unique fauna including includes Crab-eating macaque, giant robber crab, megapode, and Nicobar pigeon.
Places to Visit
Great Nicobar Biosphere Reserve
Indira Point
Campbell Bay
Tourist places in Andaman and Nicobar Islands are famous for their relaxing and quaint beaches, a rich reserve of unique flora and fauna. Although it is a tough task to contain all the places you can visit in these island paradise but we have a made a humble attempt to mention the places which we considered are of prime importance and should find a place in every tour itinerary.
Please feel free to share your tour experiences of Andaman and Nicobar Islands (in comments section below).