Andaman and Nicobar Islands are known for their consummate level of natural beauty. These islands are blessed with an unmatchable presence of flora and fauna. These islands are surrounded by deep forests and lagoons. These forests are the hiding houses for some of the rarest species of animals and plants. Apart from animals and plants, Andaman and Nicobar Islands have also become a dream destination for bird watchers. Nicobar Pigeon, found in the vicinity of Nicobar Islands, is the most popular bird among the tourists.
A significant number of tourists visit Andaman and Nicobar Islands for their National Parks. These islands are home to over 9 National Parks. These national parks are known for being intensely dense and diverse. Andaman's national parks are counted among the favourite places for wildlife activists, photographers and conservationists. Here is a detailed account of top 5 National Parks in Andaman and Nicobar Islands.
1. Mahatma Gandhi Marine National Park, Port Blair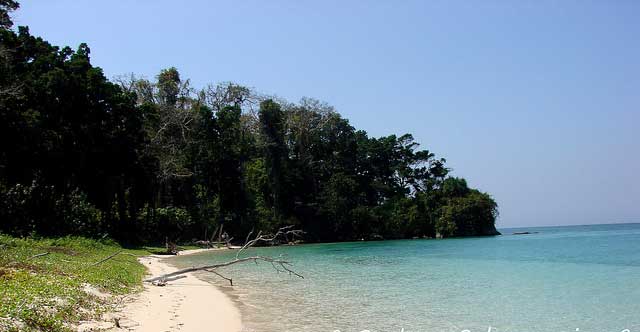 Photo by Sankara Subramanian, CC BY 2.0
Mahatma Gandhi National Park is a newly built national park and is situated near the Wandoor Beach of Port Blair. It is a man-made park in which a huge variety of flora and fauna is kept inside in the form of samples. The park comprises of over 15 islands that primarily comprise of mangrove creeks, tropical rainforest and reefs. The climatic conditions of these islands support over 50 types of corals and colourful fishes. The shores of these islands are breeding grounds for 5 different types of marine turtles.
Marine National Park is popular among the visitors for its living coral reefs, colourful marine life and snorkelling trips that usually take a day or half. The park has two snorkelling sites namely Jolly Buoy and Red Skin which open on an alternating basis for the tourists. Water lizard, wild boar and sea snakes are among the important fauna species that are found here.
2. Mount Harriet National Park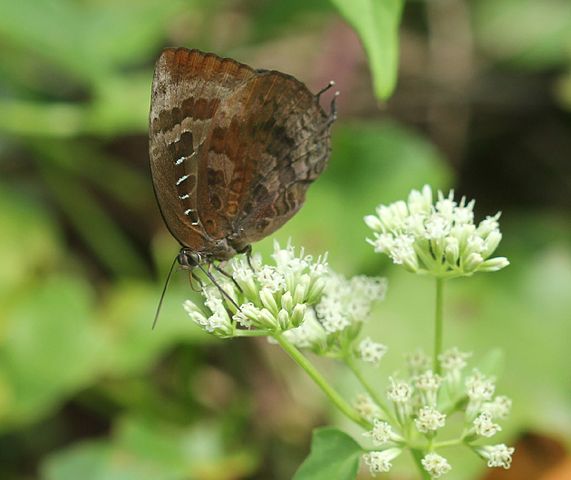 Photo by Chinmayisk, CC BY-SA 3.0
This park is spread across 46 square km and is situated at a height of 383m. Among the 9 National Parks of Andaman and Nicobar Islands, Mount Harriet National Park is the most exotic and one of the most visited national parks. It is situated in the Ferargunj District of Port Blair and it usually takes an hour to reach here from the capital.
Mount Harriet's peak is the third highest and also one of the most easily accessible peaks of Andaman and Nicobar islands. Travellers admire this place for its peaceful environment and breath-taking views of sea from its peak. Unlike conventional national parks, Mount Harriet is home to very few species of animals that include Andaman wild pigs, turtles and robber crab. This park also has a Forest Guest House for the visitors who want to spend a night in the park. On visiting this park, one gets immersed in its natural beauty and exotic views of the entire island from the top.
3. Campbell Bay National Park
Campbell Bay National Park is situated at about 190 km from the Sumatra region of Indian Ocean and spans across an area of 426 square km. The journey to this national park goes through dense evergreen forests and tree ferns and is a truly memorable experience for the travellers.
If you are coming from Port Blair, you will have to hire a government run helicopter or boat service to reach from Port Blair to Campbell Bay. This national park is rich in aquatic life and houses a wide range of flora and fauna. Wildlife present in this national park includes species like Megapode, Crab-eating macaque, Nicobar Pigeon and Giant Robber Crab etc. Park authorities also offer camps and cabin facilities for adventure lovers. The period from March to October is considered as the best time to visit this 'mysterious' park.
4. North Button Island National Park
North Button Island Park is situated in the Andaman district of the islands and is spread across 114 square km of land. Long Island is the closest town to the North Button Park and is situated at a distance of 60 km from it. One can hire a boat service to reach from Long Island to the North Button Park.
This park is often visited for the rich presence of diverse animal species here. Important fauna species found in the park include Dugong, Dolphin, Water Monitor and Lizard. Months ranging from December to March are considered as the most appropriate months for visiting this national park.
5. Saddle Peak National Park
Saddle Peak National Park spans across an area of 85 square km and lies in the northern part of Andaman District. This national park is famous for housing some of the most endangered and rare species of flora and fauna. Vegetation found in this park is unique and is rarely found in the national parks of mainland India. Because of such rare features, Saddle Peak National Park has become a hot spot for naturalists in the recent years.
Major fauna varieties found in this park include wild pig, Andaman Hill Myna, Imperial Pigeon, Water Monitor Lizards and Saltwater Crocodiles. This park is also a delight for trekking lovers as it offers an eight km long trek from its entry to the peak of the mountain. As far as accommodation facilities are concerned, Saddle Peak Park has 2 resorts for the comfort of tourists.
Andaman and Nicobar Islands are the best examples of natural beauty of India. National Parks situated in these islands are the most diverse and densely populated ones. The above mentioned parks have been cautiously selected and will give you the most happening experience of Andaman and Nicobar islands