Ross Island is a small and simple island in the Andaman & Nicobar Islands that invites all fellow travelers to experience the simplicity of life in its humble abode. The island is frequented by people who wish to spend some quiet moments in the lap of nature, unperturbed by the worries of one's routine life. The place is of great cultural and historical importance, as one finds many ruins of colonial buildings and churches adding grace to the already charming location. Ross Island was unfortunately hit by an earthquake, due to which a number of establishments are in ruins. However, standing strong and ever graceful, Ross Island is still one of the top choices for travelers looking to spend their evenings by the beach and their nights under a starry sky.
1. Ross Island Penal Colony
Famous for: Colonial life, Ruins, Freedom struggle.
Tickets: No entry tickets.
Opening Timings: Open Daily till sunset.
Duration: 2 hours.
About Ross Island Penal Colony
Ross Island was primarily set up as a penal colony in the year 1858 to punish the 'most hard lined people' according to British. The atrocities inflicted on the prisoners included unauthorized medical tests and methodical torture. Indian prisoners were mainly forced to build opulent houses and infrastructure for British officers. The administrative headquarters for the entire group of Andaman and Nicobar Islands was also here from 1857 to 1941. To put things in perspective, according to a medical examination in 1862, about 45 prisoners were found to be medically sound out of 10,000 prisoners. The ruins of the penal settlement are a reminder of the horrors of the British colonial rule in India.
Things to Do at Ross Island Penal Colony:
Light and Sound Show from 5:15 pm.
Explore the nearby british colony ruins.
View the many deers and peacocks.
2. British Colony Ruins.
Famous for: British colony, Ruins.
Tickets: No tickets.
Opening Timings: Open daily till sunset. Timings for Ross Island Memorial documentary are from 9.30 am to 9.45 am & 11.30 am to 11.45 am. Documentry on Andaman Islands from 3 pm to 4pm.
Duration: 2 hours.
About British Colony Ruins
Once called as the 'Paris of East' during the british rule in India, The British colony ruins on Ross Island are a reminder of the opulence enjoyed by Britishers while Indians struggled. A water distillation plant, ruined bungalows, a printing press, a tennis court, a secretariat and every other building imaginable for an extravagant colony. The Presbyterian Church and a Bakery, which was rebuilt by Indian Navy are the main two attractions of this ruined colony.
Things to Do at British Colony Ruins:
Ross Island Memorial documentary.
Documentry on ANdaman Islands.
Shop for souvenirs in the bakery.
3. Japanese bunkers
Famous for: Japanese occupation, World war II.
Tickets: No entry tickets.
Opening Timings: Open daily till sunset.
Duration: 2 hours.
About Japanese bunkers
Ross Island was occupied by Japanese during the year 1942 during World War II and all the British administrative buildings were destroyed forcing the British to flee. The Japanese too like the British, inflicted torture on the local Indian population here and killed many inhabitants living here. Subhash Chandra Bose visit to Ross Island during this time did not help the many nationalists who were trapped here by the Japanese. Japanese used Ross Island as a war base and built bunkers, a cannon holder and lots of tunnels around the Island which are still standing in good condition here.
Things to Do near Japanese Bunkers:
Take a guided tour to know the history.
Visit Farzand Ali Store.
4. Barren Island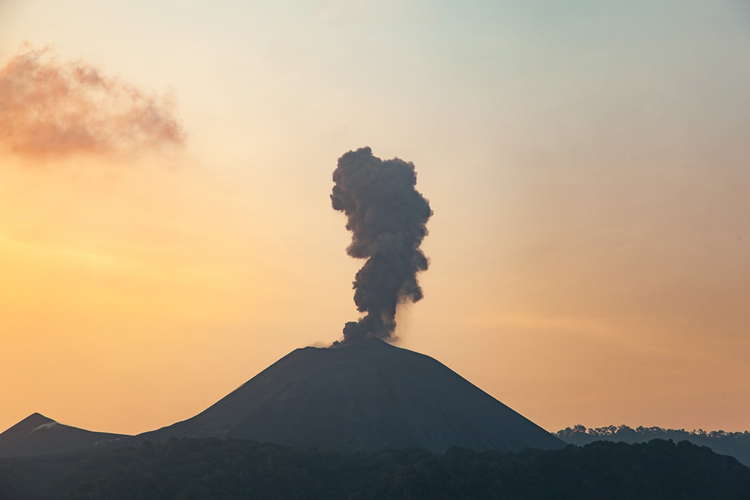 Visitor Information
Famous for: Active Volcano, Isolation, Adventure.
Tickets: About 400 to 1000 INR person for a govt. approved passenger ship.
Opening Timings: Passenger ships every Tuesday, Thursday and Saturday. Leaves at 9pm from Phoenix Jetty, Port Blair and comes back the next day at 11 am.
Duration: 14 hours for a round trip.
About Barren Island
To experience the glory of nature that may at times become wrathful, visit the Barren Island, the only island with an active volcano in South Asia. The volcano shaped island is a source of immense curiosity and wonder for travelers, who visit the island specially to capture what a live volcano looks like. Getting down on the island is not an option and a round trip to here would take about 14 hours from Port Blair. A visit here is recommended only for the truly adventurous and who want to see India's only active volcano.
Things to Do around Barren Island:
Snorkeling on the way here.
Scuba Diving (only for experienced).
5. Forest Department Museum
Famous for: Museum, Forest department, Wood.
Tickets: 5 INR for adults & 3 INR for children.
Opening Timings: Open daily except sundays from 9am to 12pm & 2:30pm to 4:45 pm.
Duration: 2.5 hours.
Location: Port Blair, about 4.4 km from Ross Island.
About Forest Department Museum
To discover the workings of a forest, the Forest Department of Andaman & Nicobar Island that devised an ingenious museum that highlights the forest activities in an attractive manner. The most unforgettable pieces in this Forest museum are the different artefacts by different types of wood like satin wood, pine etc. These wooden ornaments add an old world charm to the museum that encapsulates all the senses. Visit this lovely museum to enrich your knowledge about the place that brings us all the products we use- our life-giving forests!
Things to Do at Forest Department Museum:
Visit Mini zoo.
Stroll inside Zoological Garden.
Take a tour of Chatham Saw Mill Complex.
Visit the ever-glowing Ross Island for some extraordinary moments within nature's embrace. The place breathes a new life in all those who stay here, reminding them of the necessity of outdoors and the colour of life. With a world, full of happiness at your feet, Ross island will surely make each second truly joyful for you and your companions.