Rangat is the perfect place to travel if you are in love with nature. This place is an obsession for those who find beauty in the blue crusty sea waves and the gusty sea breeze. It has the most amazing white sandy beaches which are ideal for a perfect sunbath spot. The place is filled with lush vegetation and clear skies. It is the ideal place to go for a long relaxing vacation away from the hustle bustle. Rangat provides you with innumerous opportunities to enjoy and have a really fun time.
This place will leave you with many memorable memories and a whole lot of enjoyment in just a single trip. So, let's take a look at what this beautiful place has to offer.
1. Cuthbert Bay Beach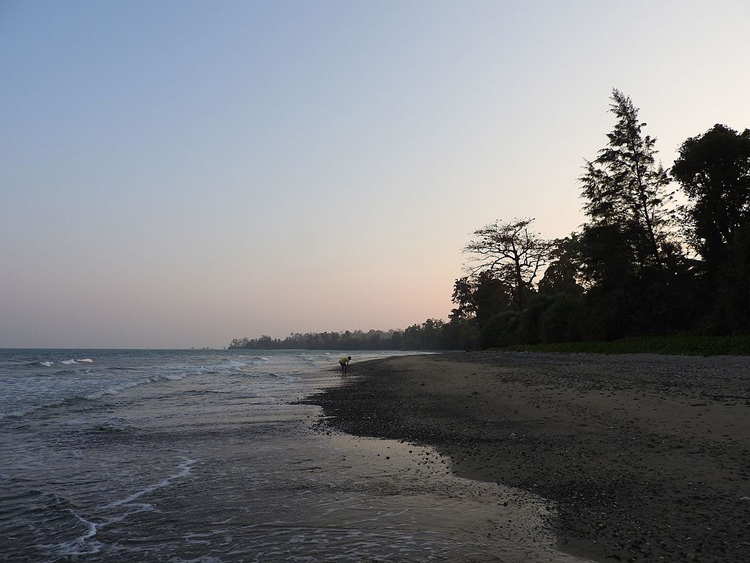 Visitor Information
Famous for: Turtles, Beach, Nature, Flora, Fauna.
Tickets: No entry fee. Charges for entering sanctuary adjacent are : 25 INR for Indians, 10 INR for children and 250 INR for foreigners.
Opening Timings: Open 24 hours.
Duration: 1.5 – 2 hours.
About Cuthbert Bay Beach
This is a little lesser-known beach but second to none in scenic views and beautiful surroundings. It is another one of Rangat's natural gems that is multi-faceted in its beauty. It has some astounding spots which give you the most epic views of the crystal-clear horizon and the behemoth sea. There is another main reason to visit this brilliant beach. Cuthbert Bay Beach is a famous nesting ground for turtles! During the months of December and January the entire beach has tiny baby turtles paddling towards the beach. Now that is more than enough reason to go visit this amazing beach.
Things to Do at Cuthbert Bay Beach:
See the nesting of turtles at the sanctuary (seasonal).
Visit the Eco Hut.
Walk in the coastal zone.
2. Panchvati Hills
Famous for: Waterfalls, Nature, Agriculture, Photography.
Tickets: No entry fee.
Opening Timings: Open 24 hours. Advisable to visit it before sunset.
Duration: 2 hours.
About Panchvati Hills
Panchvati Hills are without a doubt one of the best examples of nature at its finest form. The waterfalls here are breathtaking and are any photographer's delight. This area is mainly inhabited by immigrants from South India and an imprint of their culture is very much evident here. Fishing and agriculture forms the main source of income for people living here, as can be evident by the sprawling agricultural lands nearby.
Things to Do around Panchvati Hills:
Trekking.
See the Panchvati Waterfalls.
Observe the agricultural lands.
3. Amkunj Beach
Famous for: Rocky Beach, Watchtower.
Tickets: No entry fee.
Opening Timings: Open daily.
Duration: 1 hour.
About Amkunj Beach
One of the most famous beaches, Amkunj beach seems almost unreal at first sight. You will not be able to fathom its enriched and vivid colors and the freshness associated with it. The stretch of white sands with the azure sea waves breaking over it will enchant you. This is a major recreation place not just for the tourists but also the locals. It is quite well renowned because of its terrific atmosphere and beauty. It is a great place to go for long strolls or a dip in the sea. Everything just seems perfect in this place.<br/>Another unique thing about this beach, are its benches and dustbins. After the tsunami of 2004, many trees were uprooted and lay strewn across the beach. To utilize them, the trees were converted into benches, stools and dustbins. They were placed around the beach for the general public. This place has transformed into a much more wonderful place after the tragedy.
Things to Do at Amkunj Beach:
Views from watch tower.
Sunbathing.
Beachcombing.
4. Long Island
Famous for: Virgin Beaches, Nature.
Tickets: No entry fee.
Opening Timings: Open 24 hours.
Duration: Half Day.
About Long Island
A scenic and isolated island, Long Island is a vision to behold. It's isolation has undoubtedly being helpful in preserving its natural and pristine form. It used to be the home of Kitply industries who shut their operations here and since then, this place has been a little less busy than before. There are many pristine beaches around this island with mangroves forests surrounding them. If your are lucky, you can even spot dolphins who frequent this place!
Things to Do around Long Island:
Visit the famous Lalaji Beach.
A trip to Guitar Island.
Relax at Merk Bay Beach in North Passage Island.
Snorkeling & Scuba Diving.
5. Dhani Nallah Mangrove Nature Walkway
Famous for: Mangroves, Nature, Creeks, Beach.
Tickets: No entry fee.
Opening Timings: Open daily.
Duration: 1 hour.
About Dhani Nallah Mangrove Nature Walkway
If nature walks are your thing, then this is going to be the most enjoyable time in Rangat for you. This walkway is ravishing in its serene and mesmerizing beauty. It is a wooden boardwalk that zig-zags through the mangrove forests on the Dhani Nallah Beach. It is one of the most scintillating places in Rangat, and has transformed into a major crowd puller. The true beauty of this place can be seen during sunrise and under the moonlight. And if you are really lucky you can get the chance to watch turtles nestling inside the sandy beaches. This walkway is one of its kinds in the whole of India. On the whole, it is an amazing experience to walk besides the mangrove forests. It gives you the feeling of being one with the beautiful nature.
Things to Do near Dhani Nallah Mangrove Nature Walkway:
The pathway leads to Dhani Nallah Beach.
Turtle Breeding (Seasonal).
Other nearby attractions around Rangat are Moorys Dare (for trekking), Yerata Mangrove park and Yerrata creek.
Rangat is one of those amazing places that show you a different unique side in every visit. There is no place like Rangat in the entire world. It has a special something about it that cannot be put into words, something that attracts tourists from far and wide.
I guess it's time for you to start packing your bags for this place. Hurry up and find out a new unique vacation spot in the Andamans.