One of the most secluded and mysterious national parks in India is the Campbell Bay National Park. Situated on the Nicobar Islands, it was notified as a National Park in as recent as 1992 which also included it in the Great Nicobar Biosphere Reserve (also see: national parks in andaman and nicobar islands). About 190 kilometers from Sumatra in the eastern part of the Indian Ocean, Campbell Bay National Park covers an area of 426 square kilometers. This park is separated by a buffer zone of a stretch of forest land 12 kilometers wide known as the Galathea National Park. Just getting to the national park is a journey one will remember for days to come. Thick tropical evergreen forests and tree ferns dominate the landscape with beautiful orchids for a wonderful photography experience. Mangrove forests have their unique ecosystems which add to the rich ecosystem of the national park.
[Also Check: List of Best National Parks in India]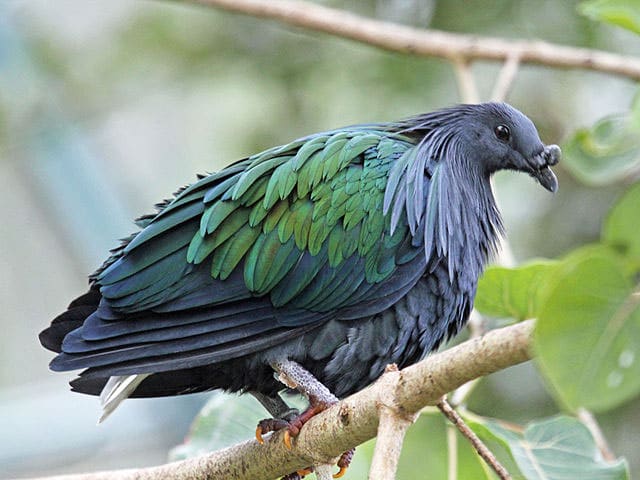 Since the national park is set in the island of the Indian Ocean, one needs to hire the government operated helicopter service, Pawan Hans from the capital, Port Blair. You can also board the boat and ferry services from Port Blair, a unique and memorable trip in itself, as you scan through the mighty waters. As birds favor this paradise, on reaching there, you can perch yourself atop one of the many watchtowers or machans and observe the pristine beauty of the park while spotting some of the avian life.
Climatic Conditions
The climate at Campbell Bay National Park is hot and humid though it has moderate temperatures compared with most parts of the country with the mercury touching 31 degrees C in the summer months and 20 degrees C in the winters. Visitors are advised to wear lightweight cotton clothes suitable for the torrid weather conditions.
Best Time To Visit
The best time to visit this national park in between the months of March and October when the weather is at its most pleasant and orchids as well as other wild flowers are in bloom. This is the time when the otherwise already beautiful park is at its best.
Wildlife At Campbell Bay National Park
Rich in aquatic life, Campbell National Park has some unique flora and fauna for wildlife enthusiasts and nature lovers. Some species found at this park have been introduced.
Wildlife that can be spotted here include the Crab-eating Macaque, the Megapode, The Giant Robber crab and the Nicobar Pigeon. One can also see Olive Ridley turtles as well as Leatherback Turtles, Wild Boar, deer and Civet cats. Tree ferns and orchids are in abundance here.
Distance From Major Cities
Campbell National Park is about 3 hours by helicopter ride from Port Blair. It is about 298 nautical miles from the capital city of Port Blair.
Chennai– 1640 kilometers
Kolkata-1830 kilometers
Vishakhapatnam -1661 kilometers
Bengaluru-1906 kilometers
Mumbai- 2640 kilometers
Chandigarh-2848.6 kilometers
Hyderabad-2034 kilometers
New Delhi-2975 kilometers
Indore-2606 kilometers
Nearest Airport
The Veer Savarkar International Airport at Port Blair is the nearest airport to connect you to Campbell Bay.
Nearest Railway Station
Port Blair does not have a railway station.  The nearest railway station is Chennai about 1369 kilometers from Port Blair. From there, you can travel by helicopter or ferries.
Road Accessibility
There are no busses or transport for Port Blair. It has to be reached by air.
Accommodation Facilities
There are camps and cabins to accommodate the adventurous traveler. You can also stay at Havelock Island or Port Blair. Port Blair has many hotels and inns to choose from according to your budget and Havelock has many beautiful hotels with amazing views of the pristine beaches.
Entry Fees
For international tourists, permission is required to visit Port Blair and other islands. These can be availed for a period of up to two weeks of stay. For visiting other islands like Car Nicobar and Havelock Islands, you need to file an application and wait for approval from the Foreigners Regional Registration offices in all four metro cities— New Delhi, Chennai, Kolkata and Mumbai. To visit the protected tribal areas one is required to seek permission from the office of the Deputy Commissioner at Port Blair.
Useful Contacts for Bookings and Accommodation
Directorate of Tourism
Andaman & Nicobar Islands
Kamaraj Road
Port Blair
Phone- 03192-232694/232642
Fax-03192-232747
Shipping Corporation of India Ltd
Apeejay House
4th Floor
Dinsa Wacha Road
Mumbai
Phone-022-2822101/2823316
Shipping Corporation of India Ltd
Shipping House
No 13
Strand Road
Kolkata
Phone-033-2482354/2488013
Shipping Corporation of India Ltd
Jawahar Building
Rajaji Sarai
Chennai
Phone –044-25231401
The Directorate of Shipping Services
A&N Administration
Phoenix Bay Jetty
Port Blair
Phone -03192-232528/232742