Stretching across 64 square kilometers, Middle Button Island National Park is larger than the South Button National Park and North Button National Park. It was established in 1979 and is situated close to the city of Long Island. This Park is a perfect blend of tranquility and adventure. This Park, which is famous for its varied and exotic aquatic life features on the Government of India's list of Protected Areas. The balmy breeze of Middle Button National Park beckons the travel enthusiast with a promise of adventure.
Climatic Conditions
The climatic condition at Middle Button National Park is mild. This area has heavy precipitation as it is situated in the heart of the tropical zone. The temperature ranges from 30 degrees Celsius in the summer to 15 degrees Celsius during winters. The weather is conducive to travel year-round. On a daily basis the temperature in the park ranges from 20-30 degrees Celsius.
Best Time to Visit
Though Middle Button National Park has amiable climatic conditions almost throughout the year, the best time to visit this Park is between the months of December to April. At this time the temperature is relatively lower and it is more pleasant. Traveling here during the months of June to October is relatively difficult owing to heavy rainfall.
Wildlife at Middle Button Island National Park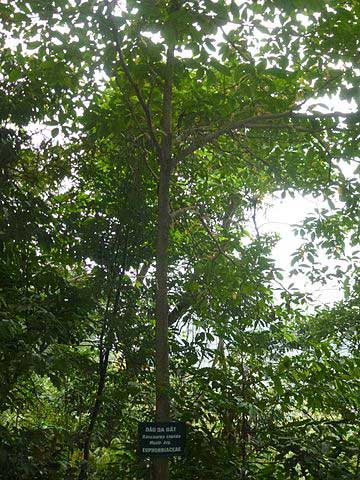 The Middle Button National Park has spectacular tropical flora and fauna. The flora comprises mostly of deciduous forests including the following plant species Endospermum chinensis, Dipterocarpus grandiflorus, Hopea odorata, Artocarpus gomeziana, Parishia insignis, Artocarpus chaplasha, Dipterocarpus pilosus, Hopea odorata, Calophyllum soulattri, Dinochloa andamanica, Parishia insignis, Salmalia insignis, Calamus palustris, Artocarpus gomeziana, Sideroxylon sp, Canarium manii, Aprosa villosula, Baccaurea sapida, etc.
Animals – Spotted deer, Water lizards and Monitor lizards etc.
Aquatic Creatures – Dolphins, Dugong, Sea Turtles etc.
Activities In and Near the Park
Within the Park one can indulge in activities like scuba diving, snorkeling, nature walks etc. the Park is especially famous for its rich aquatic life which is scenic and well preserved, the promises of an intriguing experience to a person of any age group. Around and near the park one can visit the famous Havelock Island which is a hub for eco tourism, Turtle Island, Ross and Smith islands, the picturesque Middle button lighthouse, Mayabunder and Barren Island which is famous for the only active volcano in South East Asia.
Distance from Nearby and Major Cities
The nearest town from this Park is the town of Long Island. The Park lies 64 km to the south of Long Island.
Port Blair – 200 km (124.2 miles)
Chennai – 1500 km (932 miles)
Vishakhapatnam – 1424 km (884 miles)
Nearest Airport
The nearest airports are in Port Blair city, Chennai and Visakhapatnam.
Nearest Railway Station
Nearest railway station is Chennai Railway Station in Tamil Nadu.
Road Accessibility
Middle Button Island National Park is not connected through roads. Travellers can reach the Park through ferries provided by the Park authorities from Port Blair.
Accommodation Facilities
Accommodation is not available within the Park but permission to camp using your own particular tents can be acquired from the Park authorities. Alternate and affordable accommodation is available at Port Blair and Havelock Island. Some hotels that are situated near the Park and are easily accessible are:
Hotel Sinclairs Bay View
Address: Corbyns Cove Road, Port Blair – 744106, IN
Sun Sea Resort
Address: M G Road, Middle Point, Port Blair – 744101, IN
Tsg Emerald View
Address: 25 Maulana Azad Road, Phoenixbay, Port Blair – 744102, IN
Sea Shell Hotel
Address: #2, Govind Nagar Beach, A & N Islands, Havelock Island – 744211, IN
Andaman Residency
Address: Goalghar,Portblair, Andaman Islands, Port Blair – 744102, IN
Entry Fee
Travellers must get in touch with the authorities of Middle Button Island National Park regarding the entry fee.
Contact Details
For any query regarding the accommodation, activities, transport etc. travellers can contact the Directorate of Tourism Incharge at:
Directorate of Tourism
Incharge (Tourism Information)
Andaman & Nicobar Administration
Kamaraj Road, Port Blair – 744101
Phone: 03192-232 694, 232 642
Fax: 03192-232 747, 230 933
E-Mail id: accomodation6@gmail.com
And for permissions for camping in the region can be obtained from:
Divisional Forest Officer
Middle Andaman,
Long Island,
Andaman-744203