'A magical experience awaits you in the midst of the ocean.'
Off the south-east Indian coast emerges a rock from the pristine waters of the Bay of Bengal. This mighty piece of rock supports, yet unexplored but seemingly an immense variety of biodiversity. This is the South Button Island National Park residing atop the South Button Islands, a part of Andaman and Nicobar group of islands (also check: best national parks in Andaman Islands). Just the mere sight of this island is mesmerising and would make you want to go there! It covers an area of 5 sq km and lies 2 hours away from the spectacular Havelock islands via a motor boat. This national park is a part of the Rani Jhansi marine national park and has emerged as a popular destination for scuba diving and snorkelling. However, a lot remains to be known about the South Button Islands. It is a great opportunity for adventure junkies and nature lovers to go on an exploration spree!
[Also Checkout: Best Wildlife Sanctuaries in India]
Climatic Conditions
An oceanic type of climate seems to prevail at the islands. The average temperature lies between the range of 20˚C to 30˚C. The island receives heavy rainfall during the monsoon months of June to October.
Best Time To Visit
Best time to visit south button island national park is from December to April.
Wildlife & Vegetation
Animals and Marine diversity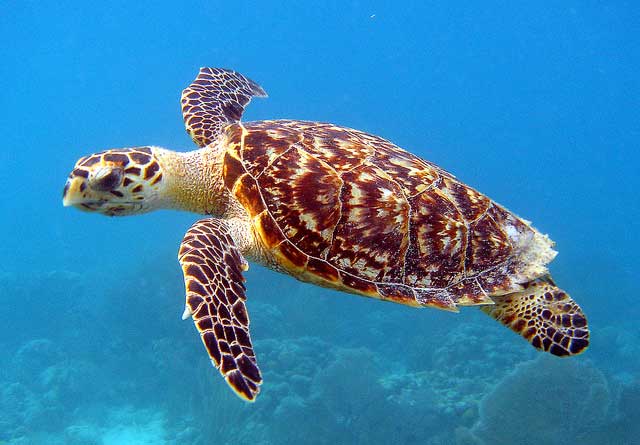 Photo by U.S. Fish and Wildlife Service Southeast Region, CC BY 2.0
An astonishing variety of marine life of every colour can be found at South Button Island national park. Of the known species, the animals found here include dugong, water lizards, sea turtles, shrimps, dolphins, octopuses, and blue whales. Schools of fishes found here are snappers, sweetlips, nudribranchs, lion fishangel fish, butterfly fish, devil ray, manta ray, barracuda etc. This island is reportedly a significant breeding ground for sea turtles and the endemeic Andaman greyrumnped swiflet. Very few terrestrial animals are found here.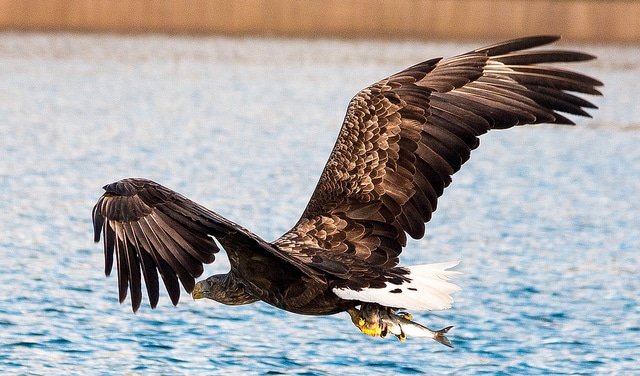 Photo by Martin de Lusenet, CC BY 2.0
Among the birds found here, white bellied sea eagle can be commonly spotted.
The prime vegetation of south button island are the shallow water coral reefs with high visibility and the tropical coral reefs found even at a depth of 6 feet! The plant species found here include Calamus palustris, Dinochloa andamanica, Parishia insignis etc.
Distance From Nearby and Major Cities
South Button Island National Park is close to Long Island, Havelock Island and Port Blair. Distance from these and other major cities is as follows:
Havelock island: 24 km
Port Blair: 74 km
Kolkata: 1252 km
Chennai: 1387 km
Hyderabad: 1664 km
Kanyakumari: 1755 km
How To Reach
By air: Nearest airport is Port Blair which is well connected to Chennai and Kolkata. Only two operators i.e., Kingfisher and Jet airways are functional here. Find more info here www.dgca.nic.in
By waterways: It takes 2 hours to reach South Button Island from Havelock Islands using a motor boat. You can also hire boats from Port Blair.
Local Attractions
South Button is a popular destination for scuba diving and snorkelling.
Long Island and Havelock Island lying close to South Button are an awe-inspiring bunch of islands. The scenic beauty of the beaches here is beautiful beyond what words can describe. You ought to be there to experience the bliss!
North Button and Middle Button islands along with South Button Islands form an arch in the Bay of Bengal. These are spectacular islands that you simply cannot miss!
Accommodation
Accommodation options are available at Long Island, Havelock Islands and Port Blair. Some of these include:
The Wild Orchid: These cottages are located at Havelock islands. These are typical Andaman style cottages with decent facilities and a breathtaking view.
Abhishek Hotel: This is a renowned hotel offering 24 hrs cable TV, telephone service in every room and beautiful views. It is located a few kilometres from the airport.
Other Useful Information
Timings: 12 am to 12 pm
Visitors are requested to contact the Park authorities for entry fee, boat rates, additional fee etc.
Scuba Diving at South Button costs Rs. 6,600 for 1 dive.
Snorkelling at South Button costs Rs. 3,500.
Useful Contact
Directorate of Tourism
Incharge (Tourism Information)
Andaman & Nicobar Administration
Kamaraj Road, Port Blair – 744 101
Phone: 03192-232 694, 232 642
Fax: 03192-232 747, 230 933
E-Mail id: accomodation6@gmail.com