Rajasthan, the land of kings and royals in India, abounds in tradition, history and heritage. All that manifests in the form of the temples, forts and palaces one finds by the dozen in its tourist places. One such perfect destination is Nathdwara. This little haven is located sprawled sideways along the magnificent Aravalli hill range and provides vantage points. Aside from the traditional tourist attractions, it provides a fancy shopping district or two. It's enviable for photography and sightseeing while on tour. It is located in the heartbed of Rajasthan, and is therefore accordingly hot in summer. Plan ahead for the perfect timing for your vacation. Stay with us as we count down the top 5 attractions of this place.
1. Shrinathji Temple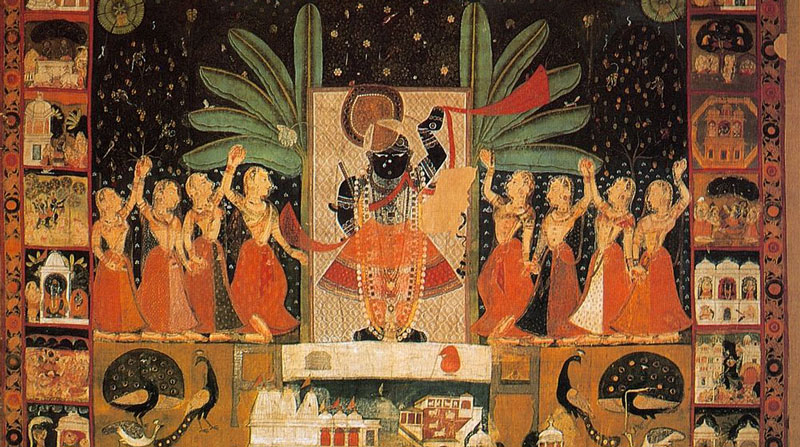 Shrinathji Temple is dedicated to worshipping the lord Shrinathji that is worshipped in India and nearabouts as well as in parts of Russia. It is heavily tied to influences of Indian god Krishna, whose idol was moved here under dire circumstances. There are distinctive features of the architecture here, complete with flags, and compartments like the treasury, pantry or stable inside. There are particular times when tourists throng to it, like festivals of Holi, Diwali. But it is open as Vaishnav pilgrimage all over the year.
2. Mandir Chauk
This one, another temple boosting the heritage value of the place, is located in Eklingji, a famous place in its own right in Nathdwara. The temple structuring is reminiscent of many other famous temples like the Jagannath temple in Puri, by virtue of its structure. Mandir Chauk has structure which looks like narrowed domes at the top. It is made of both reddish and whitish construction material. This is a destination for the true history, architecture and photography buffs around there. If you want to learn history then the backstory is superb, as is the architecture. The photo opps all around are ideal as well.
3. Dwarkadheesh Temple
This is another temple and heritage site in Nathdwara, a true historical landmark. It boasts of unique historical and architectural merit. It is often viewed in pairs with the equally significant Kankroli temple. This temple is easy to reach and conveyance is readily available. Dwarkadheesh Temple is a famous pilgrimage site, and the backstory tells of how the all powerful Hindu Lord Krishna used to be as a child, and how he was looked after then. This should be priority visit if you are in Nathdwara.
4. Rakht Talai (Haldighati)
The name of this heritage history site translates literally to "The Well of Blood", so you can probably understand its wartime significance. This is useful for highlighting the history in the times of the great Maharana Pratap, and his wars have been shown in the form of statues on horseback. Videos are also played on his life. There are mountain ranges close by, but sometimes the management here keeps things to be desired. There is an exclusive Maharana Pratap Museum nearby as well, highlighting how important the man was in consequence to these places.
5. Mavli Junction
You've seen temples, and you've seen forts. You've seen palaces, and you've even been to heritage hotels. Think you've seen it all? Think again, because this railway station is going to meet tourist expectations like a boss. Mavli Junction is one destination that is popular because of diverse reasons. It is on one hand an excellent passageway to Mumbai, very convenient from other parts of the country as well, and especially for Vaishnav pilgrims. On the other hand, it has architectural merit that is visited from tourists even from the legendary Udaipur nearby. So, one spot that's defs worth visiting.
Nathdwara in quaint old busy Rajasthan is a tourist spot very much in alignment with the local flavour. You'll find your temples and your statues, no doubt about that. The temples are remarkable, and some are must visits if you want architecture that is world class and history that is equally bewitching. Moreover, there are museums. The more offbeat tourist destinations here include a railway station of all places, and you can see art mingling with daily use effortlessly. It has killer photo places. All in all, book your dates and hotels, and set off for a lovely tour!
Here Are Some More Tourist Spots Of Rajasthan: