Bundi is another beautiful city of Rajasthan dotted with majestic forts and temples. This city has seen a number of Rajput rulers and each ruler has left some mark on it. Bundi has witnessed a number of significant historical events as well as a number of battles. Decorated with lively rivers and enchanting waterfalls, the city seems to be blessed by mother nature. To add to its beauty, the Aravalli Hills surrounds the city from three sides. It is also encircled with a wall that has four gateways. Listed below are some of the most visited places of Bundi.

1. Garh Palace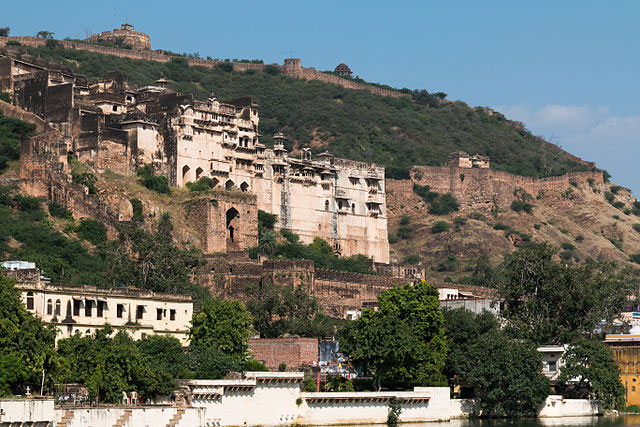 A complex of forts that cover a large area in Bundi, the Garh Palace was built under the rule of Maharao Balwant Singh. The little forts surrounding the main resident fort were built by a number of successive rulers of Bundi. Each corner here has a tale to tell, a story to boast about or a memory to mark its importance. Another attraction here are the murals on the walls. These murals are now a little faded but beautiful all the same. However, one cannot see all of the complex because some parts are locked away from the tourists' eyes. This palace is built in the Rajput style architecture and is an excellent example of their taste, talent and hard work.
2. Taragarh Fort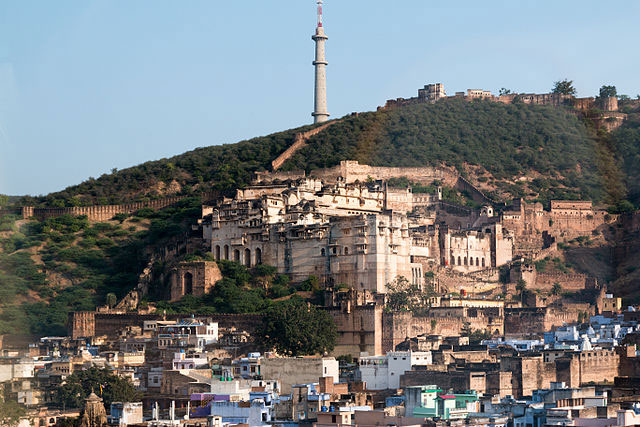 Also known as the Star Fort, the Taragarh Fort is located on a hilltop and is the major attraction of Bundi. It was built in 1354 and still manages to surprise every tourist. Taragarh Fort is one of the best forts of Rajasthan and people call it the finest example of Rajput architecture. The fort is huge and there are some secret tunnels in here which are still unmapped. The layout and decoration, both add up to make it a masterpiece. Even the walls here have very artistic paintings engraved on them. In fact, it is believed that Bundi style of mural paintings originated from this fort itself.
3. Raniji Ki Baori
Raniji ki Baori is a well-known step well of Bundi which was built in the year 1699. It was built by the youngest queen of Rao Raja Anirudh Singh, Rani Nathavati. This well goes 46 m deep in the ground and has a narrow entrance. The pillars of the Baori have delicate and detailed carvings. The structure has multi stories and each storey has a sculpture of worship. Rajasthan has a number of baoris, but this particular step well is the most famous of all.
4. Badal Mahal
Badal Mahal is one of the forts that surround the main resident fort of the Taragarh Fort. This structure is most famous for the charming paintings on its walls. These paintings not only show the culture of those times but also date back to the medieval periods. Influence of Chinese culture can also be seen in these murals and paintings.
5. Main Bazar
You may not want to leave this enchanting city without a memento. The Main Bazar is said to be the best market of Bundi. Apart from beautiful mementos, this market features a number of different types of cloth materials, handicrafts, miniature paintings as well as art-crafts. You can also find traditional Rajasthani apparels and jewelry. If you are an avid shopper, this market will leave you amused and you might want to visit it again and again.
The best time to visit Bundi is between the months of October and February. The temperatures are not very hot during this time and therefore, make it an ideal time for anyone to explore the city. Bundi is so beautiful that it inspired a number of famous personalities to write and sing. Maybe you too will find its beauty inspiring!
Other Major Tourist Destinations In Rajasthan: