Visitor Information
Famous for: History, Photography, Architecture, Rajputs.
Entrance Fee: Rs. 35/- per head for Indian Nationals and Rs. 85/- per head for foreigners.
Opening Hours: 9.00 a.m. to 4.30 p.m.
Visit Duration: 2-3 hours.
If you wish to see a hardcore fortress, Jaigarh Fort is the place to visit. One of the three hill-top forts in Jaipur, Jaigarh Fort is truly a marvel of engineering and was built in 1726 by Jai Singh II and hence the name. Jaigarh also means Victory Fort. It is located on the Cheel ka Teela Hill amidst the Aravalli range and has various complexes within its premises including the palace complex, a museum, armoury, temples and so on. The highlight of the fort is definitely 'Jaivana', a cannon on wheels manufactured in the fort itself and was once upon a time, the world's largest such cannon. Visit the fort to admire its magnificent architecture, to walk through its history and to just surround you with royal charm and strength.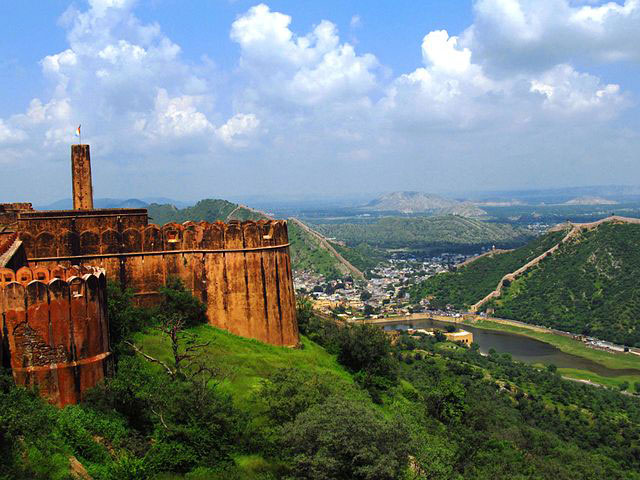 Interesting Facts and Trivia About Jaigarh Fort
Jaigarh Fort was one of the main cannon foundries during Emperor Shah Jahan's rule as there were many rich iron ore mines in the region.
Did you know that two former rulers of Jaigarh Fort, Major General Man Singh II and Sawai Bhawani Singh also served in the Indian Army post Independence?
The main attraction of the fort is the Jaivana Cannon, one of the largest cannons at the time, weighing 50 tonnes and having a 20.19 feet barrel and 11 inch diameter. As the canno rests on four wheels instead of two, it could be turned in 360 degrees, thus making it possible to fire in all the four directions. Since, there were no bitter relations with the Mughals then and there was peace, the cannon was fired only once.
Though a strong and beautiful fort, it was never home to any rulers but was mainly used for manufacturing artilleries.
Built of red sandstone, this is a fortified fort and still maintains its magnificence and pride.
It is the watchtower that is the best place in the fort to be as it gives an astounding view of the splendid environs.
There are two temples within the fort premises – Kal Bhairav Temple was built in the 12th century while the Ram Harihar Temple is a 10th century construction; a must-visit.
Jaigarh Fort was in news in 1977 when the then Prime Minister Indira Gandhi was said to have launched a treasure hunt in the fort premises. Though the search by an army unit continued for three months, they didn't find anything. Bad news for others but good news for the fort as it was left undisturbed.
Traveller Tips
It is best to wear comfortable clothing as you will have to be on your feet for most of the time. Wear comfortable shoes as well. Cotton clothes are preferable considering the sunny weather.
Carry water bottles with you.
The fort is quite a vast structure and the passages are winding and confusing. So, take care not to get lost in the fort. Take special care of kids.
It is best to avoid walking on the edges of the fort.
Please join in the efforts to keep the fort premises clean by not littering.
Things to Do
There are various attractions near Jaigarh Fort and you can cover many of the places in a day's tour.
Participate in the water heritage walk which was launched in 2013 which aims to inform visitors about the catchment area for the fort and also about the vast network of canals and drains that were a part of the fort.
There is a new gallery, the royal guards' gallery which in addition to showcasing the fort architecture also provides a glimpse into teh life and work of Sawai Man Signh II and Sawai Bhawani Singh, former rulers of the fort.
Places to Eat Around
Jaigarh restaurant within the fort premises
1135 AD, located at the Amer Fort
The Stag Rooftop, located opposite Amer Fort
Opening Hours
Jaigarh Fort is open from 9:00 a.m. – 4.30 p.m. on all days.
Fees
Entry Fees: For Indian visitors, it is Rs. 35/-; for foreigners, it is Rs. 85/-.
Camera Charges: Rs. 50 and Video camera charges are Rs. 200.
Availability of Guides
Guides are available on request. A Hindi speaking guide will be available for Rs. 100 and English speaking guides for Rs. 150.
Time Required for The Visit
Around 1 hour or two. If you are a history buff, you may love spending more time exploring the fort, spending time at the museum or just taking on the beauty of the surroundings.
Best Time to Visit
It is during winter months that Jaigarh Fort is best to visit. So, plan your visit somewhere between November and February. If you are adventurous enough to be in the fort during rainy season, you can as during the time, you get to see the fort drenched in rain with the surroundings covered in green. The fort seems to mellow down during rains as it takes on a romantic look as opposed to its ruggedness at other times.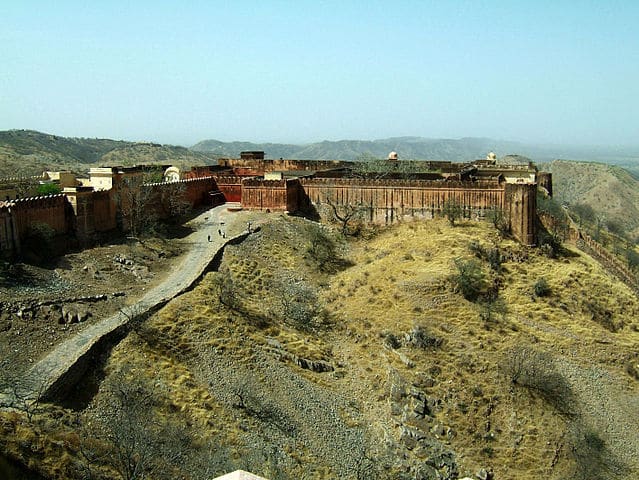 How to Reach
You can hire buses, private or government, from Jaipur City to reach Jaigarh Fort. You can also reach the fort via cabs or taxis from Jaipur.
Nearby Attractions
The main attraction near Jaigarh Fort and that which cannot be missed is surely the Amer Fort. You can also explore the Aravalli hills. Vijay Garh is another nearby attraction. You can also visit the famed Sheesh Mahal, which is just half a km from the fort. Do pay a visit to the Shila Devi Temple and the Panna Meena Kund also.
When you visit the Jaigarh Fort, you are not just witnessing a magnificent piece of architecture but also a symbol of history. It is ironic that the fort though was built to protect the region and Jaipur city, it never had to witness any battles. Though it houses one of the largest cannons, it never had to be used in any battle. You don't feel disappointed that you are looking at a never-used cannon because sometimes, some things are best when not in use. That is what Jaigarh Fort too reminds you. Peace is always better than war!