Exploring the rich culture and heritage of Rajasthan through the eyes of a beautifully created village is like a dream come true. Add to that a perfectly good experience of staying in luxury accommodation and you've got yourself a party. Chokhi Dhani, one of India's prized possessions takes the form of an irresistible allure in Jaipur, where it takes you on a journey of folklore that you'll never forget along with offering a splendid stay for you and your family. But before you book your tickets to this mesmerizing village hotel, take a look at the following little guide to help you through it.


Interesting Facts
Chokhi Dhani in Jaipur has been in existence since 1994, and has served guests from all over India and the world through their 5-star hospitality.
Everything from food, fabrics, style of living, artefacts, crafts, paintings, sculptures, folklore, dancing, singing and various other traditional aspects come alive in the true Rajasthani spirit at Chokhi Dhani.
Chokhi Dhani is situated away from the city, and it attracts tourists easily based on the Rajasthani village experience it offers alongside a 5-star resort treatment for one and all.
The architecture of Chokhi Dhani came to be when the most skilled of architects included everything from traditional Rajasthani design to manner of construction, which brings together luxury and the feeling of being in the tranquillity of a village together.
Boat rides, camel rides, horseback riding, elephant and bullock cart riding are the popular sports that guests can enjoy while at Chokhi Dhani.
The battle of Haldighati, which is well-known throughout Rajasthan is enacted by trained performers regularly in Chokhi Dhani, and it is one of the most prominent attractions of this resort
Another feature, that of a Rathkhana, which displays the ancient chariots used by the royal families of Rajasthan is also very popular.
Huts and shacks recreating the village life of Mewar, Registan and Jaisalmer are present within Chokhi Dhani, and they provide a truly Rajasthani experience to every guest, at the same time giving a chance to explore the rich history of the desert state.
Other popular attractions at Chokhi Dhani in Jaipur include a Vaishno Devi Temple with an artificial waterfall, Jungle Devta temple, and Tejaji temple. These explore different beliefs of the folk people of Rajasthan.
The National Museum at Chokhi Dhani displays the culture and heritage of every state in India, through which guests can go through the vibrant traditions of the country and how deep-rooted the culture in every state is. This includes states like Gujarat, Maharashtra, Rajasthan, Tamil Nadu, Jammu & Kashmir, Kerala, West Bengal etc.
Things to See/ Do
Various music and dance performances take place regularly at Chokhi Dhani, the most popular being a folk dance of the Kalbeliya nomad tribe.
Other performances include Terah Tali Dance and Bamboo acrobatics, both of which are very interesting and daring folk dances of Rajasthan.
The traditional fire act where the performer makes it look like he/she is eating fire is another intriguing performance.
There is a puppet show, a bird fortune teller, an astrologer, henna artists, a magic show, a bioscope film showing the history of Rajasthan are other attractions at Chokhi Dhani that visitors must experience.
Children and adults can take part in interesting games like 'bhool bhulaiya' where the participants have to make their way through a complicated maze.
Other games like jungle sair: a forest safari, gufa jharni: a trek through an artificial cave of waterfalls, dart games, archery, shooting etc. can also be taken part in.
There is a dedicated children's playground where kids can enjoy amazing games and activities.
Purchase Rajasthani handicrafts, art, paintings, craft and sculptures at the famous Kalagram in Chokhi Dhani to take home some great souvenirs from your trip to Rajasthan.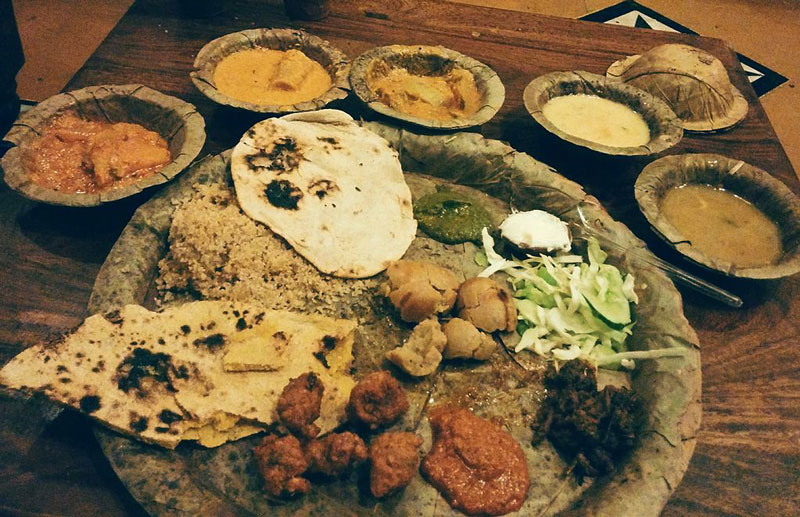 Dining at Chokhi Dhani
The Sangri Dining Hall serves food on the relishing leaf platter, upon which you can enjoy authentic Rajasthani cuisine.
Indulge generously in the open-air dining at Gorbandh, which is popular for its Rajasthani snacks and delicacies.
Designed in the shape of a game known as Chaupad, the Chaupad Dining Hall is known well for its unique design and delicious food.
You can get a truly regal treatment at Royal Fine Dining and enjoy a meal with your family feeling like kings and queens.
Best Time to Visit
October to March
Guest Packages
Standard Cottage
Executive Cottage
Royal Cottage
Royal Suite
Mini Suite
Haveli Suite
Family Royal Suite
Dola Maru Suite
Once you've taken your pick from the amazing and indulgent packages at Chokhi Dhani Jaipur, you can enjoy a truly Rajasthani experience without having to go through any hassles during your trip. Chokhi Dhani ensures a perfect time for each of its guests, and you can guarantee yourself and your family to have the holiday to be remembered for a long time.