Lovingly called the city which never sleeps, Mumbai culture screams speed, work and deadlines. But the city knows how to party and relax just as well. Mumbaikars (colloquial nickname for the locals) being the entrepreneurs they are have developed perfect hangout spots around the beautiful beaches. You'll also find man-made marvels like amusement parks if you need something to keep yourselves occupied. All in all, whatever the time, whatever your budget you'll find a location that is just right for your gang.
1. Marine Drive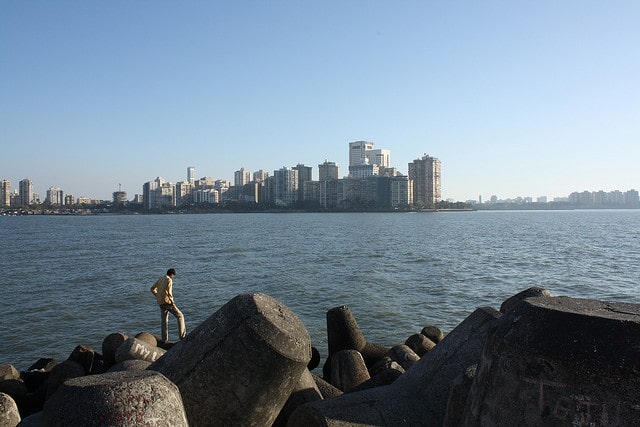 Marine Drive is the epitome of all that Mumbai has to offer with dazzling nights and brilliant beaches. It is basically a road enveloping the sea where the seating options are concrete bench-like structures, built along rocky shores. A walk along the beach is something you must experience as the gorgeous sunset or sparkling stars above and the calm breeze can make any conversation feel special. Marine Drive's northern-most point is Chowpatty, a foodie's heaven. Cheap and delicious Mumbai-specialties like Bhel puri, Paani Puri and Pav Bhaaji available here, will complete a perfect evening! Sitting on the rocks talking about life, love and everything else is a late night adventure that every student in Mumbai is nostalgic about.
2. Smaash
If sitting around chatting is not your idea of a fun hangout, you should try Smaash. It's a unique center which offers a plethora of fun activities for you to choose from. They have thrilling rides like sky-carting and zipline, various adrenaline pumping games like war on wheels and Paintball and an interactive 9D theatre. They have regular screening of sports events where you can paint your faces and scream and cheer for your favorite team. The authorities at Smaash keep coming up with challenges and events to add a competitive level to your experience. You'll find delectable food and new and interesting drinks here at affordable rates.
3. Essel World
Essel World prides itself on being India's largest Amusement park. Over the years, they have taken conscious effort to make the park attractive to all age groups. The exhilaration at the top of a roller coaster and the adrenaline rush when you're hanging upside down in a ride will make sure that your weekend makes up for your stressful week. The park has rides for all kind of people- crazy roller coasters for the adrenaline junkies, slow and interesting rides for the mellow audiences and various attractions for photo and selfie enthusiasts. You will certainly find a food place that suits your taste buds, given their expansive range of options. All in all, Essel World is a perfect one day outing with family or friends.
4. Oxford Bookstore, Churchgate
For the booklovers for whom hanging out means sitting in a bookstore reading the timeless classics or exploring new titles over steaming chai (tea), Oxford bookstore is a dream come true. Each of you could pick your own book and get lost in the alternate world or sit around a table in the adjoining café, Cha Bar to discuss and explore the settings and characters in your favorite books while sipping the brilliant range of teas and snacks available. Oxford bookstore also has a very pretty range of stationery and other knick-knacks which form perfect gifts for such book-lovers!
5. Shivaji Park, Dadar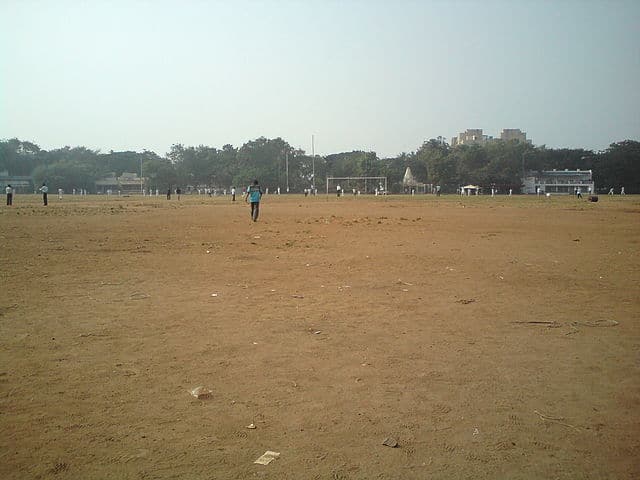 Shivaji Park has become a symbol of cultural and political activity in Mumbai. Something or the other is always going on there and you can feel free to join. But the place is big enough that you can comfortably hang out with your friends without acknowledging the events. Sports fans will absolutely love this place, as you'll always find a Cricket or Football match happening here. And a lot of Indian celebrities in these sports have a special affection for the park, as this was their first playground. Just lying on the grass and talking or taking a stroll in the scenic garden are great ways of spending your time here. Food options are the omnipresent Bhel Puri and other Chaat vendors.
Mumbai is the city of dreams, but in the pursuit of a sustainable lifestyle one often needs some relaxing as well. The vast city of Mumbai has made sure that you have enough options to choose from, especially when it comes to spending time with friends.