Ratnagiri is an ancient city situated in the Southern part of Maharashtra and is one of the tourist cities of the state. Often regarded as the city of the kings, Ratnagiri has got a tremendous historical legacy attached with it. Initially, this city was managed by Maratha ruler Chhatrapati Shivaji and was later acquired by the Britishers in the 1800s. Ratnagiri is situated on the coastal area of Maharashtra and is surrounded by the Arabian Sea on three of its sides. Ratnagiri's geographical location is the most crucial factor behind the natural magnificence of this place. Apart from captivating beaches, forts, delicious food and temples, this city is also highly blessed with a wide range of flora and fauna. If you are an adventure enthusiast, this city will fill you with delight as it offers a decent number of water sports for the tourists. So if you plan to visit this port city, here is a list of top 5 places to visit in Ratnagiri:
1. Ganapatipule Beach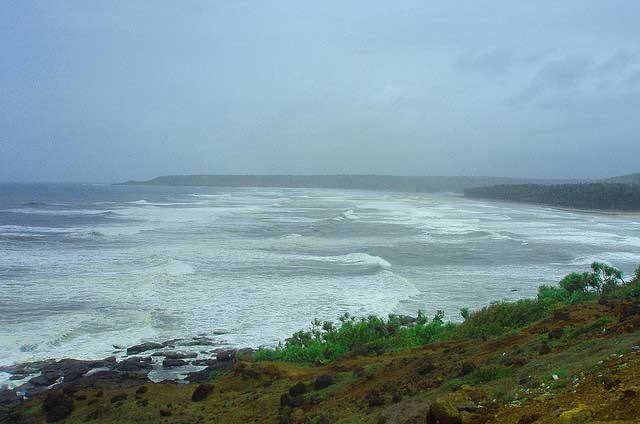 Photo by myriad ways, CC BY 2.0
Ganapatipule Beach is situated at a distance of 28 km from Ratnagiri and is one of the most visited places of this city. This beach has been named after the Hindu deity Ganesha and houses an ancient temple under the same name. Ganapatipule beach is a unique mix of devotion and adventure. Apart from hard-core beach lovers, this place also attracts a large number of Hindu devotees. Other attractions of this beach include delicious food stalls, beautiful views of sunset and unique white sand which is rarely found on Indian beaches.
2. Marleshwar Temple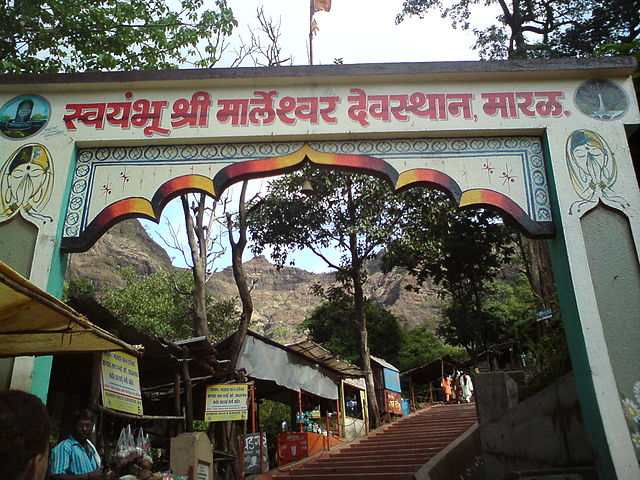 Photo by Pranav, CC BY-SA 3.0
Marleshwar Temple is an ancient Shiva temple and is located on the outskirts of Ratnagiri. It is situated on an isolated hill and is thoroughly surrounded by a dense network of evergreen forest. It is believed that the 'Shivling' of this temple remains surrounded by Cobra snakes throughout the year. Interestingly, the cobras have never bit any devotee in the history of this temple and one can even touch them without fearing. Marleshwar temple provides a beautiful view of the nearby mountains and is surrounded by numerous waterfalls. However, one should visit this place preferably in the monsoon season as most of the waterfalls get dried up during other seasons.
3. Guhagar Beach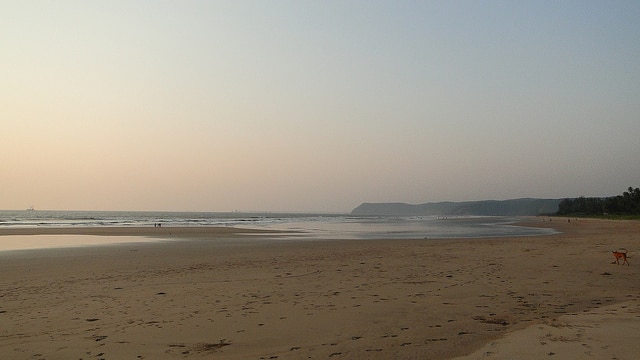 Photo by Ankur P, CC BY-SA 2.0
Guhagar beach is situated at a distance of about 8 km from Ratnagiri and is one of the most peaceful beaches in the state of Maharashtra. The beach is geographically blessed with Sahyadri mountain range on its east and the Arabian Sea on its west. Guhagar beach is known for its pleasant weather and calm water which can be comfortably used for swimming purposes. This beach remains surrounded by local fishermen, boat owners and adventure sport operators and is one of the most captivating places in Ratnagiri.
4. Ratnagiri Lighthouse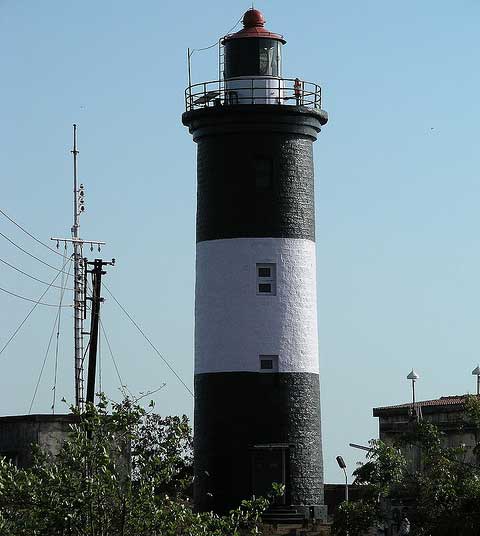 Photo by Kristina D.C. Hoeppner, CC BY-SA 2.0
Ratnagiri lighthouse is situated at a distance of around 10 km from the main town and can be safely described as the untouched landmark of Ratnagiri. The lighthouse is surrounded by the ancient fort of Ratnadurg on one side and by Arabian Sea on the other. The lighthouse is 16 m tall tower and is equipped with facilities like radio sensor, sodium lamp and storm sensors to guide the nearby ships sailing in the sea. Ratnagiri lighthouse is a pleasingly peaceful place and provides you a 360 degree view of the Arabian Sea.
5. Shri Devi Bhagwati Temple
Shri Devi Bhagwati Temple is situated inside the ancient fort of Ratnagiri and is dedicated to Hindu deity Durga. In spite of being surrounded by an abandoned fort, this temple stands as a major centre of faith for the locals of Ratnagiri. Bhagwati Temple is blessed with brilliant architecture and houses numerous styles of painted walls, sculptures and stone carved pillars. The festival of Navratri is considered as the best occasion to visit this temple as one can get a beautiful glimpse of local traditions and values during this festival.
Ratnagiri is overall a distinct mix of history and nature. This city makes you fall in love with its pleasant weather and surroundings as soon as you enter it. Lush green mountains, historical forts, peaceful beaches and ancient temples are some of the most significant features of this place. On a concluding note, Ratnagiri will leave a lasting impression on you and is a perfect travel destination.
Some More Tourist Destinations Of Maharashtra: