Mahabaleshwar or "God of Great Power" is located in the Satara district of Maharashtra which is almost 230 kilometres away from Mumbai. This hill station is also a popular tourist destination in Maharashtra. It comprises of myriad chalets, lodges and manors since the British Raj era. Bereft of the rainy season which varies from late June to mid-September, this hill station is an epitome during the course of the year. Pratapgarh fort is a major tourist attraction of Mahabaleshwar. Honey, jams and chikkis (a ready to eat Indian sweet made from groundnut and jaggery primarily, in Hindi) are gorged over here. The pristine Venna Lake provides opportunities for fishing, boating and pony riding. Other than that, Christmas is celebrated with great pomp and show at the Venna Lake. It also has great strawberry fields in the region. So check out the major 5 tourist attractions of Mahabaleshwar hill station out of multifarious choices:
1. Pratapgarh Fort
Pratapgarh fort was established by Chatrapati Shivaji Maharaj. It is 24 kilometres away from the hill station and offers a vast, majestic view of the Konkan coast. This fort was built to celebrate the triumph of Shivaji Maharaj against Afzal Khan. This fort is walled on all sides and double line fortification is a special feature of this fort. A statue of Shivaji Maharaj is also now installed inside the fort which can be easily reached these days due to the construction of motor able roads.
2. Pratap Garden
Pratap Garden is a tribute to the courageous Maharana Pratap. It has a lovely play field and seating as well. The garden is well equipped with all the civic amenities. It is one of those rare gardens which are located in the gorgeous Peth area. It is the favourite place of kids as it carries a lot of entertainment options for the younger lot. This garden also boasts of some endangered yet exotic species of flowers. The garden is well adorned in all the colours by alluring flowers which bloom gleefully.
3. Afzal Khan Tomb
Afzal Khan tomb was erected right on top of the area where Afzal Khan's head was buried. A dargah (a portal or threshold, in Persian) is also constructed in vicinity under the name of Afzal Khan and an annual fair is organized in January-February. This tomb was also built by Shivaji once the battle ended and Afzal Khan lay defeated. It is now a major landmark in the area.
4. Old Mahabaleshwar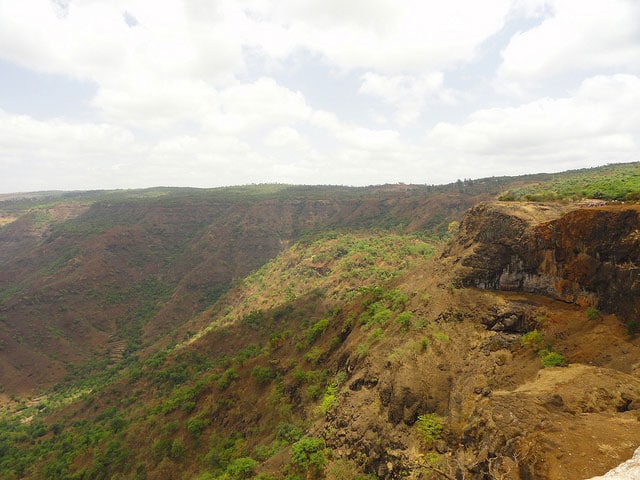 Old Mahabaleshwar is 20 located kilometres away from the main hill station and is brimmed with picturesque scenes. It is the ultimate spot for adrenaline junkies as it offers trekking at an altitude of 1372 metres. It offers tranquillity year round. It is also home to the famous Shiva Mandir which is built at the source of five rivers that flow eternally without running dry in the region. It rains heavily from June to September but besides that, this location will surely serve you with pleasant strolling and sightseeing. This place is surrounded by hills and valleys, offering an irresistible experience in the forest.
5. Bhawani Mandir
Bhawani Mandir lies on the eastern side of the Pratapgarh fort. Bhawani is the family deity of Bhosales. It was also built by Shivaji Maharaj and is crafted magnificently. This temple is praised by one and all who visit it, irrespective of their religion, customs and beliefs.
Besides all these, if you want to rest in nature then Kate point, Lodwick point etc. will surely mesmerize you. Babington point, elephant's head point, mini Kashmir, Parsi Point and Lingamala falls are mind boggling as well. Strawberry gardens of this tiny hill station are tremendously popular and lip-smacking delicious. It is going to be a blessing in disguise from the cynical crowds of metropolitan cities, the cool and refreshing breezes and the gorgeous green meadows will surely cajole the holidaymakers just as it has been gratifying the filmmakers since times immemorial. It also has a gargantuan "Mahabali temple" for the pilgrims.
Some More Tourist Destinations In Maharashtra: