Mahabaleshwar at first blush appears diverse as a tourist destination- and surprisingly, with this place, what you see is what you get, even in today's times. The small city couched in magnificence offers vantage points so high you can get a view of miles around, it has forts, a forte of old India, and if you glance down at Venna Lake, you will be reminded of foreign beach destinations on travel postcards, due to a number of colourful watercrafts afloat. Yes, Mahabaleshwar really is diverse, it seems. Now, there's a catch with respect to the weather, convention-wise. Mahabaleshwar remains relatively cool in summers and relatively warm during winters. The summer season is a popular tourist season, as it isn't hot enough to be uncomfortable. This is a popular family tourist destination. Monsoon usually sees heavy rainfall, so it would be wise to plan ahead before visiting.
| | | |
| --- | --- | --- |
| Months | Conditions | Our Recommendation |
| December to February | Winters are mild, most favourable for honeymooners. | Popular Tourist Season |
| March to June | Climate is pleasing, you can plan family trips for summer vacation. | Ideal Time |
| October to November | Nice environment, one can indulge in outdoor activities. | Ideal Time |
| June to September | Off season because of heavy rainfall and some of the areas are also restricted. | Off Season |

Monsoon tourism in Mahabaleshwar is not your average tourist's cup of tea, but then again, we never know the exact nature of the adventurous peeps hiding out there- do we? Mahabaleshwar, lodged as it is in Maharashtra, experiences torrential rainfall, that is powerful and sweeping. In fact, only the locals are mainly found here at this time, tourists are mostly daunted. But there are a few who come looking for exactly this sort of experience-and boy, are they rewarded.Summers in Mahabaleshwar are generally considered the best time to get out and about in the place. The weather is on the cooler side, and clear, posing no hindrance in sightseeing. The popular tourist attractions like forts, high viewpoints and cruising along the lake are what most people flock to Mahabaleshwar around this time for, and another flock travels around October-June as well.
Winter in Mahabaleshwar commences around October, and keeps getting steadily colder till about January, But the weather never gets bitingly cold. Maritime climate is a watchword, and winters are actually highly popular with tourists coming here on vacation, and all the important tourist attractions are thrown open to the public around this time.
How to Reach Mahabaleshwar
Mahabaleshwar can be reached by air through Pune airport 120 kilometres away, and tourists can take buses or taxis from the airport to reach their destination. You can reach by rail through Wathari (closest) or Pune railway station, or you could take buses from and to Mumbai and Mumbai's surroundings. Also, you could drive yourself to Mahabaleshwar from there, at a cost of 4-5 hours of your days' time, spent well.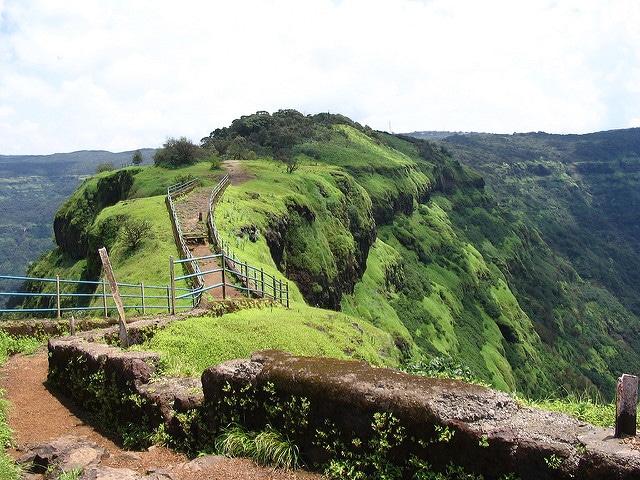 What to Do and See in Mahabaleshwar
Picturesque lake you could gaze in contemplation at in solitude, click beautiful pictures or cruise along in a colourful boat of your choice.
Chinaman and Dhobi waterfalls are a major tourist feature of the place.
For the history and architecture enthusiasts out there.
Your one stop destination for lake visits and sports. Also, popular for honeymoons.
A unique and refreshing garden enclosure.
Mahabaleshwar with its quirky tourist attractions is sure to win your heart on this vacation. What with pretty gardens and colourful lakes, you will have mo regrets about not picking an international destination at the last moment. Soak in waterfalls, tour Maharashtra's nearabouts, and play casual sport. Never forget to keep your weather schedule handy, it will help you find just the kind of experience you want to have. Be it adventurous rains or hustle-bustle with peaceful tourists in June, this guide can offer you the best of all. Wishing you the most memorable time ever!