The first thing that comes to our mind on hearing the name of Maharashtra is 'Bollywood'. But this state, with its more than 700 km long coastline, is adorned with several beautiful beaches that can stimulate your senses. From adventurous water sports like scuba diving, surfing to swimming and authentic sea food, these beaches can offer enough to surprise you. Apart from the chaats of Chowpatty, crowded Marine Drive and glittery Juhu, Maharashtra is endowed with several picturesque beaches that can enthrall your senses.
1. Kashid Beach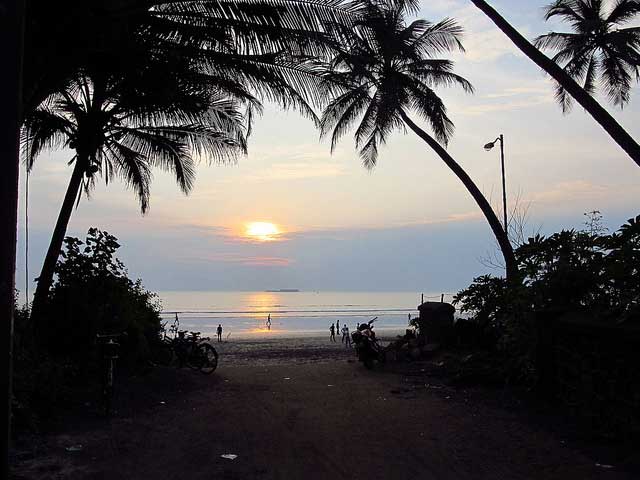 Photo by Tomas Belcik, CC BY 2.0
Sitting on the shores of Arabian Sea, Kashid is a picturesque beach famous for its crystal clear blue water and white sand. Situated at a distance of 30 km from Alibag, this 3km long beach makes a wonderful escape from the bustling city. Known as one of the best beaches of the Konkan region of Maharashtra, Kashid makes a perfect weekend gateway destination with its green hillocks, pristine water, white sand and paddy fields. You can enjoy water sports like surfing and diving in Kashid beach area.
2. Bassein Beach
Situated 77 km away from Mumbai, Bassein Beach has a fair resemblance with one of the most exotic and happening beach towns of India, Goa. From pristine blue water, swaging palm trees, serene white sandy beaches to the ruins of historical Portuguese forts, Bassein has everything to make your weekend holiday fascinating. Other nearby spots from this beach are Buddhist relics at Nalasopara, Akloli hot springs, Bhimeshwar Temple and few churches of Portuguese time.
3. Ganapatipule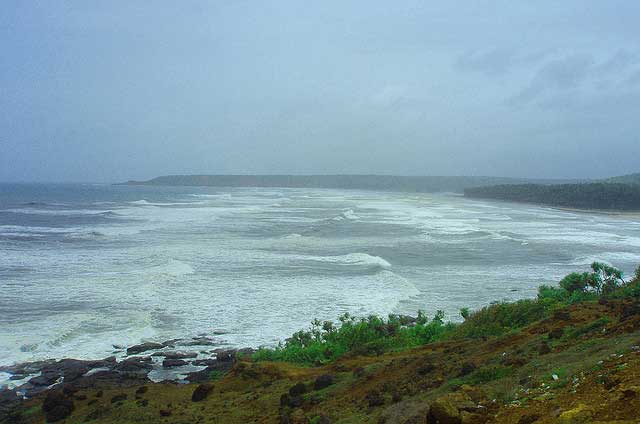 Photo by myriad ways, CC BY 2.0
Located at a distance of 375 km South of Mumbai, Ganapatipule makes a perfect holiday destination with its captivating scenic beauty, clear water, white sands and palm trees. Unlike other beaches of Maharashtra, Ganapatipule is less crowded, making it an ideal destination to relax. Known as one of the most famous beaches of Maharashtra, Ganapatipule is home to 400-year-old temple of Swayambhu Ganpati (self originated). You can also visit Malgund, birthplace of the renowned Marathi poet Keshavsut.
4. Tarkarli Beach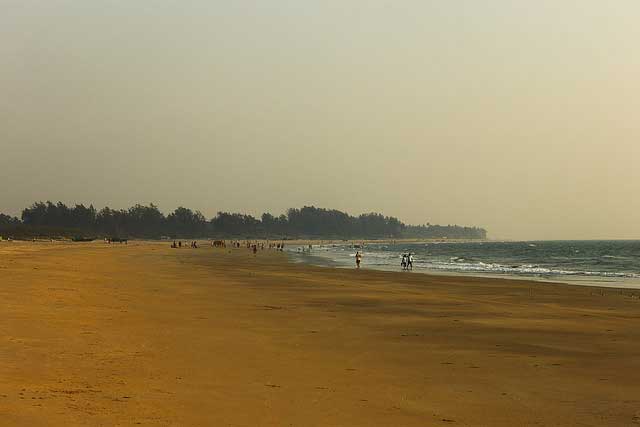 Photo by Elroy Serrao, CC BY-SA 2.0
Tarkarli, a village in Sindhudurg district, situated at a distance of 160 km from Kohlapur. Located at the confluence of beautiful Karli River and Arabaian Sea, Tarakali beach makes a serene escape into the nature. This unexplored, tranquil beach is famous for its crystal clear water and the seabed can be seen up to a depth of more than 15 ft sometimes. Besides enjoying the beauty of the beach you can visit one of the most famous sea forts of Maharashtra Sindhudurg Forts and Padmagarh fort. With all its exotic sea foods, picturesque beauty and pristine water, Tarakali makes an ideal weekend gateway for the travelers.
5. Shrivardhan Harihareshwar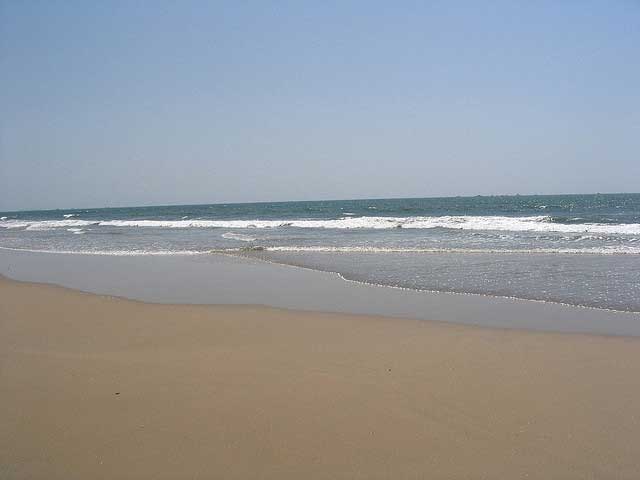 Photo by Ankur P, CC BY-SA 2.0
Crowned as one of the most popular beaches of Maharashtra, this is an ultimate destination for water adventure sports and sea food lovers. Located nearly 200km away from Mumbai, this beach is home to Kalbhairav Shiva Temple. Besides, enjoying the serene beauty of the beach, the adventurer junkies can hire small boats to explore the history of Shrivardhan, where the Peshwas of Maratha Kingdom originally dwelt. Swimming, beach walking, beach volleyball etc are some of the popular activities one can enjoy at Shrivardhan Harihareshwar beach.
6. Velneshwar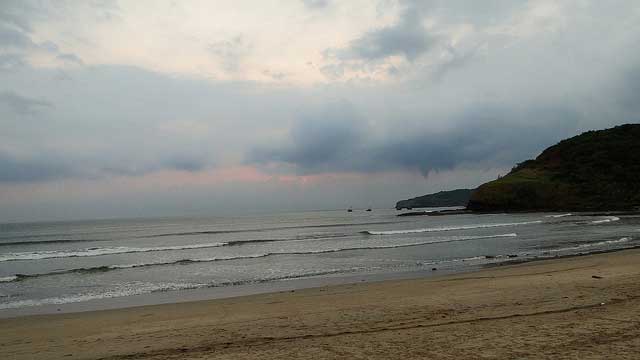 Photo by Ankur P, CC BY-SA 2.0
Located 170 km away from Ratnagiri and nearly 370 km away from Mumbai, Velneshwar is a perfect destination for swimming and sunbathing. The rock free clear ocean water, golden sand and coconut groves makes Velneshwar beach an ideal destination to relax. This place is famous among Hindu devotees because of its old Shiva temple.
7. Vengurla Malvan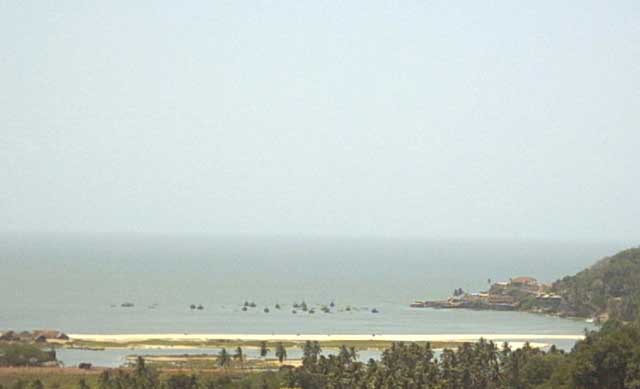 Photo by Addie32, CC BY-SA 3.0
Surrounded by thick cashew, mango, coconut and palm trees and adorned with long stretch of sparkling white sands, Vengurla Malvan is an ideal holiday destination in Maharashtra. Located at a distance of 514 km from Mumbai, nearby best tourists spot of this place is Vengurla rock which is also called Burnt islands. This place is home to famous Shri Devi Sateri Temple and Rameshwar Temple. Apart from these historic temples, you can also visit Sindhudurg and Padmagad forts situated at nearby Malvan Township.
8. Dahanu Bordi Beach
A nearly 17 km long stretch of coastline, from Dahanu to Bordi is known as one of the most picturesque beaches of Maharashtra. Located 145 km away from Mumbai, Dahanu a small village of Thane district is famous for its vast fruit orchard, especially chikoos. Bordi which boasts some of the best and safest beaches of Maharashtra is half an hour drive away from Dahanu. The most popular and nearest tourist attraction from Dahanu is Udvada in Gujrat, which is famous for its Atash Bahram fire temple of Zoroastrian community. It is believed that the sacred fire of this temple has been kept alive since almost a millennium.
9. Kihim And Mandwa Beach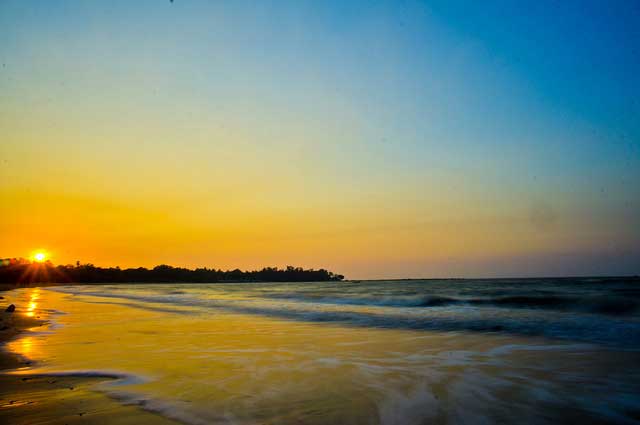 Photo by Pradeep Ramdas, CC BY 2.0
Located 120 km away from Mumbai and very near to Alibaug, Kihim is a picturesque beach lined with coconut and pine trees. This place is a paradise for nature lovers who love to spend some time enjoying the beauty of flora and fauna. You can enjoy surfing and tent stay at Kihim beach. You can also visit the nearby famous tourists spots- Alibaug and Colaba fort which is just 10 km away from the shore.
Located at a distance of neatly 19 km from Gateway of India, Mandwa beach provides travelers an excellent and clear view across the bay. Lined with lush green coconut and pine trees, this beach will capture your heart with its untouched beauty. Ferries are frequently available for Mandwa Jetty to Gateway of India.
10. Marve Manori And Gorai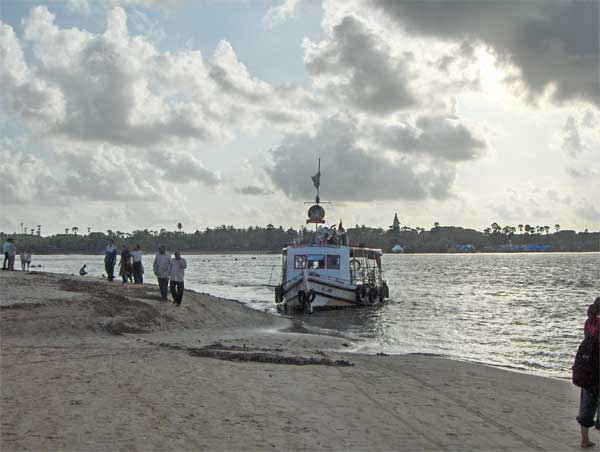 Photo by Nichalp, CC BY-SA 3.0
If you are a party freak, Marve Manori and Gorai beach would be must visit destinations for you. Located 40 km from Mumbai, Marve popularly known as Borival, is a small fishing village which offers a great sunset and sunrise view for the travelers.
Just 15 minutes drive away from Marve, you can find another beautiful beach Manori. The small beach is a famous for its night beach parties and it becomes crowed with tourists on full moon night. This place is the home to World's largest structure of Lord Buddha, 'The Global Vipassana Pagoda' which has the bone relics of Gautama Buddha. If you are looking for tranquility, Gorai beach is the ideal place for you. Adorned with silvery sands and lush green palm trees, this place is perfect place to enjoy swimming.
The capital and main city of Maharashtra, Mumbai is very close to several popular beaches such as Chowpatty, Jugu, Alibag and Madh Island etc. If you are looking for a weekend holiday gateway, none of these popular and overcrowded beaches will fit your bill. For an escape into a serene place, away from the crowded city life, select a destination from this above mentioned list of beaches and plan a weekend holiday trip there. With their serenity and simplicity, these striking beaches of Maharashtra can make your trip memorable.