Tadoba Andhari Tiger Reserve is undisputedly the oldest functioning national parks in the state of Maharashtra. Located in Chandrapur district, it is one of the seventeen wildlife sanctuaries in Maharashtra. In the year 1955, Tadoba National Park and Andhari Wildlife Sanctuary were merged together into one forest reserve. Today, Tadoba Andhari Tiger Reserve is one of India's 43 Tiger reserves, collaborating in the restoration of wild Tigers in its vicinity.
The total area of the Reserve stretches over 1727 square kilometers and houses various species of wild animals that thrive in its ecosystem. The tribal folk in the area worshiped a deity called Tadoba, from which, the name of the sanctuary is derived. A small shrine dedicated to the god still stands on the banks on Tadoba Lake inside the park. A large area of the Reserve is covered in hills and elevated terrains, providing shelter to wild animals. There have been higher frequencies of spotting wild animals in such areas due to this reason.
Climatic Conditions
Tadoba Andhari Tiger Reserve receives ample rains during the monsoon months starting from mid June. An average record reads 1200 mm of rain with 66 percent humidity. During the monsoon, the insect and invertebrate population rises while plant life thrives. Winters are considerably pleasant with temperatures ranging within 25 degree Celsius to 30 degree Celcuis. The summers last between months of February and May, with maximum temperatures reaching up to 47 degree Celsius.
Best Time to Visit
The months November and February are the best time to visit, considering the temperature is pleasant and lot of greenery is around to see. Animal sightings are increased around water bodies during the summer months as a result of heat but winters pose less of a challenge for longer journeys.
Wildlife at Tadoba Andhari Tiger Reserve
There is an abundance of mammals in the area, specially large and small herbivores. Tigers can be spotted often inside the reserve and are frequent visitors to the water bodies. Several birds of prey including the Crested Serpant Eagle are known to be present in the area. There numerous other species of animals and birds in Tadoba Andhari Tiger reserve as listed below.
Mammals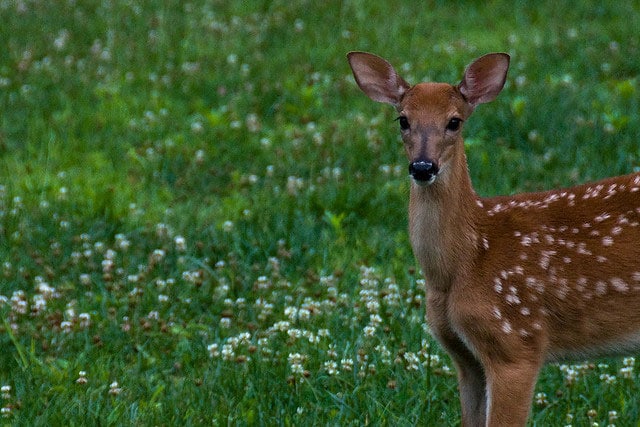 Honey Badger, sloth bears, Indian leopards, nilgai, gaur, dhole, small Indian civet, striped hyena, jungle cats, spotted deer, sambar, barking deer, chausingha and chital.
Reptiles
Indian python, marsh crocodile, common Indian monitor, Indian star tortoise, terrapins, Russel's viper and Indian cobra.
Birds
Crested serpent eagle, grey-headed fish eagle, changeable hawk-eagle, Indian pitta, orange-headed thrush, crested treeswift, crested honey buzzard, stone curlew, paradise flycatcher, lesser goldenbacked woodpecker, bronze-winged jacana, warblers, peacock, black-naped blue flycatcher.
Distance from Nearby and Major Cities
Hyderabad – 482 km
Aurangabad – 531 km
Pune – 770 km
Mumbai – 833 km
Ahmadabad – 986 km
Chennai – 1007 km
Bangalore – 1071 km
Kolkata – 1180 km
Delhi – 1202 km
Chandigarh – 1450 km
Nearest Airport
Nearest airport to the reserve is in Nagpur, around 200 kilometers from the park. A taxi or bus can be hailed from there till Chandrapur or directly till Chimur, which is 140 kilometers to Nagpur.
Nearest Railway Station
Chandpur harbors the nearest railway station to Tadoba Andhari Tiger Reserve at a distance of 45 kilometers. The easiest way to get to the reserve is by rail as it connects to most nearby cities and has an a daily inflow of passenger trains.
Road Accessibility
The park gates can be accessed by roads through all directions. Inside the park premises park vehicles can be made available along with a forest tour guide officiated by the Department of Forest.
Accomodation Facilities
Several tourist guest houses are available on rent near the park. Inside the park, rest houses have been built with plumbing and basic comfort. Dormitories and tents are also provided to visitors at a minimal cost. Meals and special orders are also available within the guest houses on demand.