Khandala is a small hill station situated within a very short distance from the capital city of Mumbai. This place is beautifully surrounded by the mountain range of Sahyadri on its Northern side and is popular for its incredibly pleasant weather. Khandala can be appropriately described as the nature's heaven as it is beautifully equipped with perennial lakes, lush mountain ranges, thick green forests and waterfalls. A huge number of tourists visit this place for adventure purposes as it offers various adventure sports like mountain climbing, trekking and rock cut climbing. Khandala also stands as an important symbol of history and culture of Maharashtra and is also an important tourist destination of the state. Many ancient structures that are present here belong to the British colonial era and hence they are visited by a large number of historians and photographers. Khandala has over 30 tourist places and receives the maximum number of visitors during the season of monsoon. If you are planning to visit Khandala, here are top 5 places that should be on your list:
1. Celebrity Wax Museum
Celebrity Wax Museum is a simulation of the Madam Tussad's Museum of London and is situated at a distance of around 6 km from Khandala. This museum was founded by a 40 year old wax artist from the Southern state of Kerala. As the name suggests, this museum houses the wax structures of popular celebrities including actors, politicians and social activists. Wax structure of ancient Maratha ruler Chattrapati Shivaji is the prime attraction of this museum. Other famous celebrities whose wax images have been instilled in this museum include Pandit Nehru, Indira Gandhi, M.K Gandhi, Hitler and Dance King Michael Jackson.
2. Rajmachi Fort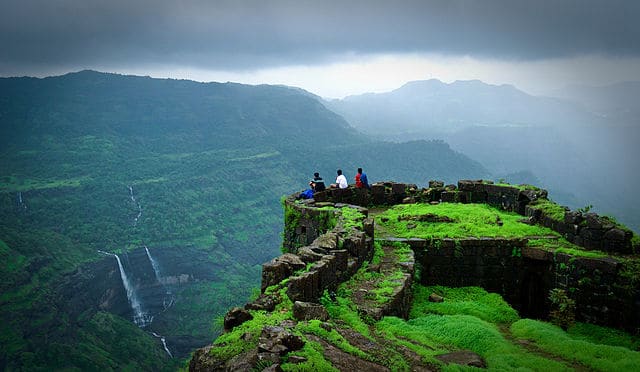 Photo by Kandoi.sid, CC BY-SA 3.0
Rajmachi fort is located at a distance of around 10 km from Khandala and is situated on the State highway of Lonavala. One has to go through a historical trek named Borghat to reach this fort which is beautifully built on the summit of Western Ghats. Rajmachi fort is spread across two peaks named Manoranjan and Shrivardham and is primarily situated on a plateau that joins these two peaks. The fort complex has been decorated with artistic sculptures, carved pillars, paintings and water compounds. One can get a magnificent view of the entire town of Khandala from the top of this fort.
3. Lonavala Lake
Lonavala Lake is situated at distance of around 2 km from Khandala in the suburban area of the town. It is a seasonal lake and presents itself in its best during the rainy season. The lake is surrounded by beautiful varieties of flora and is counted among the best picnic spots in entire region of Khandala. Lonavala Lake is managed by the central railways and is adjoined by an ancient dam of Indrayaani River. The best time to visit this lake is during the monsoon season as it gets dried during the rest of the year.
4. Bhushi Lake
Bhushi Lake is situated at a distance of around 15 km from Khandala on the popular Chattrapati Shivaji highway. This lake is known for its serene surroundings, calm water and various picnic spots that surround it. Bhushi Lake is surrounded by a beautiful network of small waterfalls and attracts the maximum number of tourists during the months of July and August. A large number of tourists also get attracted to this lake because of delicious food stalls and rubber merchandise shops that are situated around it.
5. Bhaja Caves
Bhaja Caves were built during the 2nd century B.C and represent a set of around 20 rock cut Buddhist caves. These caves are surrounded by the Arabian Sea on their eastern side and by the Deccan plateau on their western side. Bhaja Caves were initially built for meditational purposes by the followers of Buddhism and represent the great architectural brilliance of Buddhist art. These caves house around 15 stupas and are surrounded by a beautiful waterfall. The interiors of these caves are artistically decorated with rock carvings, paintings and exotic sculptures.
Khandala is certainly a dream destination for nature lovers as it represents a perfect combination of mountains, lakes, waterfalls and an extremely pleasant weather. This town is also blessed with some of the most exotic varieties of flora and remains densely packed by tourists during the monsoon season. On your trip to this amazing place, don't forget to include the above mentioned places in your itinerary as they will give you the most memorable experience of Khandala.
Don't Miss These Tourist Destinations In Maharashtra: