Visitor Information
Famous For: Tourism, Photography, Adventure, Landscape, Panorama and Trekking.
Entrance Fee: No entrance fee
Visiting Time: Sunrise to 6:00 p.m.
Visit Duration: Two to four hours.
Coonoor is a municipality in Tamil Nadu's Nilgiri district and has wide fame for its Nilgiri tea. It is the second largest hill station in the Nilgiris, next to Ooty. Coonoor is nature at its best, with fabulous waterfalls, lush forests and panoramic view points. Lamb's rock is situated about seven kilometers away from the main city of Coonoor. The mountainous region engulfing Lamb's Rock is myriad meters above sea level. One can reach the top of Lamb's rock after a thrilling trek, and can view a vast expanse of the outstanding landscape. Lamb's Rock is the perfect place to enjoy the beauty of nature and is filled with tranquil.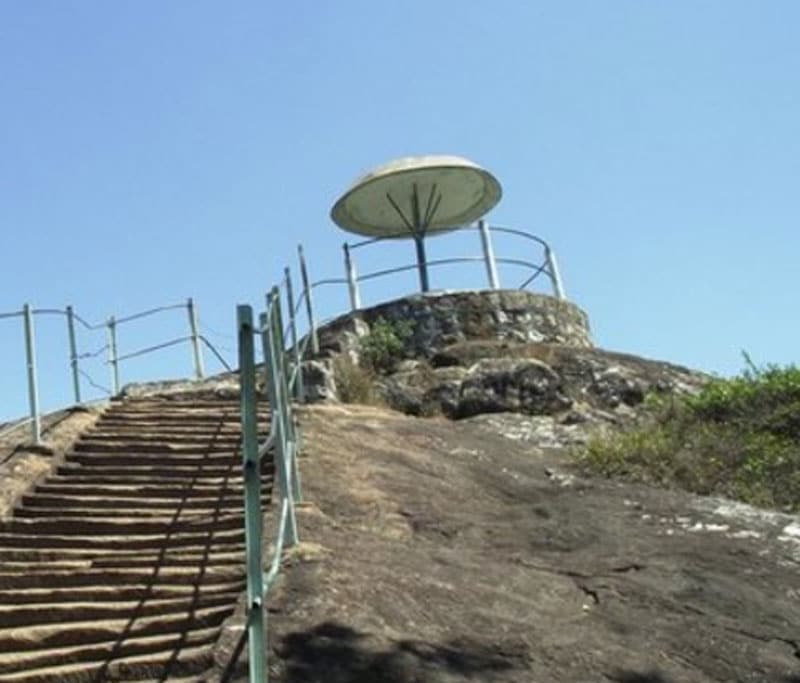 Traveler Tips
Visit Lamb's Rock on a day with clear skies. Check the weather forecast to ensure that your day of visit is not going to be rainy or cloudy. Only on a clear-skied day, the view from the Lamb's rock is at its utmost brilliance.
Since this is a mountainous region, the hills are well inhabited by monkeys. So, keep your food safe and do not entertain the monkeys. Beware of them.
Lamb's Rock stays serene the entire day. However, it is best if one gets a chance to visit this marvelous place during sunrise or sunset. At sunrise, we can see yellowish orange beams, clearing away the mist to uncover the phenomenal view of the Coimbatore plains, tea and coffee estates. At sunset, your eyes would be delighted to see the lit-up place gradually immersing into darkness.
Wear proper footwear and clothes for a comfortable trek.
The travel to Lamb's rock is not a smooth ride. One needs to take great care while driving to this point.
Things to Do
To reach Lamb's Rock, one needs to carefully drive between the bends of roads, scented by tea and coffee plantations. This ride is guaranteed to be fantastic.
One needs to trek for about 500 to 950 meters to arrive the view point. The trekking experience is unbeatable, as you get to see wonderful sights as you trek and your adrenaline gushes with every step moving higher.
At the view point, you get to witness one of the most picturesque scenes in the country- lush green tea and coffee plants, the plains of Coimbatore and thick dense forests, all in a single frame.
This is the place to enjoy by oneself or with friends and family. With wind on your face and a panorama presented to your eyes, what more bliss can you ask for.
Local photographers are available to capture your magical moments in the beat angles.
Don't forget to carry your binoculars, because two other top tourist attractions, the Dolphin's Nose and the Catherine Falls can be seen clearly from the Lamb's Rock.
Availability of Guides
Local tourist guides are available and they are knowledgeable and well-versed about the tourist spots. It is highly recommended that one travels here along with a tour guide, to learn in detail about the place and realize its prominence.
Best Time to Visit
Lamb's Rock has buckets of mist floating everywhere, since the Nilgiris are at high altitudes. Therefore, it is advisable not to visit this spots during the winters. The mist clears during the warm summers, transforming Lamb's Rock into a spectacular view point. March is the best time to visit this spot, as it holds the favorable conditions.
How to Reach
Mettupallayam and Coimbatore are the nearest railheads and are at a respective distance of 46 km and 75 km from Coonoor. NH 67 connects Ooty to Coonoor and SH 17 connects Kotagiri and Coonoor, by roads. The Coimbatore international airport is the nearest and this is well-connected to Sharjah, Singapore, Hyderabad and the metropolitan cities of India. Once you reach Coonoor, take a bus or a cab to reach the Lamb's rock region. One needs to trek about a kilometer or a half, to attain the view point.
Interesting Facts and Trivia About Lamb's Rock
Lamb's rock, also known as Echo Rock, is the Coonoor suicide point.
A view of the tea and coffee estates as well as the plains of Coimbatore, can be viewed from Lamb's rock.
Lamb's rock derives its name from Captain Lamb who revamped this place out of his own will.
Lamb's Rock Is a Popular Movie Shooting Area.
The Dolphin's Nose which is one of Nilgiri's top attractions, and a well-known shooting spot, can be viewed from Lamb's Rock.
The gorgeous Catherine falls which is located several meters away, can be seen as long white falling strings, from Lamb's Rock.
Nearby Attractions
Dolphin's Nose
Sim's Park
Catherine Falls
Lady Canning Seat
Law's Falls
Pasteur Institute
Tiger Hill Cemetery
Droog Fort
All Saints Church
Katary Falls
Wellington Gymkhana Club
Pomological Station
Nearby Restaurants
Green Fields
Lemon Apple Resort
Jharokha Restaurant
Dragon
Open Kitchen
La Belle Vie
Hampton Bar
Hill Crest
Orchid Square
Venky's Restaurant
Ooty-Coonoor is a wonderful holiday destination which one needs to visit at least once, only to keep coming back. When you're here, do not miss visiting the blissful Lamb's Rock, to create treasurable memories.