Visitor Information
Famous For: Tourism, Photography and Adventure.
Entrance Fee: The entry fee to the point is 15 INR per person and you will need to pay a fee of 20 INR for carrying camera along with you.
Visiting Time: It is open on all days from 9AM to 6PM.
Visit Duration: Approximately an hour. If you want to do some shopping of the things available en-route then it might take longer.
Apart from the amazing weather and beautiful Nilgiri with which Coonoor is decked up, there are many other tourist spots. One among them is the Dolphin Nose, which actually gives you an 1800 view of the scenery laid in front of you with the Catherine falls hushing right through the centre of the greeneries. The road to the Dolphin Nose, would take you across the lush green tea estates which Is certainly a dreamy experience.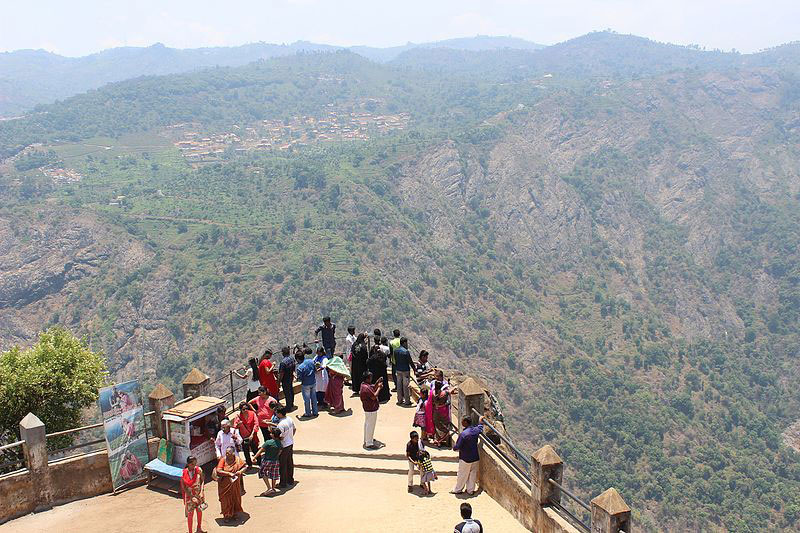 Traveler Tips
Try to visit during the noon time to avoid fog and mist. Early morning and late evenings might interrupt with proper view.
Do not go to the edge beyond a certain safety limit. If you are travelling with children please be aware.
Try not to carry any food items or plastic bags to the main point. Maintaining the cleanliness of the place is your duty too.
In case you are carrying any food, keep them safe otherwise they might be snatched by the notorious monkeys.
Things to Do
Borrow a Telescope with 10 INR and enjoy the telescopic view of the mountains in front of you.
Some exclusive photoshoot with the backdrop of the panoramic view of the Nilgiri Hills.
You might want to buy some tea and tea products, Coonoor tea which are available while going to the Dolphin's Nose point.
Best Time to Visit
The winter months (November to February) get chilly. The temperature falls sharply, however if you are a Chionophile then you might as well enjoy during that time also.
During the months of March to May, the temperature is a little higher with occasional rainfall. Sight-seeing is best during this time of the year.
The monsoon witness's heavy rainfall and most tourists try avoiding this time. If you are looking to spend some quiet time, rainy season is the best. Also, the falls are rain fed so quite obvious this month would give you a better view. The atmosphere is wonderful with fresh air and greenery all around. 
How to Reach
The nearest airport to the Point in Coonoor is Coimbatore International Airport which is at a distance of about 54 kilometers. From there, you can take a bus or book a cab to reach the city of Coonoor. Other than that, there are buses at regular intervals from Bengaluru, Ooty, etc. The Dolphin's nose is merely 12 kilometers from the main city. The transportation facilities are smooth and you will face no problem at all. However, it is advisable to book a cab for a day and visit all the places.
If you are planning to travel by train, the closest railway station would be Coonoor Station itself.
Interesting Facts and Trivia About Dolphin's Nose
A spectacular view of Catherine Falls can be enjoyed from here. Also, the nearby terrains filled with lush green vegetation during Monsoons are also a sight to behold.
Narrow gorges and steep hills are also visible from this peak.
The path to Dolphin's Nose is filled with sharp hairpin turns and miles of blanketed tea gardens can be viewed along the way.
Nearby Attractions
Catherine Waterfall
Sim's Park Coonoor
Nehru park
Rangaswamy peak and pillar
Nearby Restaurants
Glendale Tea factory outlet
La belle Vie
Jharoka Restaurant
Quality Restaurant
Hyderabad biryani house
Open kitchen
The cuilnarium
Tea county restaurant
If you are planning to visit Coonoor in the future, make a list of the best spot and make sure to keep this "180o view spot" on the very top of your lists and tick it off as soon as possible. The place attracts tourists from all across the country, probably not for any lame reason. You would perhaps regret missing out on this spot.