'Because jungles, trees and monkeys are just too mainstream!'
Spread across an area of 560 sq km, Gulf of Mannar National Park lies within the larger Gulf of Munnar biosphere reserve (10,500 sq km) in the state of Tamil Nadu. It encompasses 21 small yet amazingly beautiful islands and stretches across the south-eastern coasts of Rameswaram, Tutucorin, Tirunelveli and Kanyakumari in the sparkling waters of the Indian Ocean. This is the first marine Biosphere Reserve in Southeast Asia and undoubtedly, the best of its kind with an astonishingly huge variety of plants and animals! The marine animals and coral reefs are the main attraction here. You will also find a number of rare and endangered species depicting the 'after-effects' of the ruins brought about by man. Nevertheless, this place will simply mesmerize you beyond your expectations!
Whether you're an explorer, a wildlife enthusiast, a nature lover, a bird watcher, an adventure junkie or simply someone looking for a getaway this park will pay heed to your escapade! For kids, its a great opportunity to see the animals mentioned in their biology books right there in front of their eyes! For lovers, the ambience is perfect to set the mood.
[Also Checkout: 100 Best Indian Wildlife Sanctuaries]
Climatic Conditions
Gulf of Munnar experiences tropical climatic conditions. This place receives rainfall from both southwest and northeast monsoons with the latter contributing predominantly. Heavy rain-showers are known to pour down during the months of October to December. December is the coldest month while summer sets in during January to May marked by unusually hot climate. The wind and ocean trends are quite irregular, with highest wind speed and stormy ocean observed during the months of June to August. Tidal amplitude is about half a meter.
Best Time To Visit
October to March is considered the best time to visit Gulf of Munnar.
Wildlife & Vegetation
Animals and Marine Diversity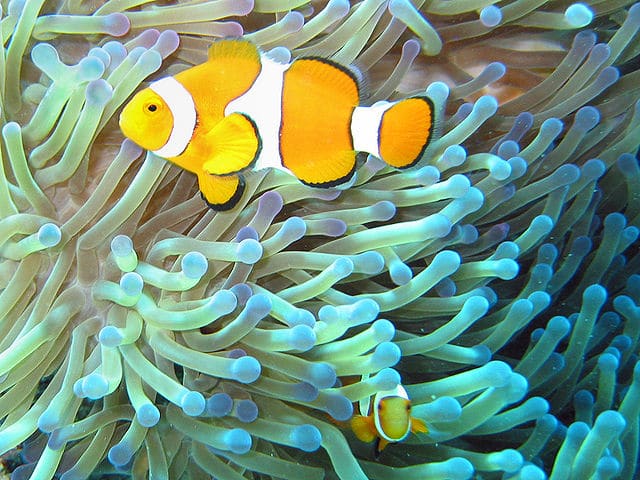 From Public Domain, via Wikimedia Commons
You will find an exquisite variety of the underwater inhabitants at Gulf of Munnar. These include Dugong which is an endangered marine mammal and supposedly the 'star' species of the land, blue whale, fin whale, humpback whale, shrimps, lobsters, crabs, echinoderms, bottlenose dolphins, sperm whales, finless porpoise, common dolphin, mink whale, gastropods, butterfly fish, parrot fish, clown fish, snappers, squirrel fish etc. A breathtaking variety of coral reefs can also be found here, although many of these are suffering the ill-effects of pollution and fishing etc. The reefs provide shelter to pearl oysters, sea horses, herrings, barracuda, sea cucumbers, sprats etc. An important animal from evolutionary point of view, the Balanoglossus has also been found at one of the islands here.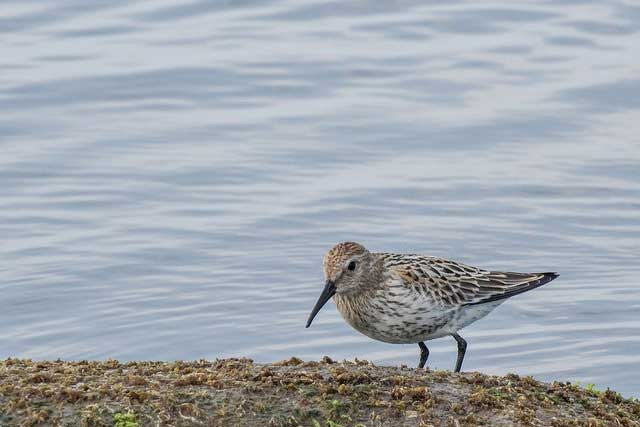 Photo by Jevgenijs Slihto, CC BY 2.0
Many migratory birds are known to visit this national park and the islands. These include crab plovers, broad billed sandpiper, red knot, red necked phalarope, long stoed stint, bar tailed godwit, dunlin etc. A stunning view is to witness flocks of flamingos during winter.
Endangered marine turtles are found here including olive ridley, hawsbill, green turtle, leatherback and loggerhead.
The Marine Park has a collection of estuaries, mudflats, beaches and forests of the near shore environment. Coral reefs, seaweed communities, salt marshes, sea grasses and mangroves are what make up the land of the park. Mangroves can be predominantly found in the intertidal zone of the park islands. The trees are usually found near the beaches and estuaries and have broad leaves. This type of vegetation supports the unique fauna found here.
Distance From Nearby And Major Cities
The National Park can be easily via Mandapam and Madurai. Distance from these and other major islands is as follows:
Rameswaram: 23 km via NH 49
Mandapam: 45 km via NH 49
Madurai: 191 km via NH 49
Thiruvananthapuram: 387 km via East Coast Rd
Coimbatore: 403 km via NH 49
Chennai: 583 km via Grand Southern Trunk Rd/NH 210
Bangalore: 626 km via NH 7 and NH 49
Hyderabad: 1192 km via NH 7
Goa: 1194 km via NH 7
How To Reach
By Air: Nearest airport is at Madurai at a distance of 150 km from the park.
By Rail: Nearest railway stations include Mandapam-Ramanathapram, Rameswaram and Tuticorin.
By Road: Regular buses are available from Ramanathapram, Rameswaram and Madurai.
Local Attractions
To get in touch with nature and wildlife, you can grab a ride of the glass-bottomed boats upto the sandy beaches of the islands or go on bird watching tours in the wildnerness.
You could visit the museum at the park and have a look at the amazing residents of this biodiversity hotspot.
Rameswaram is a popular tourist destination. Here you can visit Ramanathswamy temple. Being a part of the 'char dhaams' , this temple is an important hindu religious centre.
Accommodation
Private hotels and resorts are available in Mandapam and Rameswaram.
Other Useful Information
All islands are uninhabited. A permit is required to visit the islands as visitors are not allowed on the islands.
Entry Fee to the national park: Rs. 10 per adult and Rs. 5 per child.
Free parking.
Park timings: 9.30 am to 12.30 pm and 1.30 pm to 5.30 pm
Visitors can hire the glass-bottomed boats for viewing the marine diversity.
Useful Contact
The Wildlife Warden
Gulf of Mannar Biosphere Reserve
Mandapam, Ramanathapuram.
Phone: 04567-230079