Amongst some of India's most treasured wildlife sanctuaries is Palani Hills Wildlife Sanctuary and National Park. Located in the Dindigul district of Tamil Nadu, this Forest reserve was established as a protected zone in the year 2008 under the administration of Tamil Nadu Forest Department. The entire sanctuary spans around an area of 736.87 kilometers and houses several mountains and hills within it. Palani Hills Wildlife Sanctuary and National Park holds its exclusivity to its many waterfalls located all over the reserve.
There are around 26 major waterfalls which reach lengths anywhere between twenty meters to five kilometers. Some of the most prominent waterfalls that provide a source of nourishment to the forest include Bear Shola Falls and Pambar Falls. Besides soul soothing waterfalls, there are mountains within the sanctuary that scale up to an average height of eight thousand feet. The Sanctuary is also famous for several endangered species of animals that form its ecosystem including Nilgiri Tahr and Indian Elephant. Several different species of reptiles and amphibians also co-exist within this ecosystem and thrive in the all year round pleasant climate of the region.
Climatic Conditions
Palani Hills Wildlife Sanctuary and National Park is located within a mountainous stretch, which causes the temperatures in the region to be slightly cold. In the months of March till May, The average temperature of the area ranges within 10 to 20 degree Celsius. The winter months are slightly colder with temperatures reaching a minimum of 8 degree Celsius between the months of December and February. The area receives ample rainfall between the months of April and May.
Best Time to Visit
The months of April and May are the best time to visit Palani Hills Wildlife Sanctuary and National Park. There is mild rain with regular showers and thriving fauna and flora. During this period, the waterfalls in various parts of the reserve are most active and present a sense of undiluted beauty to the forest.
Wildlife at Palani Hills Wildlife Sanctuary and National Park
Several Species of Mammals, Reptiles and Amphibians co-exist in this region and depend on the rich vegetation and water supply in the forest area. Some of the prominent animal species found in Palani Hills Wildlife Sanctuary and National Park are listed below.
Mammals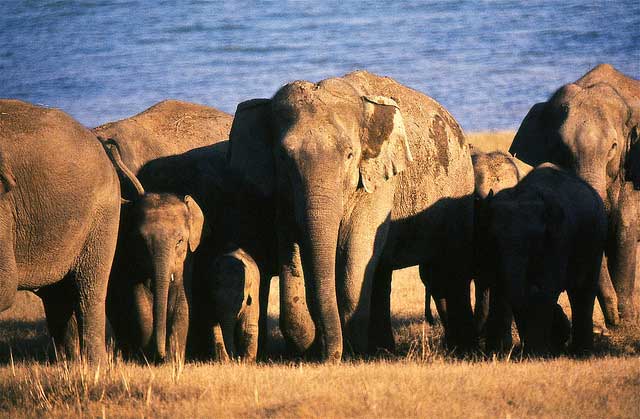 Indian Elephant, Wild Boar, Wild Ox, Grizzled Giant Squirrel, Nilgiri Tahr, Royal Bengal Tiger.
Amphibians
Dubois, Micricalus Nigraventris, Raorchestes, Ghatixalus asterops, Nyctibatrachus deccanensis, Indirana leptodactyla.
Reptiles
Dravidogecko anamallensis, Kaestlea palnica, Salea anamallayana, Kaestlea travancorica, Brachyophidium rhodogaster, Ristella rurkii, Uropeltis broughami, Platyplectrurus madurensis, Uropeltis pulneyensis, Uropeltis woodmasoni, Boiga dightoni, Ahaetulla dispar, Trimeresurus macrolepsis
Distances from Nearby and Major Cities
Coimbatore – 172 km
Trivandrum – 331 km
Bangalore – 465 km
Chennai – 529 km
Hyderabad – 1030 km
Mumbai – 1455 km
Delhi – 1588 km
Kolkata – 2177 km
Nearest Airport
The nearest airport to Palani Hills Wildlife Sanctuary and National Park is in Coimbatore which is around 170 km form kodaikanal, the nearest city to Palani Hills Wildlife Sanctuary. There are daily flights going to and fro all major cities all year round in Coimbatore airport.
Nearest Railway Station
The train route till Palani Hills National Park and Wildlife Sanctuary is nearer than the airport. The nearest railway station is situated in Kodaikalnal, from where a bus or taxi can be hailed till the Sanctuary.
Road Accessibility
Palani Hills Wildlife sanctuary has good road connectivity with Government A/c and Non A/c buses making round trips from Trivandrum, Chennai and Madurai. Private buses and taxis can also be hailed for the purpose of reaching the Sanctuary.
Accommodation Facilities
There are several Forest guest houses within the sanctuary situated at different locations which can be pre-booked or hailed on the spot depending on availability.