Widely appreciated as one of the most picturesque sanctuaries in South India, the Anamalai Wildlife Sanctuary was notified in 1976 and renamed as The Indira Gandhi Wildlife Sanctuary in 1987 to commemorate the visit of the then Prime Minister Indira Gandhi's visit in 1987. It was upgraded and given better protection status two years later as a National Park which included an area of 108 square kilometers. The wildlife sanctuary is a total of more than 950 square kilometers and is flanked by the Anaimalai Hills of the Western Ghats.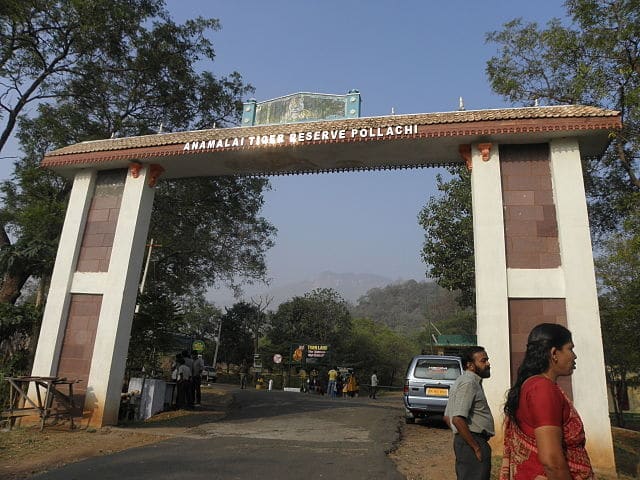 The ever-changing topography of this wildlife sanctuary consist dry scrub forests, savannah forests, moist deciduous and evergreen forests and grasslands at high elevations. Teak used to be plentiful in these forests and as a source of revenue. By 1856, efforts were made to regenerate these plantations. In 1915, a British forester, Hugo Woods drafted a working plan which was then adopted by the colonial rulers. Woods was known to the local tribes (Kadar Tribe) as someone who was thoroughly dedicated and committed to saving the forests in that area and is still fondly recalled by them.
These forests are home to many indigenous tribes—The Pulaiyars, the Muduvars, the Malasars, the Malai Malasars and the Kadars all who live in harmony with the forest and their surroundings. About 4,700 still live in more than 30 settlements. Most of them live in the buffer zones though a few of them still live inside the national park.
Climatic Conditions
The average annual rainfall in these forests range from 800 mm to 4,500 mm with temperatures ranging from 0 degrees C in the winter to 35 degrees C or more at the peak of summer months. As the altitude difference ranges from 340 meters to 2,400 meters, temperature as well as rainfall is also varied. The period between June and August is best avoided as it is typically warm and humid.
Best Time To Visit
The best time to visit Anamalai Wildlife Sanctuary is from December to April when the weather is pleasant and there is a good chance of sighting wild animals in their natural habitat.
Wildlife at Anamalai Wildlife Sanctuary
The Royal Bengal Tiger, Asiatic Wild Elephants, Gaur, Wild boar, Spotted Deer or Chital, Sambar, Muntjac and Giant Squirrel are usually sighted. Leopards can also be spotted here in the park. The Common Langur, the Nilgiri Langur, the Bonnet and the Lion-tailed macaque are the four primates that can be found here. The Nilgiri Tahr can also be spotted on lucky days.
Avian life is rich and plentiful with as many as 300 species recorded. Of these, one should keep a lookout for the Grey Jungle Fowl, the Malabar Whistling Thrush, the Great Pied Hornbill, the Malabar Hornbill, the Mountain Imperial Pigeon, the Ceylon Frogmouth, the Peregrine Falcon, Painted Bush Quail, White-bellied Woodpecker, Brown-backed Needletail, Nilgiri Wood Pigeon, Dollar Bird, Asian Fairy Bluebird, Wynad Laughing Thrush Parakeets, Babblers, Drongos, White-bellied Shortwing, Hill Myna, Nilgiri Flycatcher, Shrikes, Cuckoos, swifts and owls to name just a few!
Distance From Major Cities
Pollachi is about 35 kilometers from Topslip, one of the main tourist points in the sanctuary.
Chennai– 623.3 kilometers
Delhi– 2600 kilometers
Mumbai-1450.7 kilometers
Kolkata-2219.3 kilometers
Ahmedabad-1961.8 kilometers
Bengaluru-459.8 kilometers
Chandigarh-2848.6 kilometers
Hyderabad-1034.8 kilometers
Indore-1882.2 kilometers
Nearest airport
Coimbatore is the nearest airport to connect Indira Gandhi Wildlife Sanctuary.
Nearest railway station
The nearest railway station is Pollachi. You can then board a bus or hire taxis to take you to your destination.
Road Accessibility
Anamalai is accessible by road. Public busses and other modes of transport ply regularly from Coimbatore and Pollachi
Accommodation Facilities
There are many resorts and hotels at Topslip and Pollachi. For reservations at Topslip, one must book accommodation well in advance at the office of the Wildlife Warden in Pollachi.
Entry Fees
The entry fee is INR 25 per person. Only forest department jeeps are permitted to ply inside. Bookings in advance will ensure hassle-free travel and visits inside the sanctuary.
Useful Contacts For Bookings and Accommodation
To stay at Topslip, contact
Wildlife Warden
Indira Gandhi Wildlife Sanctuary
365/1, Meenkarai Road
Pollachi, Ph 04259-225356
At Coimbatore
Vijay Park Inn, Gandhipuram
91-9211177444