Visitor Information
Famous for: Spiritual Seekers, Peace lovers
Entrance Fee: Free Entry
Visiting Time: Daytime is favorable
Visit Duration: 1-2 hours
Vishnu Ghat is one of the tranquil treats of Haridwar where you can soak yourself in the spirituality of this town and also this is one of the unsoiled streets of this holy city as well. It is devoted to the Lord Vishnu and is merely 1.7 km from Har ki Pauri, thus an easy to reach place as well as a retreat to unwind at! You can endeavor for a holy dip in the revered Ganges River and then just sit here pondering over the divine aura that surrounds this city in its very spirit.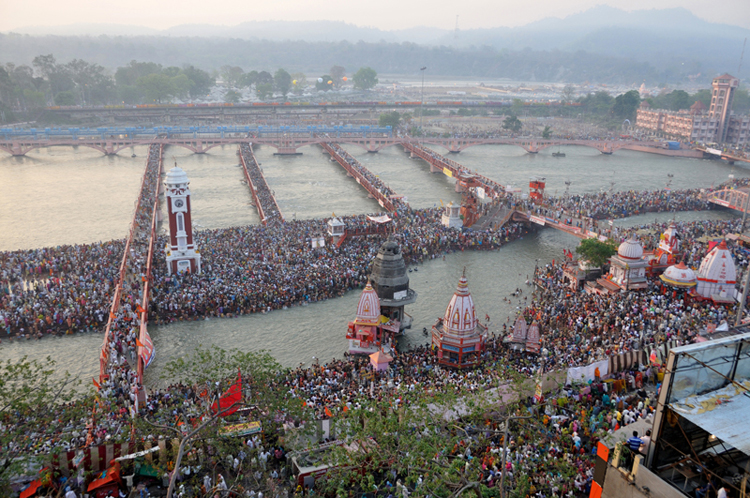 Traveller Tips
You can take water bottles with you as many of the stalls are situated around where you can immerse yourself in the street food.
As barriers are fenced around to save people from slipping in the river, be cautious and if there are kids keep them away from the flowing water.
Things to Do
The street food of Haridwar is a thing you cannot miss! It is simple yet lip-smacking, thus don't forget to try the different delicacies around Vishnu Ghat.
Spend your noon or the dawn time here looking over the flowing Divine River Ganges and let yourself be carried away by its spiritual characteristic!
Availability of Guides
You can always in hire a guide who can show you the city as the guides are not available for Vishnu Ghat specifically.
Best Time to Visit
Haridwar has a pleasant weather all around the year but summers are a bit humid so try to visit it around winters or spring time.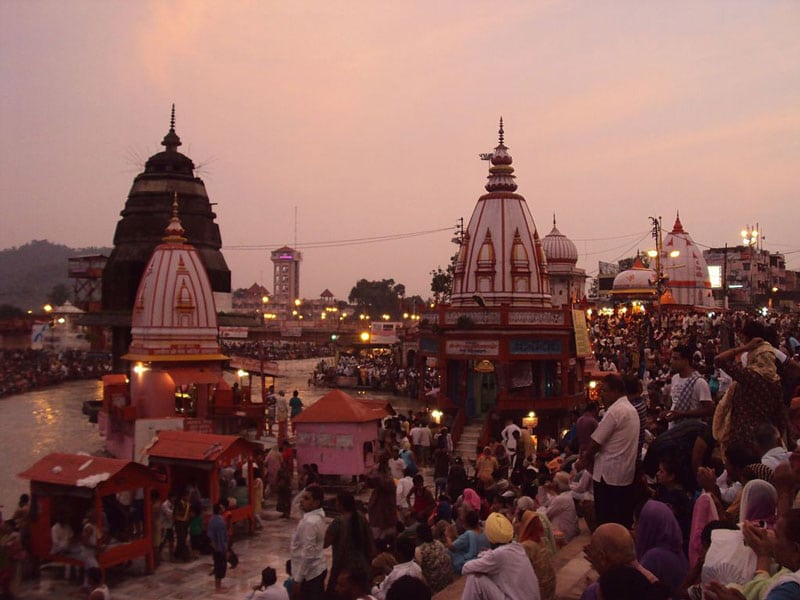 How to Reach
As Vishnu Ghat is just a few kilometers away from Har ki Pauri, you can take a walk towards this street and sit down to soak in the tranquility and serenity of this beautiful place.
Interesting Facts and Trivia
The legend says that Lord Vishnu at this Vishnu Ghat has taken a dip in the heavenly River Ganges and that's why many devotees believe that going for a holy dip takes away one's sins here.
It is a pristine street and there is not much crowd to be seen, hence if you are looking for a peaceful day away from the teeming streets of the city, then Vishnu Ghat is an idyllic option.
This place is wonderfully designed with safety cautions and cleanliness is also taken care of.
Nearby Attractions
Nearby Restaurants
Magpie- The Meeting Place
Spice n Flavors
Kanahaiya Dwarakapuridham Haridwar
Ganga Lahiri Hotel
Big Ben Restaurant
Chotiwala
Krishna Ji Restaurant
Dada Boudir Hotel
Thus, the quietness and stillness of Vishnu Ghat is what will take your heart away and will give you a chance to look at the spiritually revered River Ganges looking at its never-ending flow and its divinity that will surely mesmerize you. The place is a clean one and its immaculateness brings devotees that want to be away from the crowded ghats of Haridwar searching a place where they can peacefully soak in the mood of this city. So, the next time you plan a vacation to Haridwar, don't forget to visit Vishnu Ghat, listen to the religious legends from the locals or just ponder quietly on the landscape, this street will certainly leave an impression on you that you will cherish forever. Also, be safe and away from the barriers around and make sure to savor the scrumptious street food, especially aloo kachori and pan that are the most famous to try here. Therefore, an ideal retreat of tranquility and quietude, the Vishnu Ghat is a must to visit to immerse oneself in the spiritual beauty of Haridwar, happy journey!