Visitor Information
Famous for: spiritual retreat, hermitage, photography
Entrance Fee: There is no entrance fee at Shanti Kunj
Visiting Time: It is open for 24 hours
Visit Duration: 1 to 2 hours
The Shanti Kunj is the perfect recluse for a hermit and it is an absolute divine getaway for those who seek a bit of calm and spiritual touch in their life. The Shanti Kunj Ashram in Haridwar is one of those wonderful places that offer you an escape into the divine aura of spirituality.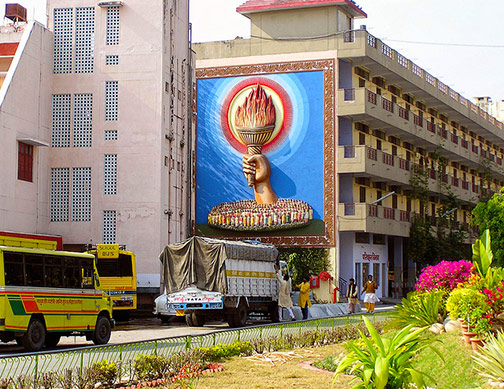 Traveller Tips
Make sure you carry handy first-aid kits and medicines especially if you have kids or elderly people with you.
Make sure you have a good guide with you to take you through the ancient temples and unexplored trails of Haridwar.
Make sure you don't carry any plastic or other harmful materials with you. Remember that it is your responsibility to keep the place clean.
Things to Do
You don't have to plan anything while you are in Shanti Kunj because the Ashram has it all. The plans will be done accordingly to the rules of the Ashram.
The Ashram engage its visitors with various activities like meditation, chants, yoga and plenty more.
You can explore the surrounding landscapes of the Ashram and go on a trekking expedition.
The library of the University in the Ashram is unrivalled in its collection of books and journals. You can indulge in some quality reading.
Availability of Guides
If you want to learn a little bit of history while you are at Haridwar then you better hire a local guide who can give you the complete experience. I would advise you to pick them at the official tourism office at Haridwar so that you be sure that they are reliable and genuine.
Best Time to Visit
The best time to visit Haridwar would be from February to October. The climate remains fairly pleasant and enjoyable and the night is often longer than the day, which is definitely a good thing because most of the rituals take place during the night time.
How to Reach
The Shanti Kunj Ashram is well accessible by road, rail and air. The nearest railway station to Shanti Kunj is the Haridwar Railway Station which is only a few kms away from the Ashram. This can be easily covered by rickshaws or other local transportation which frequents the route.
Interesting Facts and Trivia about Shanti Kunj, Haridwar
There is absolutely no need for prior booking.
Shanti Kunj accommodates its visitors completely cost free.
It harbours a university and a spiritual centre within its premises.
You can stay for a maximum of two days free of cost at the Ashram.
There are various activities that are a part of the Ashram's routine and every visitor has to follow by its rules and regulations.
These rejuvenating practices include yoga, meditation, silent prayers.
Nearby Attractions
Haridwar is known for religious tourism but it does not matter whether you are on a spiritual journey or you simply like to travel, because Haridwar will never disappoint you. There are plenty of places for you to visit while you are in Haridwar. Some of them are mentioned below:
Crystal World
Mohyal Ashram
Badrinath Temple
Samadhi Sthal
Bhuma Niketan Temple
Lal Mata Temple
Nearby Restaurants
Big Ben Restaurant
Shanti Kunj Canteen
Bikaner Mishthan Bhandar
Annapurna Vaishno Bhoj
Vishno Dairy
The Urmi
Park View Hotel
Shanti Kunj Shrirampuram Hotel
Whether you believe in divine beings or not, an escape into a spiritual world will not harm you a bit. The aura the Ashram generates is unparalleled and it is good that you can stay away from the hectic routines and boredom of life and spend some time in spiritual recluse. If you have had your fill of temples and spirituality, then you can head out to the nearby shopping attractions or simply explore the trekking trails of Haridwar.