Uttarakhand is undoubtedly the most naturally blessed state of India. From adventurous activities to snow-covered Himalayan peaks and from ancient holy temples to the wide range of exotic flora and fauna, this state of Uttarakhand leaves you stunned with its beauty. Pauri is one of the most beautiful places of Uttarakhand and is situated in the district of Pauri Garhwal. The beauty of this place can be ascertained from a simple fact that it is lined with Holy Ganga River on its South and mighty Himalayan Mountains on its North. Pauri is one of the most culturally rich places in the Garhwal region of Uttarakhand and is widely known for its traditional values. Here are top 5 places in Pauri that you should visit on your trip to this small town of Uttarakhand.
1. Khirsu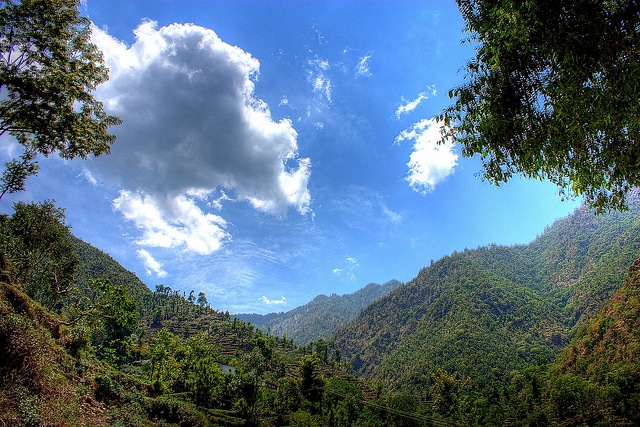 Khirsu is an adjoining village of Pauri and is one of the most peaceful picnic spots in the Garhwal region. The road leading to Khirsu offers you an amazing experience of trekking and it usually takes around 50 minutes to reach from Pauri to Khirsu. Imagine yourself standing in the midst of thick oak forests with beautiful birds chirping around. Sounds tempting right? Well, this is exactly what Khirsu offers you.
Views obtained from this place cover a major part of the Himalayan range and show you the most unseen side of Himalayas. As soon as you reach Khirsu, you find yourself surrounded with a rich network of Deodars and rare orchids. All these features make this place a dream destination for nature lovers and photographers.
2. Kandoliya Temple
Kandoliya Temple is located on the road leading to Lansdowne from Pauri and is famous for multiple reasons. This temple is dedicated to a local deity of Garhwal named Kandoliya and is a favourite among the localities. Kandoliya Temple hosts an annual fair in its main complex where people volunteer for activities like food distribution and cleanliness drives.
A large number of travellers also visit this place, as it is popular for housing the highest stadium of the sub-continent. Enchanting views of sunset, distinctly visible mountain peaks and rare sights of Pauri town are few extremely mesmerizing features of Kandoliya Temple. Children-friendly facilities like adventure parks and toy shops are also available for the visitors.
3. Chaukhamba View Point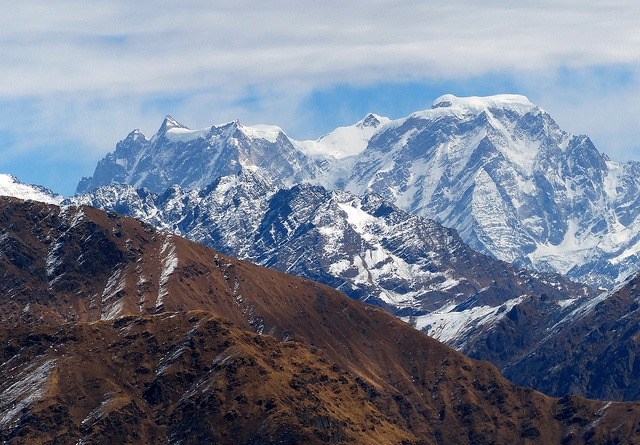 Chaukhamba View Point can be defined as a perfect amalgam of city lights and lush green hills. This view point is located at a distance of 5 km from the town of Pauri and is covered with a dense network of forests all around it. Blessed with a beautiful blend of Himalayan peaks, oak green trees and city lights, Chaukhamba is the most picture-perfect destination in the entire town of Pauri.
As a tribute to this place, the snow clad mountain peaks that are visible from this view point have been named as Chaukhamba points.
4. Kyunkaleshwar Mahadev Temple
Dedicated to the Hindu deity Lord Shiva, Kyunkaleshwar Temple can be appropriately described as a devotional center placed in the midst of thick green forests. This temple is situated a height of around 1800 m above the sea level and is believed to have been built by Shankaracharya in 700 A.D.
Apart from its spiritual value, Kyunkaleshwar Temple also attracts visitors because of its unique location. The temple complex is surrounded by snow covered Himalayan peaks on one end and steep rocky treks on the other. On your visit to Pauri, you should definitely pay a visit to this temple, as it is one of the biggest devotional centers of the Pauri Garhwal region.
5. Tara Kund
Tara Kund is the highest tourist spot in Pauri and is situated at an elevation of around 2250 m above the sea level. The amazing presence of an ancient temple and fresh water pool makes this place a perfect scenic spot for the tourists. The environment around Tara Kund clutches your mind and soul with its rare peaks and unbelievable treks. Located in the development region of Chariserh, Tara Kund is a perfect destination for both pilgrims and trek lovers.
Pauri is undoubtedly a heaven for the lovers of Nature, Himalayas, trekking and pilgrim centers. The above mentioned places have been cautiously selected and will give you the most memorable experience of this place.
Some More Tourist Destinations Of Uttarakhand: