Situated just at a distance of 26 km from Bhimtal, Dhanachuli is a tiny and pristine village of Uttarakhand. It is a sober hamlet and an immaculate destination filled with beautiful mountain views, vibrant orchards and an amusing aura to greet you here in this wonderful heaven. It is away from the crowded towns of Uttarakhand and this unfussiness and flawless quality of this place will actually tempt you to spend a day or two pondering over the mesmerizing air of the Himalayas. Since, there is not much to see in Dhanachuli, we are listing all the possible places which you can explore in a short visit here and be spellbound by the beauty of Dhanachuli.
1. Chauli ki Jali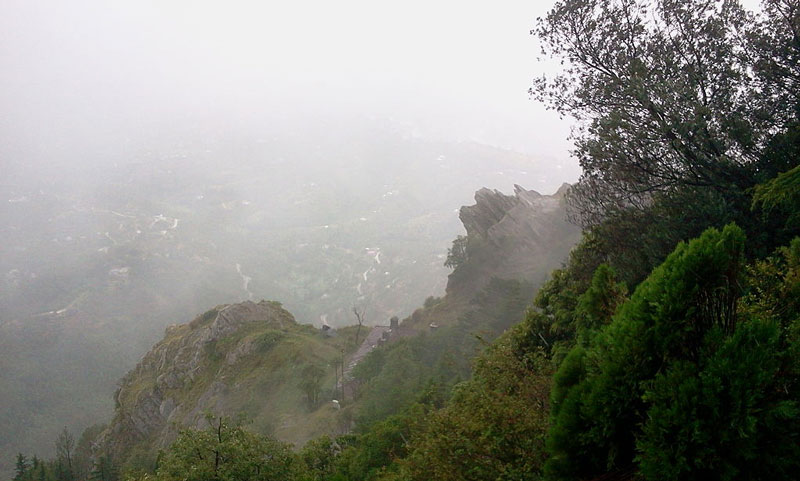 Situated behind the precipice of the well-known Mukteshwar Temple, Chauli ki Jali is a prominent tourist attraction to visit. The word Chauli stands for 'rock' and Jali literally means 'hole' and as per Hindu Mythology records, it is believed that this site has been a battleground of war between goddess and fiends. There can be some evidences found here like an elephant's trunk, imprints of swords and shield, which are actually said to be the witnesses of that battle. The scenic view is too enchanting and breezes of fresh air will certainly convince to spend some time here.
2. Bhaalu Gaad Waterfalls
Bhaalu Gaad Waterfalls is just at a distance of 4 km from Dhanachuli and is an ideal place to escape into the bewitching aura and rejuvenating waters of Uttarakhand. You can take a hike of just 1.5 km and reach the waterfalls to be totally in awe of the charisma it has. The beautiful vistas and sweet sounds of dripping water is an amazing feeling to take your heart away and that's why it has been a popular tourist picnic spot by far in Dhanachuli.
3. Mukteshwar Dham
Mukteshwar Dham is a divine temple dedicated to Lord Shiva and is also located at a high altitude testing your perseverance to reach it and offering you with an adventurous trek alongside. There is a staircase which you have to pass to arrive at the temple, and the legend behind this place says that a demon was killed by Lord Shiva here and then he gave him salvation which is also referred to as Mukti. That's how it got the name of Mukteshwar Dham. The journey of reaching the temple is more like a nature trail with beautiful orchards all around surrounding you in a heavenly air and the temple itself is artistically built in a holy atmosphere and is a must to visit to augment your travels with Lord Shiva's blessings.
4. Ghorakhal Golu Devta Temple
This shrine is a popular religious temple devoted to the Golu Devta and is also endearingly referred to as the 'Temple of bells'. It is said that the Golu Devta is an avatar of Lord Shiva. This temple is famed for its exclusive rituals like using stamp papers like litigations and presenting them here to make your wishes blessed by the central deity as Golu Devta is known as the Lord of Justice and several devotees revisit this place and present bells and animal sacrifices after their wishes are accomplished. The shrine is just 12.7 km from Dhanachuli and you will also find numerous bells all around the temple giving it a sonorous look.
5. Victoria Dam
Situated at a distance of 12 km from Dhanachuli, Victoria Dam is an ecstatic destination filled with natural charm and allure. There are flower gardens surrounding the dam, and also a remarkable Bhimeshwar Temple near to this place as Victoria Dam is just located on the other end of Bhimtal Lake. The charming forest range is a wonderful getaway into the stunning nature and let yourself be amazed by the wonder it adds to your travels!
The retreats around Dhanachuli are also the best ones to opt for if you are planning to just relax and rejuvenate amidst the healing quality of the Himalayas. Moreover, the above ones are a must to discover in and around Dhanachuli as there is not much to see but these tourist spots will surely make your journey a memorable one. Bon Voyage!
Also Checkout These Hot Destinations In Uttarakhand: