Gangotri National Park is one of the most beautiful high-altitude Wildlife sanctuaries in India. Located in the state of Uttarakhand in Uttarkashi district, the sanctuary is spread around an expanse of 2390 square kilometers. One of the most unique aspects of this Park is that the origin of the river Ganga is located inside it. Gangotri, after which the park is named, is a giant glacier which melts in heavy volumes to supply water for India's most sacred river.
The river Bhagirathi flows through the valleys inside the park, providing it the nourishment for sustaining the innumerable bird and animal species thriving in this region. The Park itself starts at a remote town, helping it stay intact from the commotion and ill effects of human presence. The climate in Gangotri National Park is in correct balance of cool and frigid temperatures to provide sustenance to its ecosystem which harbors some of the rarest animals on earth including snow leopards and Himalayan Monal.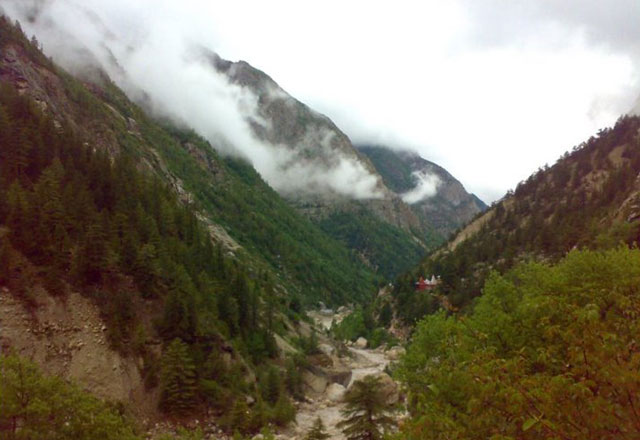 Climatic Conditions
The weather in the park is normally cold and dry with slight winds. The winter months between December and March turn extremely cold in some parts due to the high altitude and northern winds. Monsoons witness regular rainfall and add risk to tourism because of landslides occurring occasionally in some parts of the forest. Summer months are rather pleasant and are visited by more tourists.
Best time to visit
The spring months between October and November are ideal for tourism as the greens flourish and wildlife thrives during this period. Most visitors get to enjoy nature walks and sightseeing. During the spring, the weather is calm and the skies are clear as well, allowing for ample sunlight and warmth for longer treks.
Wildlife at Gangotri National Park
Gangotri National Park holds some of the rarest specimens of fauna within its boundaries. Some of these animals are rare and have evolved to be accustomed to the cold and harsh environments that engulf some of its regions. Some of the animals that thrive in the region are listed below.
Black bear, snow leopard, musk deer, brown bear, Himalayan tahr, blue sheep, Koklass, Himalayan monal, ibex, barbet, Himalayan snowcock, pheasants, pigeons, serow, doves, partridges, etc.
Distances from Nearby and Major Cities
Haridwar – 189 km
Dehradun – 206 km
Ambala – 303 km
Chandigarh – 315 km
Delhi – 402 km
Rohtak – 434 km
Jammu – 687 km
Bhopal – 1159 km
Kolkata – 1699 km
Mumbai – 1912 km
Hyderabad – 1913 km
Bangalore – 2503 km
Chennai – 2543 km
Nearest Airport
Dehradun harbors the nearest airport to Uttarkashi. The Jolly Grant airport in Dehradun located 220 kilometers form uttarkashi is a domestic airport with flights going to and fro Delhi, Mumbai and afew other major cities.
Nearest Railway Station
The nearest railway station to Uttarkashi district is also in Dehradun, around 210 kilometers from the Park. The railroad connectivity extends to all major cities and has daily trains going between Delhi and Dehradun, making six hour journeys during each trip.
Road Accessibility
Gangotri National Park is accessible through route 108 which passes directly through Uttarkashi district in Uttarakhand.
Accommodation Facilities
There are several Hotels in Uttarkashi and along route 108 that are commercially available for lodging purposes. Hotels in this area are comfortable as well as affordable for tourists who need refreshments from long treks and an active day at the National Park.