Visitor Information
Famous for: Religion, natural beauty, photography.
Entrance fee: No fee charged.
Visiting time: 5:00 AM to 12:00 PM and 4:00 PM to 9:00 PM every day of the week.
Visit duration: Around 3 hours.
Vaishno Devi Temple in Haridwar, Uttarakhand, India is a confluence of many sorts of tourist attractions. It has fascinating mythological significance, ancient rocks and caves leading up to it, a promise for wish fulfilment and stellar beauty to top it all off. It is widely believed that the temple is in memory of Trikuta, a Vaishnavi, who was a devotee of the Lord Rama. She prayed and prayed, until Lord Rama vowed to wed her in his last earthly incarnation. There are other religious stories as well, like the one which says parts of Goddess Shakti fell here, making it a Shakti peetha, or pilgrimage site. It attracts pilgrims from all corners of India, around 8 million per year alone.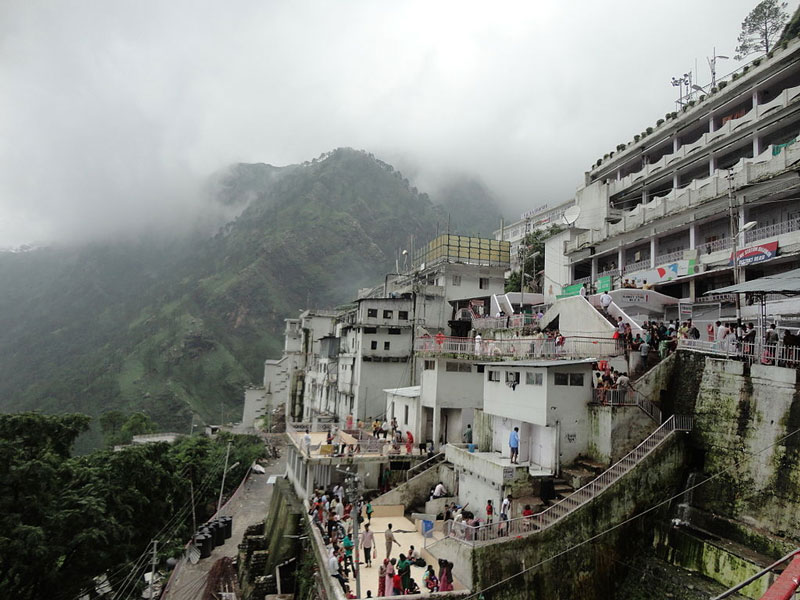 Traveller Tips
Do not bring your pets along as they are not allowed inside the temple.
Plastics and other pollutants are also best avoided.
There are bathroom and locker storage facilities available within the premises.
Click a lot of photographs of this beautiful place.
Things to Do
Undertake a journey around the rock caves leading up to the temple, they have information in artistic forms.
You can trek to other spots along the neighbouring mountains.
Check out the local markets and stores for souvenir shopping.
There are various transportation facilities up the hill like horses, palkis or carriages and even helicopters, pick a ride on any one that catches your fancy.
Availability of Guides
Guides are sometimes available close to the venue for hire on paid trips. You can hire one such guide, as it is an essential part of the tour experience, and make sure he speaks a language you are comfortable with. Some companies take along guides on financed tours, and locals somehow always become the last resort for showing tourists around if guides are not available.
Best Time to Visit
Haridwar, Uttarakhand is one place that remains pleasant throughout the year, so no time is a very bad decision to go there. But if you are looking for the absolute best, it would be the months of March, June, and August to October. March and June are the monsoon times, and the freshening showers make everything more beautiful than always.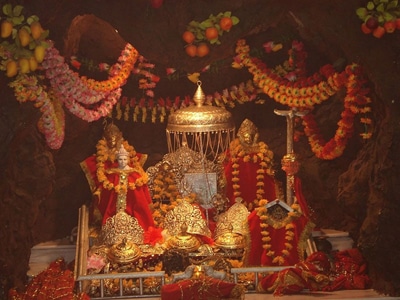 How to Reach
The airport closest to this temple is the Srinagar Air Force Base Airport, at a distance of 107 kms from it. The nearest railway station is the Jammu Tawi Train Station. After arriving at either, you have to take separate conveyance to reach the heartland and this temple. There are also buses connecting it to nearby Indian cities. It is the closest to Katra, from where you get directions and transport facilities for reaching the shrine, and once you get there, you have to hike or trek a considerable distance upwards.
Interesting Facts and Trivia About Vaishno Devi Temple
There is a temple by the exact same name at Katra in the Jammu and Kashmir state.
This temple is the second most visited temple in India.
The right arm of Goddess Shakti was believed to have fallen here from heaven.
This temple offers its devotees the promise of Nirvana.
The rock caves leading to it are called 'Pindis'.
Nearby Attractions
The Bhairavnath Temple, for religion. It is white with good architecture and is situated on a mountain named after Vaishnavi Trikuta.
The Rashyan Gufa, a cave group.
The Amitshriwal Caves, for more natural splendour.
The Sanjhi Chhat.
Nearby Restaurants
The T-Series Langar for good food and environment.
The Jewels Restaurant.
The Kens Food Planet selling indigenous food like Dal Makkhani and even Biriyani, all of which are a hit with customers.
The Punjabi Haveli, or Mansion.
Vaishno Devi temple is an amazing place to be whether it is history, religion or nature that you are looking for. Delve deep into the stories of the past, be alone with Mother Nature climbing through hills, and come back from your vacation a more content person. Here's to wishing the best sojourn on you!