Visitor Information
Famous for: Natural water body, boating, water sports, photography and sightseeing.
Entrance Fees: Parking Fee is Rs.100. Nainital Toll Fee is Rs.100.
Boating Fees: Gondola Ride is Rs.210. Pedal Boat is Rs.150 per hour. Nainital Boat Club will charge Rs.500.
Visiting Time: 6:00 AM to 6:00 PM
Duration of Visit: 90 to 120 minutes.
Nainital, the jewel of Kumaon is a very popular hill station not just among the north Indians but across the whole subcontinent as well as among the foreign tourists. Nainital is also sometimes called the Lake district of India as the hill station has been adorned with some of the major lakes of India notably Naini Lake, Bhimtal, Naukuchya Tal etc. Of all the lakes, the Naini Lake is the most renowned one for its exquisite beauty and shimmering water.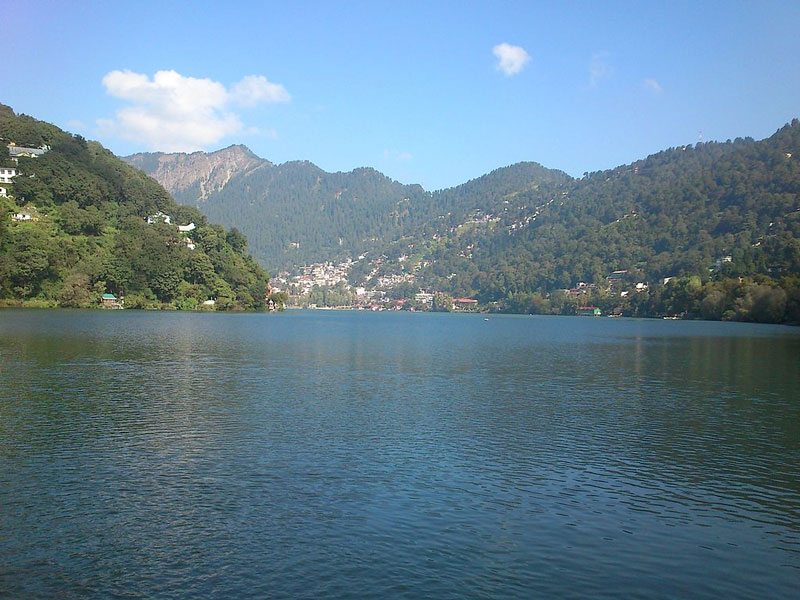 Traveller Tips
Don't forget to take your camera or handycam with you as the place offers some captivating views of Kumaon Hills and many other attractions of Nainital.
It is not prohibited to shoot video or do some still photography at the place.
Always keep a water bottle with you in case of dehydration.
We'll advice you to keep a good pair of binoculars with you for having a better view of the hills.
Things to Do
Roam around the place, breath in that fresh cold mountain area and have some cutting chai from the nearby shops while you are immersed in the vistas of splendid Kumaon Hills and Naini Lake.
Indulge in a photography session as the place offers a perfect backdrop of lake as well as the picturesque Kumaon Hills.
Other points of interest such as snow view, cheena peak and tiffin top can also be spotted from here.
You can go for a memorable boating experience by the gleaming waters of the Naini Lake under the azure Kumaon Sky.
Availability of Guides
There is no need to hire a guide or avail their services. The place is pretty much self-explanatory.
Best Time to Visit
Nainital being a hill station sits at an elevation of 2084 metres above sea level. So, it is advisable to visit the hill station during the summer months. Especially between the months of March and June, during which the weather is quite pleasant. The temperature varies from 10 degrees to 27 degrees of Celsius which is quite comfortable for sightseeing.
How to Reach
Naini Lake is a mere 1 kilometre away from the Tallital Bus Stand of Nainital. It is a bit far from the Kathgodam Railway station and is 25 kilometres away. If you have flied in, then we would suggest you to take the route which goes via NH 109 as the Naini Lake is then about 58 kilometres away from the Pantnagar Airport. Other modes of transport such as private taxis and travellers are also available.
Interesting Facts
Naini Lake is situated at the base of seven hills.
At the main harbour you can find the esteemed Nainital Boat Club which provides yachting facilities to the tourists.
The lake is actually crescent or pear shaped.
Nearby Attractions
Naini Devi Temple
Nainital Boat Club
Gurudwara Shri Singh Sabha
Cave Garden
Snow View Point
Mukteshwar Temple
Kainchi Dam
Bhimtal
Naukchiyatal
Camel's Back
Cheena Peak
Sukha Tal
Nearby Restaurants
Sakley's Restaurant
Sakley's Pastry Shop
Honey Hut
Zooby's Kitchen
Giannis Pure Veg
Nanak Restaurant
Machan Restaurant
Café Chica
Café de Mall
The Lazy Leopard
A primary tourist spot which always finds its place on every traveller's bucket list who comes to visit the beautiful hill station of Nainital. This cute little hill station is adorned with a myriad of tourist spots and must visit places. The mall road which goes side by side with the Naini Lake is a notable place to indulge in some shopping. The lake itself is a jewel to behold, the natural freshwater body is renowned for its rich flora & fauna and memorable boating experience.