Nainital is, in essence, an enchanting place. It is one of the most popular tourist spots of India, known for its magnificent views of both rolling hills and sweeping lakes. It features a lot of wildlife-zoos, bird sanctuaries and a lot of others. Also, it has both Muslim and Christian religious spots, and a nature-conscious eco cave or two thrown into the bargain. Everyone's heard of Nainital, and every time you picture it in your mind you think of shades of green and blue in crystal. Nainital is on the cooler side, and it is generally thought of as summer to be the best time for paying a visit. You can go sightseeing or cruising the lakes in peace, without getting uncomfortably hot or cold. The summer months are from March to June.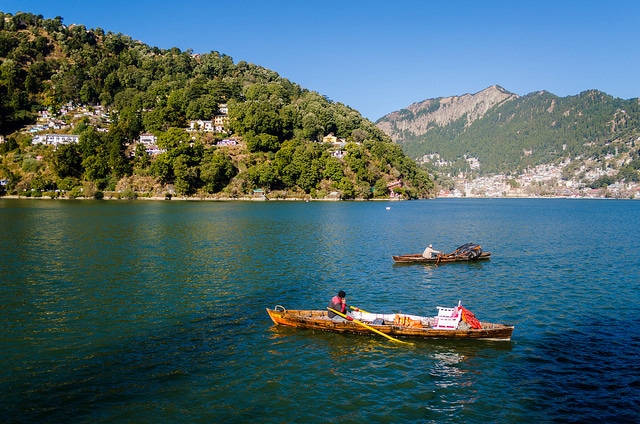 Months
Conditions
Our Recommendation
March to June
Weather is favourable for sightseeing and boat rides.
Popular Tourist Season
October to February
Good time to visit, if you like snow then plan a trip between December end to January.
Ideal Time

 

July to September
Heavy rain showers are expected so it's off season, you will get good discounts out there.
Off Season

Summers in Nainital are when the majority of tourists frequent this place, and that owes a lot to the weather. The summers are cool, almost cold in comparison to most Indian cities, and it is an ideal time to go exploring the tourist attractions without extreme temperature conditions. What improves matters is the occasional cool breeze that comes by and lifts spirits everywhere it goes to. Summers are the best time for tourists to enjoy views of surrounding mountains, tea gardens or even the zoos and sanctuaries.
Monsoons in Nainital are a pleasant if not the most popular haven to tourists from over the world. Monsoon brings with it moderate rainfall that cools the place further, so if you want to watch rainfall from your window while snuggled up in bed beneath blankets to keep out chilly weather, this is what you were looking for. The only downsides are that rain might come and spoil some sightseeing, and put adventure sports out of the question.
Monsoon in Nainital gives way to winter in Nainital. Now if you are looking to escape the suffocating heat of India mainland summer, this is your deal. Although summers are pop picks for tourists, Nainital being cold as it is, winter is when it gets seriously chilly. So, if that is your cup of tea, go ahead and have it, I say. Snowfall is a common occurrence, so the picture postcard factor is always there, besides having the squeaky clean look the just departed rains gave the place.
How to Reach Nainital
Nainital can be reached by air through New Delhi airport which has very frequent chartered domestic flights, after which you can drive to a hotel. The nearest railway station is Kathgodam, which has excellent domestic connectivity as well. You can take buses from neighbouring North India hotspots frequently, or can drive through convenient and plenty road tracks from nearby areas.
What to Do and See in Nainital
A picturesque lake perfect for tourist views and cruises.
The go-to place for the camping manifesto manifestation. You can camp or bird-watch or view lakes.
Take a rope-way ride to get a close look at the Himalayas.
G. B. Pant High Altitude Zoo
The local reservoir of fascinating wildlife species.
The point to enjoy cave exploration, mountain views, lakes, camping or bird watching.
Nainital is a perfect tourist spot in more ways than one. It has beautiful weather, views and scenery to match, ample wildlife exposure and thrilling activities like ropeway riding. You could look at the Himalayas, feed birds, set up camp or take photographs with wildlife. I mean, how cool is that? Seek pleasant summer weather, or go all Europe-Christmas watching snowfall, this place has got it all. Only don't forget this handy little weather guide-it will help you pick the time of tour in the end. Bon Voyage, Captain!