Visitor Information
Popular For: Animal Lovers, Children, Photographers, Zoo and Picnic spot lovers, bird watchers.
Entry Fee: Rs 10 per person
Visiting Time: 10 a.m. – 5 p.m. daily except on Sundays
Visit Duration: 2-3 hrs
Malsi Deer Park, a miniature zoological park set amongst the ethereal siwalik range of Doon Valley is a major attraction in Dehradun. The place is an ideal gateway from the humdrums of city life and enjoy wildlife in a quaint little Himalayan. One of the chief attractions of Dehradun, this zoological park is located in Mussoorie Road. The place is 10 kilometres from Dehradun (Rajpur Road) and lies in the outskirts of this hill town. It is an interesting stopping point that comes in between Dehradun and Mussoorie. The park is home to a range of wildlife species and natural plants. Its picturesque set up and vibrant wildlife makes it an interesting destination for photographers. Children and animal lovers are drawn in by the exotic Himalayan beauties like nilgai, deer's, tigers etc. It is home to the national bird peacock and some exotic Himalayan bird species. Thus, making it a popular destination for bird watchers.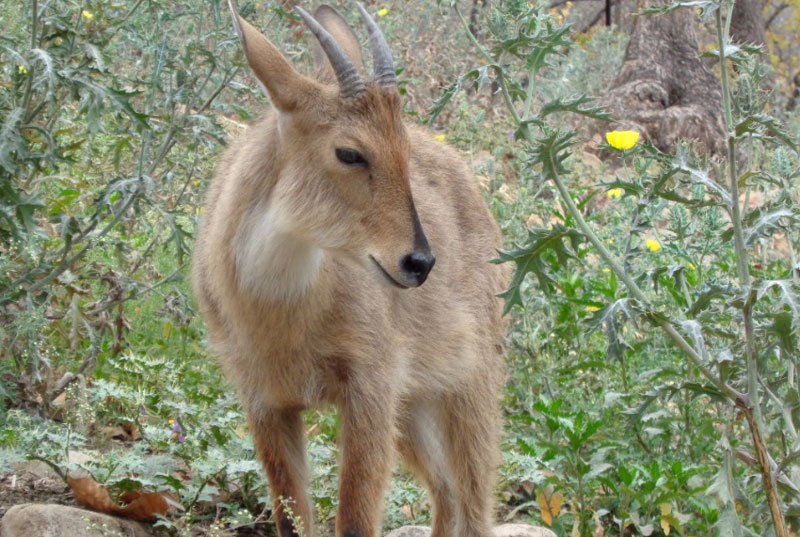 Traveller Tips
The park has quite a vast area which has to be explore by foot. So, wear comfortable shoes and clothes.
Carry water bottles and light food packets to keep yourself hydrated and fed.
Pets aren't allowed here. So, don't bring them here.
Be careful with children. Don't let them cross barricades and enter into animal enclaves.
Carry a cap and a pair of goggles to protect yourself from sunlight.
Use the lockers for storage purpose if you have stuff which aren't needed or allowed.
Things to Do
It is an ideal picnic spot in Dehradun. So, if you had a day off from your tight schedule go for a Himalayan picnic experience.
Don't miss the 2-horned deer and the aviary section.
The best place to spot the peacock. Children's will love it.
Nilgai, Tiger, Crocodiles are other attractions.
Explore the range of trees and birds which are at your disposal.
Refreshments and food items are available in the park.
Slides and swings are available for children
Availability of Guides
Guides aren't available pretty much like any other zoo. As it is, it is a miniature zoo and doesn't occupy much of a space and hence can be explored on your own. It is best travelled without any guide. Just gathering experience, soaking in some fresh air and enjoying quality time with your friends and family.
Best Time to Visit
The park remains open throughout the year but the ideal time to visit is when the weather is pleasant in the hills. Summer and monsoon draws most people to the hill town. Hence, the footfall is quite high around this time. Monsoon in the hills are quite soothing and you get to see the peacocks in full bloom. Summer are pleasant with a cool breeze. Hence April – July is the ideal to visit this place.
How to Reach
The park lies in Mussoorie Road and falls in between Dehradun and Mussoorie. It is 10kms from Dehradun and can be accessed by a bus or autorickshaw in 25-30minutes. The Dehradun Railway Station lies at distance of 11km and the nearest airport, Jolly Grant Airport is 33kms from the park.
Interesting Facts and Trivia
The park acts as a reservoir for nilagais or antelopes.
It is the best place to sight a deer in Dehradun.
In recent years, it has developed into a major tourist attraction because of its range of activities suited both for adults and children.
The park is part of The Malsi Forest Reserve.
It is the 2nd best wildlife tourist attraction in Dehradun after Rajaji National Park.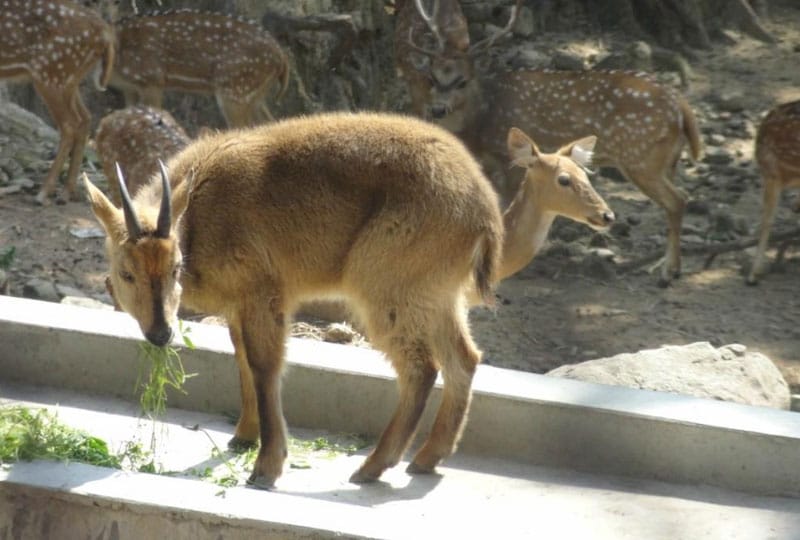 Nearby Attractions
Tapovan Mandir and the Kalinga monument are important destinations lying in the vicinity.
A couple of churches like the believer's church, St. Thomas church, St. francis church can be found near the area.
The Landour Bazaar and the Robber's cave are situated within 2 km from the park.
The Tapakeshwar temple and Shastradhara falls lies within 5kms distance from the park.
Forest Research Institute is a decent 9km drive from the area.
Nearby Restaurants
Malsi Green Vegetarian Restaurant, Mukhiyas Dhabba and At Khopa are the nearest food destinations.
The Great Indian Pub, Dunkin Donuts and The Chhaya Café lies with 3km from the park and offers great food.
BMG- All Day dining is another interesting restaurant situated in Rajpur road, 3km from the place.
The Tavern at mall road and The Black Pepper at Rajpur road are situated at a distance of 7km.
Hence, Dehradun with its mountain charm and attractive features is a paradise for tourists. Malsi Deer Park is a little stretch of wild pasture in this paradise. Here you rest and let time pass as you watch your children playfully growing in the lap of nature. So, take leaf out from Rusty's adventures and runaway to the hills.