Visitor Information
Famous For: Tombs of Muslim saints, Tomb of Mughal Emperor Aurangzeb, Khuldabad Urs – Festival
Entrance Fee: Khuldabad is a historical city. It does not have any entrance fee for entering the city. Most of the attractions in the city don't charge any entry fees or are very nominal.
Visiting Time: The city does not have any timing limits placed on it. The carious places of interest are open between 0900 – 1800 hours.
Visiting Duration: There are many places of interest in Khuldabad. People usually take about 1 day to visit the tombs of major saints and tour the rest of the city. And if you visit the city during its annual festival time, you can add another day to your itinerary!
The fortified city, Khuldabad is a very important place for the Muslims. It is one of the most religious shrines in all of the Deccan Plateau. The reason for it importance is because; over 1000 saints have lived and have their tombs on this holy land. It attracts a huge crowd because of the attached religious sentiments.
This beautiful city also goes by the name, Rauza which translates to 'Heavenly Abode'.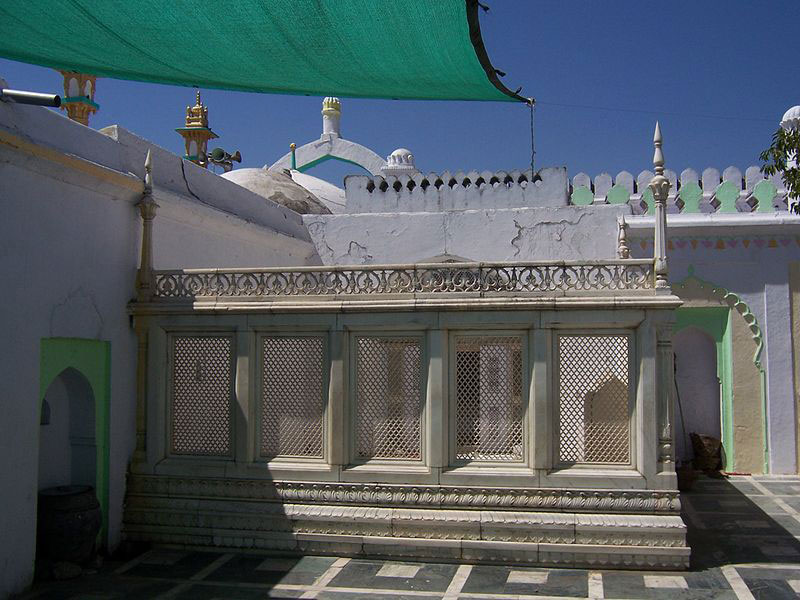 Traveler Tips
Remember to carry your shades and hats. The heat can get a little uncomfortable at times.
Always carry some snacks and a water bottle. You will face limited eatery options near some places while touring.
Be aware of your surroundings. Do not stray into unknown parts of the city without a trusted guide.
Know the local customs of the place while visiting the tombs. You should try to not hurt the religious sentiments of the people by mistake.
Wear comfortable shoes. You will be walking a good amount of distance while visiting the city.
It is better to book a personal vehicle for ease of travel. This will give you more time for yourself to explore the city.
Things to Do
Visit the tomb of the famous Mughal Emperor Aurangzeb.
Seek blessings from the shrines of saints like Zain-ud-din and Burhan-ud-din.
Visit the beautiful Mughal garden Bani Begum ka Bagh.
Pay homage to the tombs of Azam Shah and his wife.
Check out the Bhadra Murti Temple especially during festivals like Shravan and Hanuman Jayanthi.
Availability of Guides
Guides are readily available at the local tourism agencies. There are various government tourism depots also that can help you in this regard. Having a guide is a very good idea as he will tell you about all the stories associated with the tombs which are really interesting.
Best Time to Visit
Khuldabad is great to visit at any time of the year because of it pleasant weather. April is a great month to visit it because a robe of Prophet Muhammad is put on display during that time only in the entire year. The month of May is when the Khuldabad Urs takes place, which is worth watching.
How to Reach
Khuldabad is around 22 km away from Aurangabad. The nearest airport and railway station are at Aurangabad, which have regular services. There is a dedicated bus service connecting both the cities. In Khuldabad, you can commute using autos or book a cab for yourself.
Interesting Facts and Trivia about Khuldabad
Because of the large number of saints residing in the city, it has been dubbed as the "Valley of Saints". A lot of Sufi saints had migrated here and spent the rest of their lives in this holy city.
Aurangzeb's tomb is the star attraction of this place, but it is one of the simplest and sober structures in the city. According to legend Aurangzeb paid for the tomb out of the money he made by selling cloth caps. He did not want a lot of pomp and show at his funeral.
Bani Begum ka Bagh is another astounding place. Surrounding the central tomb there is a huge garden. The various curves and carving on the pillars and dome are a fine example of Indian architecture.
A lot of the other tombs have beautiful pedestals and artistic domes. They are constructed out of marble or red stone. They are exciting place to explore.
A major attraction resides in the Zain-ud-din's Dargah. It is the robe of Prophet Mohammed. It is put on public display only once a year. The exact day is on the 12th day of the Islamic calendar month, Rabi-ul-Awwal. This usually falls in April. It is a very famous relic for the Muslims.
Nearby Attractions
Ajanta Caves
Ellora Caves
Grishneshwar Temple
Bibi Ka Maqbara
Chand Minar
Siddharth Garden and Zoo
Paithan Gate
Jama Mosque
Nearby Place to Eat
Shahi Chicken Darbar
Jade Gaden
Aao Jee Dhaba
Sahankar Marwadi Bhojanalaya
Kabab Shop
El Chico Espresso Snack Bar
Kohinoor Restaurant
Baradari
Khuldabad is a jewel for the pilgrims. It is visited by thousands of people because of the holiness and the religious attachment this place resonates. It is a great place to visit, and definitely worth your time.