Visitor Information
Famous for: Religion, history, visuals, yoga
Entrance fees: 1600 (with AC) and 600 (without AC) for the hotel rooms
Visiting time: 6:00 AM to 9:00 PM (daily)
Visit duration: Around 3 hours
Parmarth Niketan in Rishikesh, Uttarakhand, India is a touristy little haven that serves the dual purpose of aesthetics and fitness- along with being located at a site renowned for its stunning natural beauty, hilly vistas and green, blue, pink flora, it is an operating centre for various forms of body fitness practices, mainly in the form of the ancient Indian practices of Yoga, in varied forms. It was founded by Hindu religious saints, and they are still the ones in charge of the temple's administration. There are ranks in administration too, the head, vice-head and sub members after them. Also, the temple is associated with charity and trust funds that look after it's, and society's, welfare. This is a must cross-off on your vacation go-to checklist.

Traveller Tips
Pick the season of the year which would provide the maximum out of a visit.
Carry sunscreen, water bottles, cameras and such other equipment as necessary.
Do not pollute the surroundings in any circumstances.
Enquire into the special customs at some of the religious sites, at some places cameras, shoes or headgear are not allowed.
Things to Do
Undertake treks around the surrounding hills, there are plenty of tourist spots within a small area range.
Make sure to photograph to your heart's content.
You could visit the nearby flora and fauna parks for aesthetics.
You could enrol into the yoga classes for a healthier life.
Also, you could go shopping in nearby indigenous markets, and try out local cuisines.
Availability of Guides
Guides are an integral part of the Parmarth Niketan experience, and as such, it is extremely necessary to have one with you on your trip. There are guides available sometimes locally for hire, and there are also regulated varying rates set up by the authorities in some cases, as they know how essential it is. The key here is to hire a guide who is knowledgeable, and speaks a language you understand. There are also paid tour companies that take guides along with them, and you could also engage the locals in guiding you around.
Uttarakhand is a state with a very tourist friendly climate, one that remains pleasant and beautiful to look at the whole year round. That is an exception from most other places. But if you had to pick a best time, it would be in summer-monsoon, from May to June, or in peak winter, around December and January. October also isn't too bad.
How to Reach
The Jolly Grant Airport in Uttarakhand is geographically the most convenient airport to reach this ashram, as it is the closest to it. This place is topographically hilly, so the transport connectivity is a bit sparse. There are buses plying between this town and other major Indian towns in the north, and once you arrive here, you can hire taxis available at a price to reach the ashram.
Interesting Facts and Trivia About Parmarth Niketan
The foundation of this ashram can be credited to Pujya Swami Sukhdevanandji Maharaj, in pre-independence 1942.
This is a very highly considered pilgrimage site with visitors who come in to pay tribute from all corners of the globe.
This is a yoga specialisation centre, with express importance placed on the forms of Hatha Yoga, Vinyasa Yoga and Yoga Nidra.
It also practices other scientific Ayurvedic physiotherapeutic processes like acupuncture, Reiki and mental pressure control.
There's a tree inside the grounds called Kalpavriksha, believed to be divine.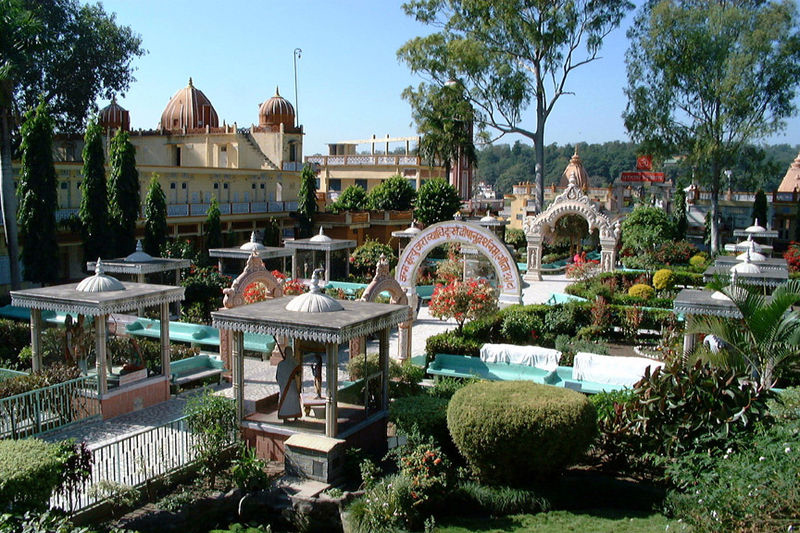 Nearby Attractions
The very famous Ram Jhula, for camping and adventure, history and monuments, and mythology too.
The companion Lakshman Jhula, which provides rafting opportunities.
The Rajaji National park for safaris and wildlife.
The Triveni Ghat.
Nearby Restaurants
The Chotiwala, an indigenous food seller in home cooked environment.
The Ganga Beach Restaurant for a more relaxed ambience.
The Pyramid cafe, with very attractive decor and construction, and yoga practices inside.
Parmarth Niketan in Rishikesh, Uttarakhand, India is an ashram founded by Hindu priests that offers stunning scenic views, yoga and various rejuvenation and revival techniques. It provides the necessary for an all-round compact vacation and is a must for any beatnik traveller.