Visitor Information
Famous for: Extreme adventure sports, Thrilling rides, Photography
Entrance Fee:
Entry Ticket: Rs. 100 / person
Bungee Jumping: Rs. 3500 / person
Giant Swing: Rs. 3500 / person
Flying Fox (alone): Rs. 3000 / person
Flying Fox (3 people): Rs. 1700 / person
Bungee + Swing: Rs. 6500 / person
Bungee + Fox: Rs. 4700 / person
Swing + Fox: Rs. 4700 / person
Trilogy combat: Bungee + Fox + Swing: Rs. 8000 / person
Visiting Time: 0900 – 1600 hours
Visit duration: 3-4 hours
Jumpin Heights, presents India's first extreme adventure zone. Located in the adventure capital of India, Rishikesh, this is a must visit place for any adventure seekers! Now you don't have to go all the way to places like New Zealand to experience some high adrenaline charged thrill rides. Jumpin Heights gives you the opportunity to try out bungee jumping, giant swing and the flying fox. In the bungee jump, your ankles will be tied to a chord and then you are sent into a heart pumping fall. Just like its name, in the giant swing, usually two people are made to sit in a seat-like harness and then given the gentle push into a thrilling ride of their lifetime. In the flying fox, you will be tethered horizontally into a harness and then down you go into a freefall along a rope, cutting through air at speeds of 160 km/h. All of these rides have been designed to give you the most amazing adventure experience of all times! If you thought roller coasters were fun, then this experience will leave you speechless. Along with all the fun, special care has been taken for the people's safety. The entire location has been built to match the world standards in adventure sports.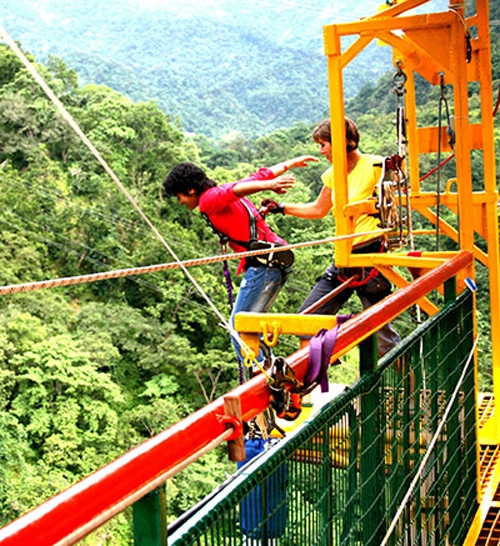 Traveler Tips
The trek to the bungee jumping location can be a little tiring. It' better to come prepared with a pair of comfortable sports shoes.
Complementary water bottles are provided here, so you don't have to necessarily carry one.
For safety reasons cameras are not allowed anywhere near the jumping site. Videos of your jump can be purchased from the stores, on site.
Due to its extreme nature, this sport is not recommended for people with medical ailments like high blood pressure, epilepsy, heart conditions, osteoporosis etc.
Thing to Do
Experience extreme adventure sports like bungee jumping, giant swing and the flying fox.
Trek through the beautiful lush terrains of Uttarakhand.
Take some amazing photographs to seal the wonders of this place.
Enjoy the fresh mountain air and relax to your heart's content.
Availability of Guides
You don't really need guides to reach this place. This place is really well known in the surrounding regions. Any passerby can give you the general directions to the place. In case you ever feel that you are lost just whip out that smartphone of yours and Google Map is at your service!
Best Time to Visit
This place is open on all days of the week except Tuesday. There is as such no specific period of time which is best to visit this place. As long as you have the drive for adventure any time of the year will suit you.
How to Reach
The jump location Mohanchatti is quite accessible from Rishikesh by bus, auto-rickshaws and taxis. Rishikesh itself is widely connected to major metropolitan cities by roadways, railways and airways.
Interesting Facts and Trivia about Jumpin Heights
Jumpin Heights is a recognized tourist spot by the Indian Ministry of Tourism.
It is India' best site for extreme adventure sporting experiences.
At 83 meters, it is India's highest bungee jumping locations.
The giant swing of Jumpin Heights is located at a mind-turning height of 83 meters.
Zooming past at 140-160 kmph, it is Asia's longest flying fox rides.
The entire jumping site has been designed and operations are handled by an experienced team of jump masters from New Zealand. They have years of experience to make sure that there are no mishaps while jumping.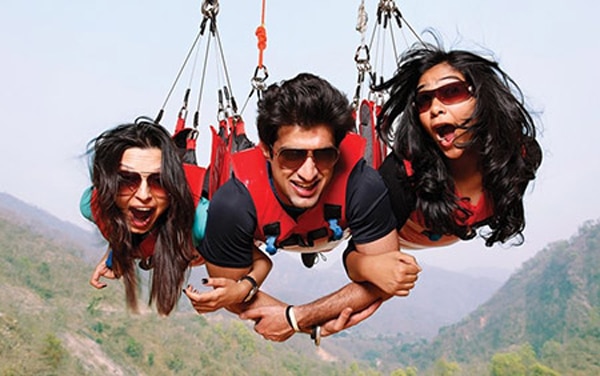 Nearby Attractions
Lakshman Jhoola and the Ram Jhoola
Triveni Ghat
Tryambakeshvar Temple
Bharat Mandir
Geeta Bhawan
Swarg Ashram
Neer Garh waterfall
Mussoorie
Nearby Restaurants
Ganga beach restaurant
Little Buddha cafe
Oasis restaurant
Tulsi restaurant
Chotiwala
Madras café
Raasta cafe and bakery
Ayurpack Ayurveda restaurant
Jumpin Heights is just the place if you want to have some really crazy adventurous fun. The vertigo feeling of being dropped from 83 meters, or that of speeding up at 150+ kmph down the hill, is just mind numbing. It sure does take a lot of guts to try out one of the extreme adventure rides, but it is all worth it! You will never get this exhilarating feeling anywhere else in your life. This is one of the best places to indulge in such rides because high standards of safety regulations in place here. They are not some random country fair that puts up cheap shows but rather all the crew members have undergone extensive training in this regard.
So, let yourself loose this vacation and go enjoy this adrenaline pumped ride!