Like all regions cradled by the Himalayan foothills, Rishikesh in Uttarakhand is yet another state where winter weaves its magic. Fit for a recluse the ancient mounds of Rishikesh, echoes the stories of a distant past. If the scenic beauty was not enough of a wonder to the tourists, then the region with rugged landscape and peaks offers the thrills of adventure with various activities like bungee jumping, rafting, canoeing, trekking and plenty more.
| | | |
| --- | --- | --- |
| Months | Conditions | Our Recommendations |
| April to June | Bearable heat | A comparatively good time to visit Rishikesh but you won't get the 'winter-effect' |
| July to September | Moderate rainfall | Though monsoon is beautiful it does not let you explore. |
| October to March | Quite pleasant | Snowy effect in Rishikesh is breath taking and perfect for winter-sports. |
Weather Conditions
If you enjoy the stillness of the region, then you should visit Rishikesh in the hot and humid summer, but be sure, so that you can endure the heat and the humidity which is typical of the region.
How to Reach Rishikesh?
Book a flight to Dehradun Airport which is only an hour's drive from Rishikesh. Taxis will be arranged by the airport authorities and is a safe bet for you. The Haridwar Railway Station is only half an hour's drive and is well connected to all the major cities.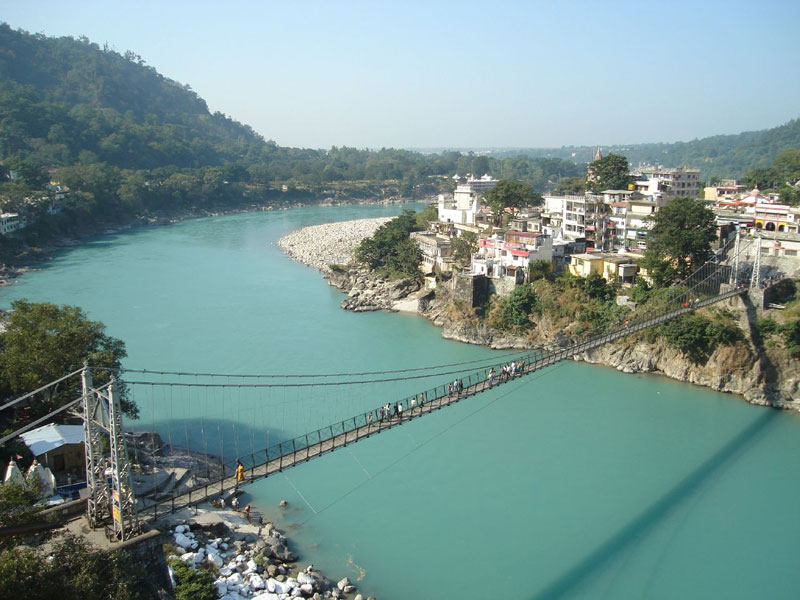 What to See and Do in Rishikesh?
Finally, the three sacred rivers of Hindu mythology meet up at this sacred point to touch the holy ground of Rishikesh. Here, even the water is believed to have medicinal powers because of the divine touch. Bathing in the Triveni Ghat, were Gods and Rishis have paid homage, the Triveni Ghat is revered to wash away your sins, leaving you pure and humble.
Neelkantha Mahadev Temple
This Shivarathri, head out to the Neelkantha Mahadev Temple and bow down to the presiding deity revered in myths for his blue-throat, hence the name. Enveloped by beautiful valleys and located at an elevation of 1330 metres. Adorned by rich sculptures and paintings that paint the picture of the ancient legends, the temple is a masterpiece.
This suspension bridge in the heart of Rishikesh is a colonial legacy and a beautiful one at that. Shrouded in mythical origins, the bridge is famed because people desire to follow the trails of Laxman; believed to have crossed the Ganges from the exact same place. Serving as a pilgrim's must see sight in Rishikesh, the bridge is also an architectural wonder that withstood the force of time.