Visitor Information
Famous For: History, Tourism, Adventure, Spiritual visit and Photography.
Entrance Fee: No entry fee is charged at this temple.
Visiting Time: The temple is open on all days from 7 A.M. to 7 P.M.
Visit Duration: Approximately 1 to 2 hours.
The Kasar Devi temple is a beautiful spot near Almora. It is located in a town called Kalimati meaning the town with black soil. The temple area is holy and many famous personalities have come to this place from time to time. Some of the eminent people who had visited include Bob Dylan, Cat Stevens and George Harrison. If you are planning your next vacation to Uttarakhand, make it a point to visit the temple and spend some time here.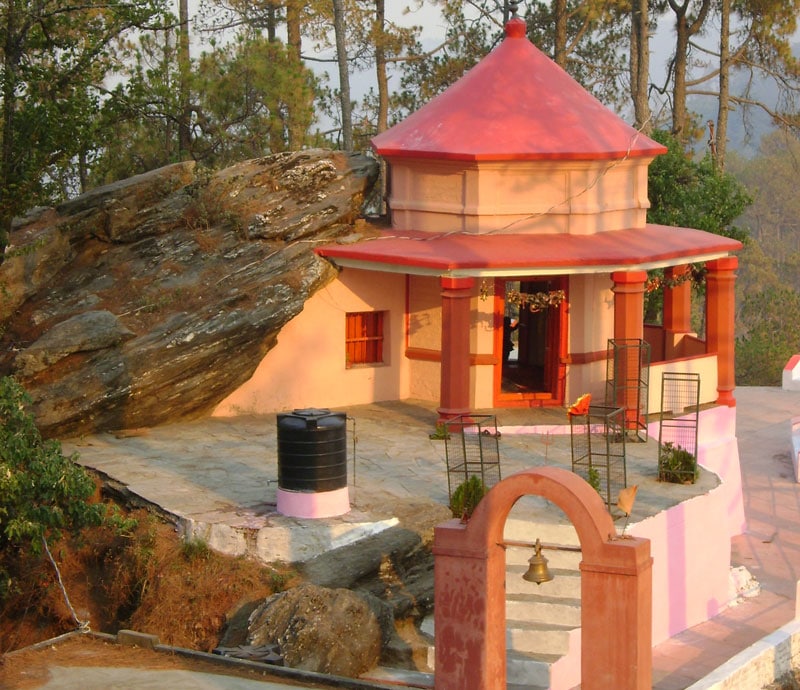 Traveller Tips
Make sure that you are carrying a shawl because the temperature might drop during the evenings.
The area is hilly and comfortable shoes with good support are an absolute must.
The accommodation options that are available to tourists are limited. There are home stays, hostels and even finer hotels. It will be wiser on your part to book your stay if you wish to spend some days here.
Try staying there for a few days. This place is pristine and has calming effects on humans.
If you want to enjoy the authentic culture of this place, visit the place during Kartik Purnima. You will enjoy the essence of the temple in its true form.
Things to Do
The Kasar Devi temple is renowned for the power it has to rejuvenate people. A wise option is to dedicate some time to meditate and refresh your mind. People who have visited here claim that the place has magical powers to calm people.
Walking around the village is not such a bad idea. The lush green scenery and the chilly weather will give you memories for a lifetime.
The temple is situated on a hill. On a clear day, one can easily see a beautiful sunrise amidst the hills and blue sky.
Availability of Guides
No guides are available at the spot. You can gather a lot of information from the locals and also do the necessary research on the internet. Read a few articles like this one for detailed information.
Best Time to Visit
If you do not mind the freezing cold atmosphere, the Kasar Devi can be visited during November to February. The temperature can fall as low as freezing weather. The summer months are a pleasant time to visit and the temperature will allow you to make the most of your trip to Almora. During monsoon, the rains wash away all dirt and leave behind a screen of greenery all around. This might be an option if you are okay with carrying an umbrella around.
How to Reach
The nearest airport is in Pantnagar. You can reach Almora from there by a bus and then hire a cab to reach this temple.
If you want to travel by railways, you will need to travel to Almora from Kathgodam station.at Almora there is a bus stand and both cabs and buses are available. You can also share a cab if you want to. Reaching the Kasar Devi temple is an easy task and takes not much work.
Interesting Facts and Trivia About Kasar Devi Temple
Most people already know that Kasar Devi temple is well known for the number of eminent personalities who had come to this place for a visit.
Since the temple is perched on top of a hill, one can easily see the neighbouring town and a valley known as the Hawabagh valley. Many foreigners and tourists arrange themselves a picnic in the nearby spots.
This temple has been mentioned by Swami Vivekananda in his journal. He had come to this place to meditate and this event has a special significance to people.
The temple is known to be standing strong since the 2nd The history and mythology attracts hundreds of tourists every year.
Apart from Machu Picchu in Peru and Stone Henge in England, the Kasar Devi temple in Almora falls under the Van Allen Belt. Owing to this, there exists a large geomagnetic field around the temple area.
Nearby Attractions
Deer park
Chitai temple
Bright End temple
Dwarahat village
Nearby Restaurants
Birdsong
The Acorn
Sangam restaurant
Mohan's retreat
Dolma restaurant