Visitor Information
Famous for: Exploring wildlife, flora & fauna, Weekend Nature Retreat, Photography, 13% of all mammal species in India is present in Mudumalai. Observing animals, birds, insects.
Entrance fee: The entry fee per person is ₹15. You'll be charged extra for a still camera or a video camera that you opt to take along, ₹25 and ₹150. The fee for jeep safari is ₹135.
Visiting time: The Mudumalai National Park is open from 7am to 9am in mornings and from 3pm to 6pm in evenings from Monday to Sunday.
Visiting duration: Ideally the visit duration lasts for 2-4 hrs but can be extended as per interest up to a day or two.
Nestled in the captivating Nigari district where the borders of Tamil Nadu and Karnataka adjoin, Mudumalai National Park is one of the first forest ranges in India to be announced as a National Park. It was declared as a Tiger Reserve recently owing to its tiger population of 50 and this is quite a critical ecological system in India with Bandipur National Park, Nagarhole National Park and Wayanad Wildlife Sanctuary nested together which collectively are home to over 500 species of animals, birds, reptiles and even more insects. Besides all the endangered species that you get to see here, lofty majestic elephants, Langurs existing freely in the wilderness will leave you bewitched. The smell of mahogany, teak, sal wood trees throughout the forests will make your safari memorable.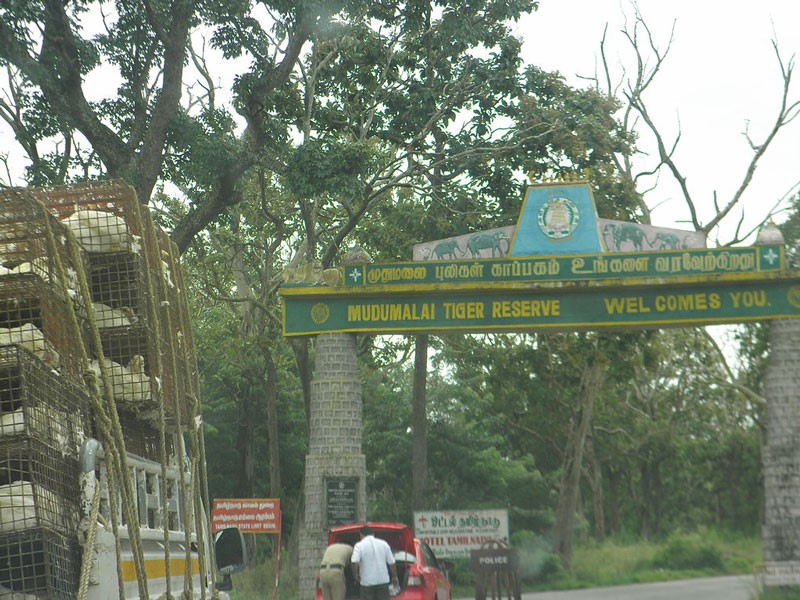 Traveller Tips
The canopy of the magnificent viridescent​ trees conceal the Sun well before it even sets, and makes it quite dark. Thus, it is advisable to reach here during noon itself.
It gets quite cold here as the evening sets, so warm clothes are necessarily to be packed when heading here.
These are tropical wet forests, and unexpected rainfalls are common, hence accordingly the apparels like umbrella, raincoats gumboots, should be kept.
While inside the reserve, maintain utter silence and stay alert. This is the only way your chances of spotting tigers, leopards or for that matter any animal candidly in its true habitat increases immensely.
Abide by all the rules and regulations that the reserve keepers or travel guides intimate you with. They are for your own safety and peaceful experience.
Bull elephant's encounters are common, so if you're trekking around the masinagudi region, treak cautiously.
Chances of spotting wildcats are maximum at the peak of dawn, so choose the 6:30 am safari if you're here for that.
Things to Do
Book a jeep safari and ride into the depths of the forest waiting patiently for the sights of wildlife involved with their natural self, up close and personal.
Theppakadu Elephant Camp provides visitors with the opportunity of observing the elephants in their natural habitat. Bathing them, feeding them, observing their routines, etc. are also options.
After June, the elephant camps begin which are camps that are responsible for relaxation and rejuvenation purposes of all elephants of the state.
The lodging facilities of the National Park, also provide camping opportunities for the visitors to explore the colossal beauty and experience the thrill of living in the mountains and forests.
Awaken the bird lover in you by spotting and observing the numerous exotic and endangered species of birds exclusive to this place.
Enjoy a picnic with your loved ones, by the scenic Mudumalai waterfalls.
Fulfil your inner child's fantasy of living in a treetop by enlivening it in the dense lush forests of Mudumalai.
Availability of Guides
Inside the National park, there is a provision of availability of trained guides who are there to pump up your knowledge of the wild and also help you attain maximum level satisfaction in your visit to the park.
Best Time to Visit
March to June is an extremely affable time to visit Mudumalai National Park even though this is a year-round viable destination. In the peak summer season of May, tiger sightings are increased and hence recommendable for those who can tolerate heat.
The period from September to October is also pleasant but after that can be avoided due to the monsoon season here.
How to Reach
By Railway – There are two railway stations closest to the Park- the Ooty railway station which is 60 kms away and the Nilambur Railway Station 57 km away. The Mysore railways are also an option which are about a 100 kms away from the park
Road trip from Gudalur, situated in the Udhagamandalam- Mysore highway or also the Mysore-Ooty highway.
Airway– Coimbatore Airport which is 160kms from the national park away is our nearest air option. You take the road trip to the Sanctuary from there.
Interesting Facts and Trivia
Many species are only found here e.g. the Grey Langur and Bonnet Macaque are primates of here.
All elephants from the state are admitted here for the renowned elephant camp.
Nearby​ Attractions
Muthanga Wildlife Sanctuary
Ooty
Coonoor
Mysore
Mudumalai waterfalls
Pykara lakes
Kallatty falls
Mudumalai Museum​
Nearby Restaurants
Government run guest houses
Hotel Mahi's Gateway
Hotel Sowthariyam
Arunai Ananta Resort
MGM beach resort
There are numerous resorts and hotels springing up in the region of Mudumalai courtesy of its rare exotic flavour of Wildlife and nature at its cent best. Although sightings of animals depend on pure luck, if you're a nature lover, you cannot afford to miss the chance of a day at Mudumalai National Park, Ooty.