Visitor Information
Famous For: Sightseeing, Nature Conservation, Flower Exhibition, Toda Tribe, Photography, and educational trip.
Entrance Fee: Fee for adults is 30 INR per head and for children below 10 years is 15 INR per head. Addition fees are charged for camera use (30 INR) and video shoot (100 INR), respectively.
Visiting Time: It is open on all days of the week. Opening hours are from 7AM to 6.30PM.
Visit Duration: Generally, takes up to 3 hrs for a full excursion of its premises.
This sprawling area is a must-visit tourist site in the beautiful hill station of Ooty, Tamil Nadu. What's more, you will have a striking view of the famous Doddabetta peak as its backdrop.  Marquis of Tweedale established this horticulture park in 1897 which is now under jurisdiction of the state government. Its 55 acres area is divided into different horticultural sections, interspersed with several well-maintained grassy lawns and artificial ponds. More than 600 plant species are cultivated and maintained here. These varieties include many angiosperms, fern plants, bonsai, and medicinal herbs. Interestingly, it has a terrace-style landscape.
Official phone: 0423-2442545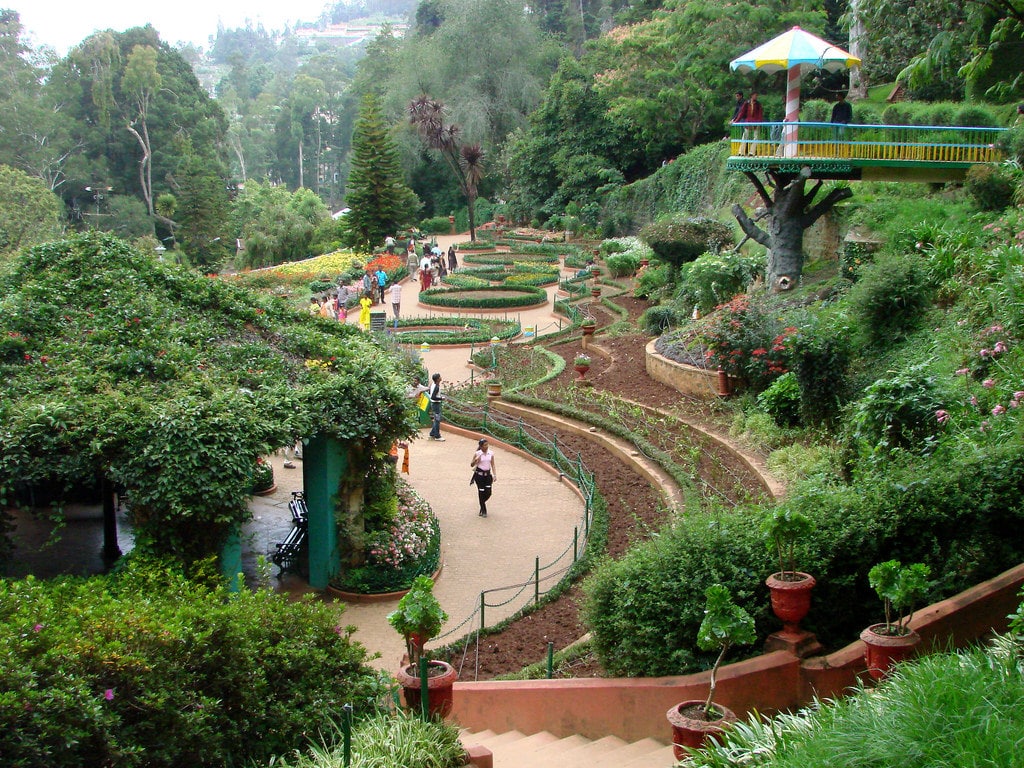 Traveler Tips
Park your vehicle outside the garden.
Avoid littering its grounds and use on-site trash cans, instead.
Plucking, breaking, and stealing of flowers and plants are strictly not allowed.
Use on-campus bathroom facilities and maintain sanitation of the area.
Strictly follow the rules & regulations to avoid paying penalty charges.
Visit this garden on weekdays to avoid crowd of holiday-makers on weekends.
Things to Do
Walk around its attractive Italian poolside garden and neighboring ponds.
Explore its fern house that has about 127 fern species, along with exclusive collection of orchid varieties.
Enjoy the sight and smell of blooming roses in its eye-catching Rose Garden area.
Creatively laid out colorful floral carpets are other major crowd-pullers of this bark.
Have a look at saplings inside the glass houses inside the sections marked as Conservatory and Nurseries.
Catch a glimpse of brightly-colored native Nilgiri birds perched on tree branches or flying around.
Buy some refreshments and snacks from the on-campus shop.
Take rest or laze around on its well-maintained and soft grassy lawns.
Availability of Guides
There are no guides available, here.  Explore it on your own. However, each garden-section is marked with its name signboard and directional boards.
Best Time to Visit
The months of April and are the ideal time to enjoy this garden in full bloom and natural glory. Every year, the government organizes a three-day Flower Show & Plant Exhibition in the month of May. In fact, thousands of visitors arrive at this ticketed event. September is a better option for people who want to visit it sans crowd.
How to Reach
Ooty railway station is situated at 2.5km away from this site. You can either walk or ride in a public transport to reach it.
Interesting Facts and Trivia
Rare tree varieties such as Paperbark tree, Cork tree, and Monkey Puzzle tree are available here. The latter species is famous for being inaccessible to monkeys as they find it difficult to climb.
Italian war prisoners from 1st World War were employed to build its Italian Garden section.
There is a fossilized tree belonging to the pre-historic era kept as natural exhibit. According to carbon dating findings, it is about 20 million-year-old.
It is home to the nearly-extinct Toda tribal settlement. These people actually inhabit the Toda Mund (hill) located inside.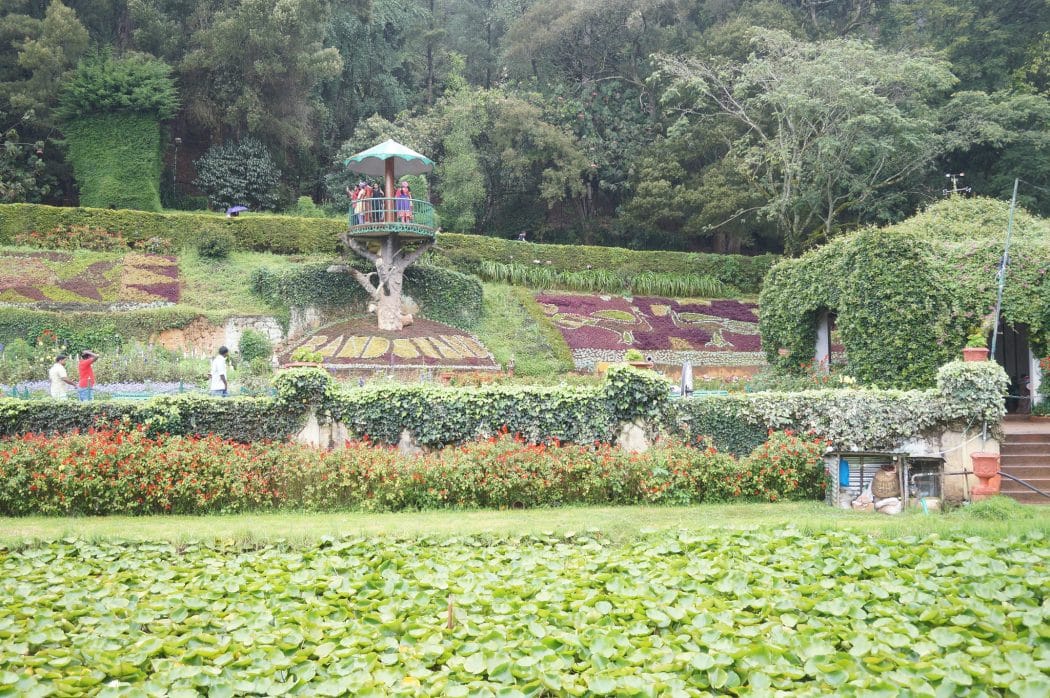 Nearby Attractions
Udhagai Rose Garden
Thread Garden
Government Museum
Ooty Lake & Boat House
Raghavendra Mandir
Stephen's Church
Holy Trinity Church
The Tea Factory and The Tea Museum
Nearby Restaurants
Quality Restaurant
Nahar's Sidewalk Café
Big Bite
A2B – Adyar Ananda Bhavan
Café Coffee Day
Cliff Top International Cuisine
Jade Garden Chinese Restaurant
FabHotel Khems
Hotel Vinayaga Inn
A great place for family outings, romantic dates, selfie moments, education tour or simple tourism trip, this luxuriant botanical park, undoubtedly, features on the list of top visit-worthy places in Ooty.