Visitor Information
Famous For: Tourism, Experience seekers and Photography.
Entrance Fee: For adults, the entrance fee is 6 INR and the entry is free for children below the age of 5 years.
Visiting Time: This peak remains open to visitors from 9AM to 6PM.
Visit Duration: Even though there is no particular limit on the amount of time that you spend here other than the opening and closing timings, visitors generally spend 1 to 2 hours here.
A breathtaking landscape, a bird's eye view of all that surrounds, misty clouds – are only some of the reasons that makes the trip to the Doddabeta Peak in Ooty a memorable one. This peak is the perfect location for an adventurous and exciting trip, and is a popular tourist destination in the country.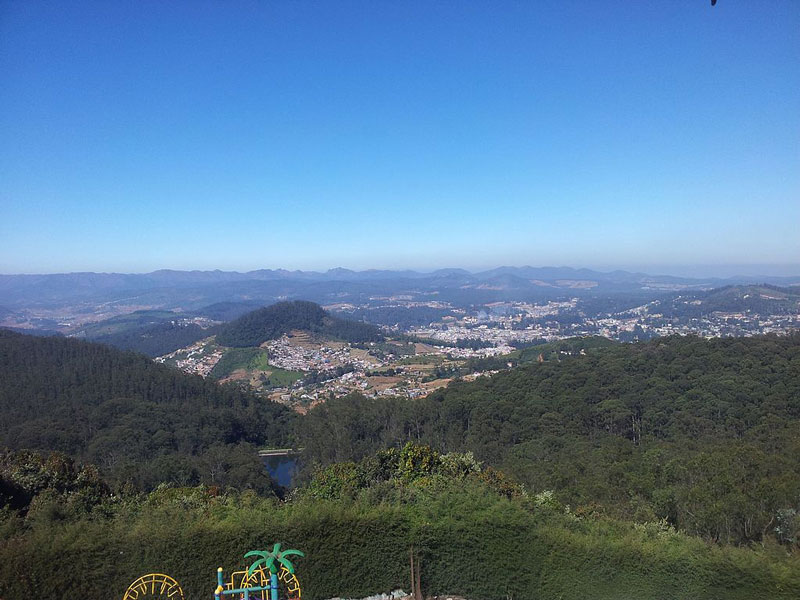 Traveler Tips
You need to pay an additional 10 INR for still camera, and 50 INR for taking videos around this peak.
Carrying good amount of water and other supplies on your way to this peak is advisable because the climate here during daytime along with the long journey up this mountain is a tough task for any traveler.
Things to Do
This peak is famous for trekking activities and among photography enthusiasts, and is the perfect location to spend a weekend with your family and friends.
The entire surroundings around this peak provides the perfect opportunity for activities like camping, exploring, holiday trips and much more.
The scenic beauty of this peak provides the right location for recreation, and the telescope house provides a very good view of the entire vicinity around this mountain.
Visiting this peak during the tea festivals is also preferred by travelers, including festivals like the annual "Tea and Tourism Festival".
Don't forget to visit the vendors and stalls on the way to this mountain, who sell fresh fruits and drinks including mangoes, peanuts, corn and much more.
Also, after reaching the top of this mountain, you will get a clear and impressive view of the surrounding places including Mysore and Coimbatore. This is possible if you manage to visit on a day without the presence of the misty clouds hovering above this mountain.
Availability of Guides
Several online websites and tour agencies arrange trips to this peak, and provide the service of hiring tour guides and translators. Also, the local villagers provide assistance and further help while you are visiting this mountain peak.
Best Time to Visit
The climate in Ooty is favorable to travelers around the world in every season, especially in monsoon and winter seasons. Also, early mornings and late evenings are the best time of the day to visit this mountain area.
How to Reach
This peak is located at a distance of 9.5km from Ooty city area, and several travel agencies provide buses and other services.
The nearest railway station is Ketti R.S and is located at a distance of 14.5km from the peak. Also, this peak is located at a distance of 95.5km from Coimbatore International Airport.
Interesting Facts and Trivia About the Doddabetta Peak
The Doddabetta Peak is one of the highest mountains in the Nilgiris, and is surrounded by a reserved forest and lush greenery. Also, this peak provides a very good view of the surrounding valleys and hills including the "Chamundi Hills".
A series of names are coined with the different tourist locations In Tamil Nadu. For example, Ooty is often called as the "Queen of Hill Stations", and the word Nilgiris means "Blue Mountains". A more interesting fact about this peak is that its name is derived from Kannada language, which translates into the phrase "Big Mountain".
The Doddabetta peak is one of the popular mountain peaks near Udagamandalam in Ooty, which is followed by other summits including Hecuba, Kulkudi and Kattadadu.
The entire peak is filled with a large variety of vegetation including several medicinal herbs and rhododendron trees. Rhododendron flower is an edible plant which is used for making traditional medicines, herbal tea such as the "Labrador Tea", etc.
Also, a major portion of this peak is covered by Sholas, which is said to be having its anthropogenic origin in slash-and-burn type of cultivation used by farmers earlier in the forest areas, etc.
Nearby Attractions
Echo Point
Aventura Tiger Hill
Lord Shiva Temple
Sree Pattatulasi Amman Temple
Government Botanical Garden
Kulisholai Reserve Forest
Ooty Lake & Boat House
Bharathmatha Temple
Nearby Restaurants
The Frugal Gourmet
Hill country hotels and resorts
Culinarium
Venky's Restaurant
Ascot Multi Cuisine Restaurant
Cliff Top International Cuisine
Place to Bee
Ooty provides a lot of beautiful holiday destinations and tourist hotspots for travelers across the globe. The specialty of this place is that it offers a pleasant and chilled climate for most of the seasons, and the numerous hill stations, temples, churches and mountain peaks add to its beauty. The Doddabetta peak is one such popular holiday destinations in Ooty, which provides a calm and adventurous environment for every visitor.