Originally set up as a private hunting ground for the King of Mysore, this park eventually acquired the status of National Park and came under the umbrella of Project Tiger. Today, the Bandipur National Park is known as one of the most beautiful and well-maintained national parks of India. The Bandipur National Park alongwith other parks such as Wayanad Wildlife Sanctuary in Kerala, Nagarhole National Park in the north and Mudumalai wildlife sanctuary in Tamil Nadu is also part of India's biggest biosphere reserve known as the 'Nilgiri Biosphere Reserve.' Situated at a picturesque location surrounded by the hills of Western Ghats in Karnataka (also check: national parks in Karnataka), the Bandipur National Park offers a spiritual retreat. A walk along the woods amidst the mighty hills is an experience that shall soothe your soul.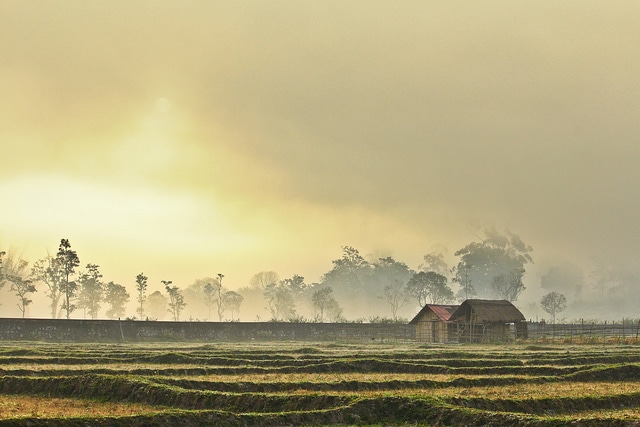 Climatic Conditions
Climatic conditions in The Bandipur National Park range from hot to cold to rainy, remaining within the threshold of 18˚C to 29˚C never really becoming too hot or too cold. The months of February to June are a part of the hot season with March and April being the hottest, while the Cold season begins in November and lasts upto February with December and January being the coldest months. The average temperature lingers around 24˚C, with nights being a little colder and days being hot.
The Bandipur National Park receives rainy showers from South-West as well as North-East monsoon during the months of June to August and from October to November respectively. Since the park lies at the junction of Deccan Plateau and Western Ghats, many variations in altitudes are present throughout the landscape. Thus, some areas (usually the south-west regions including Kalkere) receive heavy rainfall.
Best Time to Visit
You can visit the Bandipur National Park anytime time throughout the year. However, the strong rainy winds can sometimes be treacherous. The best time to visit this park is from November to June, when the climatic conditions are just right and many animals are around. If you wish to explore the variety of insects, the best time to visit would be either just before the rainy season (June) or afterwards (September).
Wildlife & Vegetation
Spanning an area of approximately 874 sq. Km., the Bandipur National Park provides shelter to the amazing range of biodiversity including a huge variety of the magnificent Elephants, Gaurs and Chitals. The Bonnet Macaques and the Common Langoors can be seen hopping around. Jackals are also present, although aren't seen in the vicinity. However, the wild dogs, Sambars, wild pigs and Chitals can be found near the tourist zone. Four horned antelope, Sloth Bear, Wild boar and Leopard are also present. The mammalian species include the smaller animals such as Civets, giant squirrel, black naped hare etc.
The Bandipur National Park is most famous for its elephants and tigers. The tigers are protected as a part of the Project Tiger. The population of tigers is low in this area.
The Bandipur National Park houses and welcomes a large number of flying species including the Little Cormorant, Egret, the Black rumped and white bellied woodpecker, White throated and common Kingfisher, Gray Heron, the Spotbill, Plum headed Parakeets, Yellow footed Green Pigeons, Grey Junglefowl, White spotted fantail, the Fairy Bluebird, Chestnut headed and Little green bee eaters and many many more birds. So many colours are seen in the sky and melodious sounds echo through the woods, making your journey a magical experience!
A modest variety of reptilian species including Indian rock python, rat snake, flying lizard, Indian pond terrapin, spectacled cobra, Russell's Viper etc might pay you a visit in the Bandipur National Park.
An interesting feature about this park is the co-existence of a variety of biomes across 874 sq. Km. You can find dry deciduous forests, moist deciduous forests and shurblands spread across this singular landscape! A variety of trees including the teak, sandalwood, rosewood etc flourish here. Many beautiful flowers blossom and fruits ripen on the trees of kadam tree, satinwood, black kutch, indigoberry, axlewood etc.
Distance from Nearby and Major Cities
Bandipur is close to the cities of Mysore, Ooty and Bangalore. Distance from other major cities is as follows:
Ooty:50 km via NH 181
Mysore: 77 km via NH 212
Bangalore:224 km via NH2 75
Chennai: 558 km via NH 46
Hyderabad: 816 km via NH 7
Mumbai: 1120 km via NH 4
Jaipur: 2054 km via NH 79
Lucknow: 2113 km via NH 7
Kolkata: 2127 km via NH 5
Delhi: 2403 km via NH 7
How to Reach
By Air: Mysore Airport at 70 kms is the closest Airport to Bandipur. Bangalore International Airport is 275 kms away.
By Rail: Nanjungud is the nearest railway station which lies at a distance of 55 kms from Bandipur while, the Mysore railhead is 80 kms away.
By Road: The nearest cities connected to Bandipur are Mysore (77 kms), Ooty (50 kms) and Bangalore (138 kms). Taxis, State transport buses and Private Buses are available via these routes.
Local Attractions
Gopalaswamy Betta, the highest peak (1454 m) is located 20 km away from Bandipur, approximately 1 hour away by road. This peak is well known for its temple and an old fort.
Srirangapattna, a historical town, which was once the capital of Tipu Sultan is located 85 kms away. This town is worth a visit. Ranganathittu Bird Sanctuary (RBS) is located here. This bird sanctuary is photographer's paradise. Even the rare march crocodile can be spotted here!
Accommodation
A number of hotels and resorts are present near the Bandipur National Park that not only offer rooms, but also activities such as trekking, camping etc in the park. Bookings can be made online at the official website or via a travel agent. Some hotels include the Windflower tusker trails, Dhole's Den, The Serai etc.
The forest department's deluxe bungalows are also available, reservations for which must be made beforehand Wildlife department offices in Mysore or Bangalore. Dormitories are available at Rs. 75/day/bed (for Indians) and Rs. 150/day/bed (for Foreigners). Cottages are available at Rs. 1000/day/room (for Indians) and Rs. 2000/day/room (for Foreigners).
Other Useful Information
For Offline reservations, Contact: Addl. Principal Chief Conservator of Forests, (Project Tiger), Aranya Bhavan, Ashokapuram Mysore. Phone Number : 0821-2480902
Entry Fee: Rs. 200 (for Indians) ; Rs. 1000 (for Foreigners)
Jungle Safari timings: 6 am to 9 am and 4 pm to 6 pm
Safari fee: Rs. 100 (for Indians as well as foreigners)
We hope you enjoy your stay at The Bandipur National Park!