The beautiful artificial fresh water lake that is Lake Pichola in Udaipur is one of the many great man-made beauties of the city. The lake is named after the village of Picholi nearby, and was created in AD 1362. Pretty as lake Pichola is, it is also home to four islands which consist of palaces and monuments constructed by the Mewar dynasty in Udaipur. The picturesque lake has the backdrop of the Aravalli Hills, which make it so much more beautiful spot. Here's a quick look at some of the most interesting things about Lake Pichola.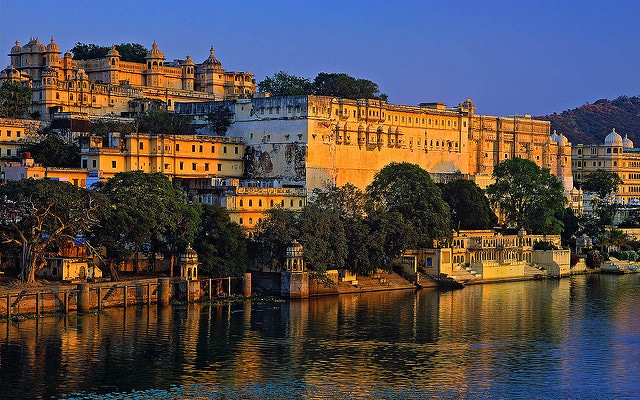 Interesting Facts
Lake Pichola was created by a tribesman Picchu Banjara, and it is the oldest lake of Udaipur during the period of Maharana Lakha's rule.
The lake has a width of 2 miles, length of 3 miles, and a depth of 30 feet.
Maharana Udai Singh enlarged the lake by having constructed a dam at the Badipol shore, and he also developed the city of Udaipur on the banks of the lake due to its sheer beauty.
Lake Pichola is best known for the splendid architecture done by the Maharanas of Mewar on the several islands, and the many ghats situated at the shores.
A tightrope walker Natini was challenged by Maharana Jawan Singh, who offered her half the kingdom of Mewar to tightrope across Lake Pichola. The legend states that Natini was tricked and the rope was cut off mid-way, which led to her death, but not before she is said to have cursed Maharana Jawan Singh's family of not having any direct descendants. The curse is believed to have come true since six of the Maharana's sons were adopted.
Lake Pichola has also spent ample amount of time being dry during elongated periods of low rainfall.
Things to Do
Boating is the most popular activity at Lake Pichola, and sunset boating is quite enjoyable for most tourists as the pristine blue waters look ethereal at evenfall.
Visiting the Lake Palace, situated on one of the islands of Lake Pichola is a must for every tourist. It is also home to a beautiful, luxurious floating hotel for a grand stay.
On one of the other islands is the Lake Garden Palace, which is known for its splendid architecture and is a popular tourist attraction.
Lake Pichola houses a pretty structure known as Mohan Mandir, where Maharanas used to watch the local Gangaur festival celebrations from.
The other island of Lake Pichola consists of a palace and ammunition depot known as Arsi Vilas. This was used by Maharanas to watch the sunset, and it is also a sanctuary to a variety of birds.
There is an arched bridge that connects to Fatehsagar Lake, and was built by Maharana Swaroop Singh, which is a great sight to see.
Hotel Lake Pichola should be paid a visit to for a lakeside view while dining or even for a stay.
Things to Carry
For a day-long tour of Lake Pichola and its islands, ample food and water should be carried.
Comfortable shoes and clothes should be worn to ensure a hassle-free experience of the beautiful islands of Lake Pichola.
Photography is permitted in most areas, but some do charge for the same, so carrying a camera is also recommended to capture the beauty of the scenic backdrop.
How to Reach
Lake Pichola is situated in the heart of the city, and can be accessed by road through public or private vehicles as needed.
Ticket Prices for Boating
Adult- Rs.340
Child- Rs.170
Sunset Boat Ride Prices
Adult- Rs.560
Child- Rs.280
Private boat rides have higher prices.
Availability of Guides
Hindi as well as English speaking guides are available on request at private boat rides. Charges are based on the private boat ride prices.
Best Time to Visit
October to March
Nearby Attractions
Lake Pichola's eastern shore is home to the brilliant City Palace of Udaipur which is a popular tourist destination.
Shopping and dining are easily available around the streets of Lake Pichola, also the islands which consist of restaurants.
The Jagdish temple and various other traditional havelis are perched upon the banks of the lake, which represent the culture of Mewar.
The Fateh Sagar Lake located close by is a famous tourist attraction as well.
The crystal gallery of the Fateh Prakash Palace complex is a must visit for every tourist.
Lake Pichola is the best-known tourist spot of Udaipur, and it cannot be missed while touring the beautiful city. Though Udaipur is home to many lakes, Lake Pichola is possibly the most enticing one of all.