Udaipur is one place in India that seems to have somehow lapped up the fair share of palaces and history of all its neighbouring areas. Hence, needless to say, it is magnificent as a tourist destination. There is abundance of artefacts that could awe you at every turn of the road- palaces, lakes, hotels, zoos, cultural exploration avenues, architectural wonder, it has got them all. Udaipur is fairly going to take your breath away with high voltage blasts from the past. Udaipur has amiable climate once summer is away and the best time to pay a visit would be any time from September to March.

| | | |
| --- | --- | --- |
| Months | Conditions | Our Recommendation |
| November to February | Perfect climate for sightseeing and city exploration. Also, a famous festival Shilpgram Crafts Fair also takes place during winters. | Popular Tourist Season |
| July to October | There are moderate rainfalls, still it's less preferred. So, this is the perfect time for budget travellers. | Ideal Time |
| March to June | Summers are hot and scorching but if you plan your visit during this part of the year, festival of Mewar is worth visiting. | Off Season |
Summers in extreme embody a tropical desert summer in that it is exceedingly hot and equally uncomfortable. The temperature is very high, making it unsuitable for tourists to go sightseeing. Hence it is no surprise that this season isn't a hit with the touristy folk. But if you happen to be here during summer, take heart- you have to view the Mewar festivals grand celebration with splendour galore!
Monsoons in Udaipur are not very high on rainfall. So if you think that heavy rains would drown your sightseeing plans, worry not. Instead, this season is an unexploited haven of tourism- you'd get everything like hotels and food on offer on sale prices. Moreover, the rains wash away the accumulated grime of the year to lend a lush green and youthful look to the scenery of the place.
Winters in Udaipur are the most popular tourist season. The hotels are tight and pricey, so make sure you book well in advance. The temperature is pleasant and temperate, and a zephyr keeps it ideal for sightseeing walks. There are huge craft fairs conducted during this time as well.
How to Reach Udaipur
Udaipur can be reached by air through the Maharana Pratap Airport, having a nice supply of domestic flights scheduled. The railway station is well connected to major Indian cities as well. You can take buses from major cities like Indore and Kota or you can drive through the national highways this place is connected to in order to reach it.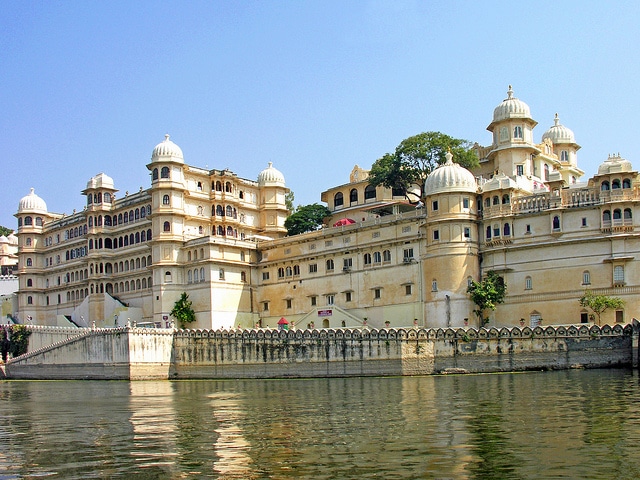 What to Do and See in Udaipur
Udaipur can well be called the city of palaces- it has over ten of those! Some of the magnificent specimens are 4 times as big as the Buckingham and equally steeped in history, culture with architecture to match. Some have been converted to heritage hotels. Among them, City Palace stands out as a beacon of light. Possibly the most remarkable one, it is certified by a majority of tourists as the one thing you should see in Udaipur.
This picturesque lake is the one along whose banks the important tourism centres like the palaces and forts are sprawled out. Lake Pichola is magnificent when it catches the rays of the setting sun, and makes for amazing photographs. When in Udaipur, make sure to not give this a miss.
Another gorgeous, larger than life building constructed with an equally romantic backstory. Apparently, this was meant for the women who accompanied the bride to her wedding as the entourage.
This one for the history, architecture buffs out there. This temple adds another feather to the cap of Udaipur's tourist offerings.
Gulab Garh Zoo and Sajjangarh Biological Park
For adding a hint of wildlife to your vacation. Sajjangarh also has tigers on display! Grr.
If you want to take a peek into the folktale like culture Udaipur's history is so famous for, this is your place. It has a museum and folk dance and folk music displays are almost a given.
Udaipur is one breathtaking place, complete with both historical charm and world class, modern day hospitality. It has palaces and forts whose histories will make your folktale books pale in comparison, lakes you will want to spend your life by, and hotels you'll leave feeling like a king. But beware, weathers can make or break your lovely vacation. So put this weather guide to good use, and be Udaipur happy on your next holiday. See ya!