Visitor Information
Famous For: Religious significance, photography, natural beauty.
Entrance Fee: No entry fee either for Indians or for foreigners.
Visiting Time: 9:00 AM-6:00PM (Daily).
Visiting Hours: 3 hours.
Pushkar Lake is located in Rajasthan, India, and has paramount importance from religious, aesthetic, power generating, tourism, life reserve and umpteen other points of view. It is a sacred pilgrimage spot of Hindus, and has more than 50 bathing 'ghats' or shore areas for taking baths along its shoreline. Pilgrims come here and take a plunge into the waters, mostly around the month of November. It is very old, dating back to the 4th century or earlier. It holds an impressive number of flora and fauna species and has been connected to hydrology. It is an important tourist spot, but has been badly hit by that industry along with ecological evils like deforestation.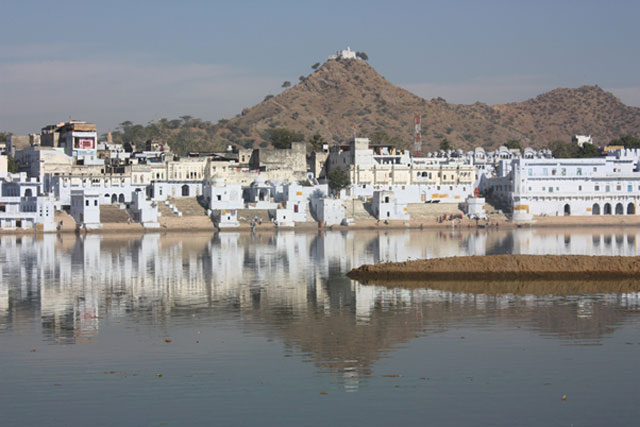 Traveller Tips
There are a lot of temples and religious sites nearby, and you could pay them a visit.
You can visit also the carnivals held around here, but that is also very crowded and you can evade it if you do not like crowds.
Visit in winter, as Rajasthan is very hot at other seasons of the year.
Try to keep the pollution to a minimum, there has already been adverse effects aplenty.
Things to Do
Take a look at the interesting aquatic fauna, as the lake abounds in fishes and reptiles at the proper times.
Try to find out the history from locals, it has myths regarding demons and the belief that a holy dip can purge you of your sins.
Shop nearby for culturally relevant articles.
Visit the nearby temples and ghats.
Availability of Guides
Guides are sometimes found among locals who volunteer to serve tourists, or you can hire paid ones at the venue. If you are going with financed tour companies, a guide is included within the services.
Best Time to Visit
Pushkar Lake is in Rajasthan, India, but the water doesn't prevent the place from being very hot like the rest of the place. It is almost unbearably heated up in summer, and the best time to pay a visit would be winter, along with the favourable climate, there are other attractions of Pushkar like Hindu festivals and fairs.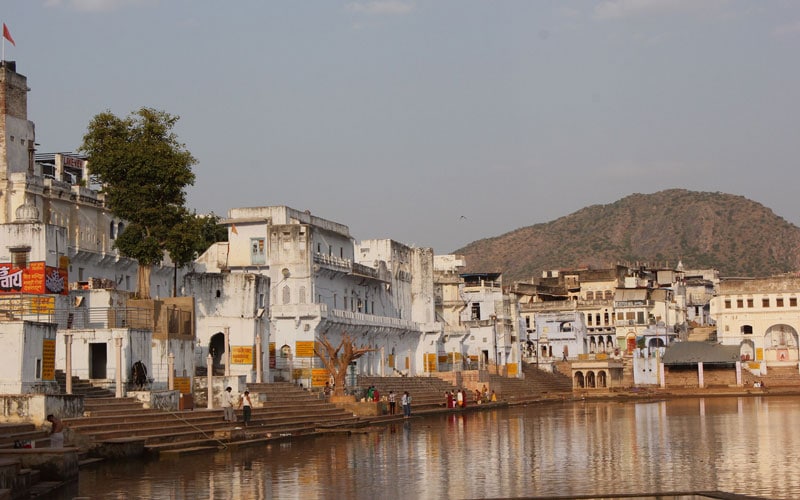 How to Reach
You can descend at Rajasthan railway stations or airports, and take local conveyance like buses and autos to the Lake. You could hire private paid taxis as well. Once there, you can walk the entire premises, and the many ghats.
Interesting Facts and Trivia About Pushkar Lake
It is mentioned in coins dating back to the time of its origin.
It used to have crocodiles in its waters which even proved to be fatal to people.
Its rather complex back story involves a demon who used to make human lives harder, and Hindu gods like Brahma and gods from epics.
There have been constructed dams and irrigation facilities nearby, and also measures for conserving water.
It provides a view of the very remarkable Aravalli Hills from its surroundings.
Nearby Attractions
Hawa Mahal, a heritage architecture site that was constructed to enable the royal ladies to look upon the world without being watched in return.
Lake Palace, Udaipur, which provides spectacular views of the sunset.
The abundant palaces like City Palace.
Lake Pichola, which provides beautiful lighted views and can be cruised along the length of.
The Mewar Dynasty architecture.
Nearby Restaurants
The Funky Monkey Cafe, which provides some of the best dessert ever.
La Pizzeria, which provides classy Italian food like pizza and pasta.
Baba Restaurant, a rooftop eatery.
The Laughing Buddha Cafe.
Cafe Nature's Blessing.
Amid a sea of forts, palaces and temples which so adorn Rajasthan, it is very soul soothing to find a lake or two. Pushkar Lake, now, is among the best of its kind as far as beauty goes, and it is also connected with cultivation of late. But that's not where it ends- if you're a history geek, chances are there are good things for you too. Because mythology and existence on old coins are among the few of its offerings. So what are you waiting for? Book a date when the gorgeous carnivals or 'melas' are in full swing, and jump right in!