Visitor Information
Famous For: Religion, Architecture, History.
Entrance Fee: No fee either for Indians or for foreign tourists.
Visiting time: Sunrise to sunset.
Visit duration: Typically, 2 hours.
Brahma Temple in Pushkar, Rajasthan, India is a Hindu religious hotspot, a temple dedicated to the Lord that brought about the creation of everything, Brahma. It also features worship to one of his ladies, Gayatri, and the worship is supervised and regulated by ascetic saints. It has exquisite architecture, including a remarkable pinnacle in red and a bird symbol that is linked to ancient mythology and womanhood. It has myths connected to it of the Lord Brahma subduing a demon that tormented harmless mortals. It is very near geographically to the sacred Pushkar Lake that is a famous pilgrimage destination and is used for taking a sin purging dip by devotees. There are also mountains located nearby, other palaces, forts and lakes which altogether make this a supreme tourist experience.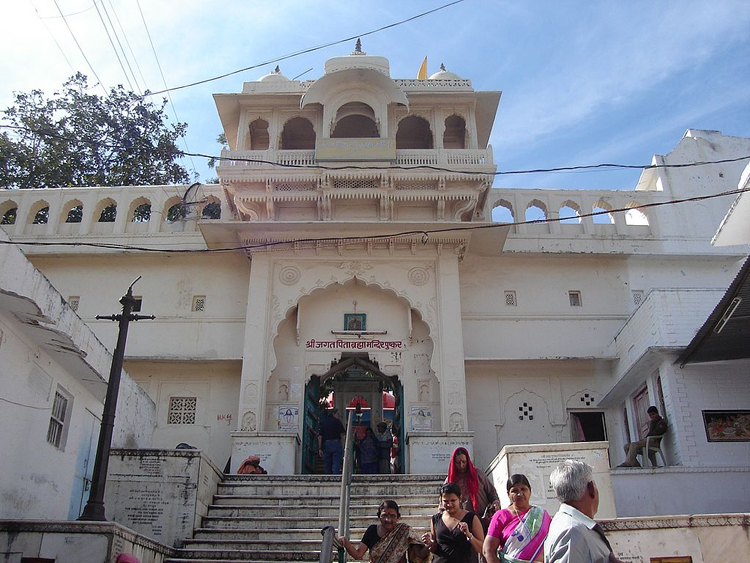 Traveller Tips
Kartik Poornima around the month of November is the blooming tourist season when crowds peak, and other attractions like a fair are held near the grounds. If you want to elude crowds, don't go at that time.
Rajasthan remains very hot most of summer, and monsoon is a favourite with tourists, so the best time to visit would be winter.
There are a lot of good food joints nearby, try them out.
Carry comfortable tour equipment like umbrellas, and wear comfortable shoes for walking around.
Things to Do
You could go for a trek to the Aravalli Hills nearby.
There are a lot of temples in the vicinity, and other lakes, that you could check out. Pushkar City also is a town prominent for Hindu religious history.
Ask the locals or a hired guide for the mythological significance of the place.
You could take very good pictures near this.
You can shop in nearby art stalls for crafty indigenous souvenirs.
Availability of Guides
Guides are sometimes available near the venue for hire, and they sometimes offer a choice of language between English, Hindi or some native tongue. There are also helpful locals sometimes who volunteer to guide tourists. If you are going as part of a paid tour with a company, make sure of the availability of a learned guide.
Best Time to Visit
Pushkar is located in Rajasthan, and it remains hot and humid for a large number of months annually. The summer is not the best place to go touring.  Visit Pushkar any time between October and February. The peak season is around November, when Hindu religious occasions are held.
How to Reach
You could descend at rail stations and airports, and then take local transport like buses or auto rickshaws to the venue. Or you could hire private transport like taxis. Since there is a trek, you can leave your car behind once you reach the spot.
Interesting Facts and Trivia About Brahma Temple
Lord Brahma is worshipped here, and legend has it that the surrounding lakes were created three in number, the upper or large, the middle, and the lower.
Lord Brahma also performed a fire sacrifice here, and the spot marks the place his emblematic lotus fell.
A lot of the temples of this area were destroyed in plunders, around 4/5ths, and this was one of the few that were resurrected.
Nearby attractions
Savitri Temple.
Gayatri Temple.
Apteshwar Temple.
Nearby Restaurants
The Funky Monkey Cafe.
La Pizzeria for Italian Food.
The highly-rated Om Shiva Garden Restaurant.
The Brahma Temple in Pushkar is a one of a kind tourist haven that sticks out forever in your mind due to a number of food reasons. Maybe it is the architectural profundity, maybe it is the glamour of the days gone by or the sheer stunning visuals all around.