Visitors Information
Famous For: Adventure, Photography
Entry Fee: No entry fee is required but the safari costs minimum 1000 INR per person.
Visiting Time: Preferably from 9 a.m. to 5 p.m. for booking.
Visiting Duration: As long as your package duration is with the minimum duration being 2 to 3 hours.
Pushkar is the land of the pilgrims if we are told to describe it in only a few words. However, not many tourists know that it is one of the best places for camel safaris in the world. Most of the tourists are under the impression that Jaisalmer in Rajasthan serves as the best place for camel safaris in India. However, it must be stated that the variations in the different kinds of safari packages offered in Pushkar is marvelous. From a few hours around the changing sand dunes to a fortnight, the tourists can enjoy exotic camel rides throughout Rajasthan starting from Pushkar to make their trip truly adventurous and extremely memorable.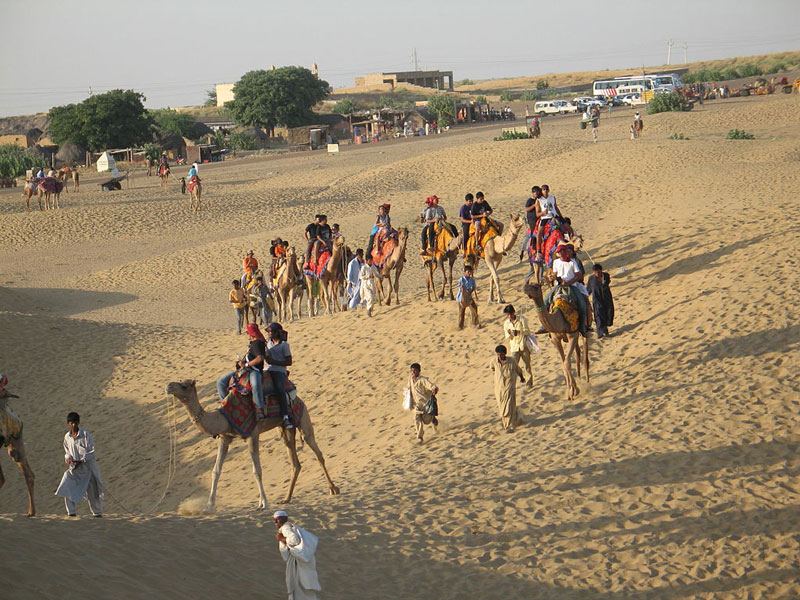 Traveler Tips
Carry sufficient amount of water with you and remember to put on your shades and your hat to beat the sunrays from giving you a tan.
Carry a camera with you to get a hand at photography as the rustic sight is majestic and deserves to be captured.
Wear something light if you are travelling during the day on any time of the year. If you are taking the safari on a winter night, then carry warm clothes with you because it gets chilly as soon as after the sun sets.
Carry enough dry food with you if you are going on a camel safari for a long duration because since you will be going through the remote villages, you might not get a place to eat at.
Carry a power bank as battery of your phone might become dead while you are bang in the middle of a desert where there is practically nothing but enormous sand dunes and a few cacti.
If you are visiting at the peak season, the package price will get increased by quite a big percentage.
Things to Do There
Tourists can go for a camel ride for a few years around the town and visit the famous tourist spots.
Watching the sunrise and the sunset amidst the golden sand dunes while being seated upon a towering camel is a huge attraction that is loved by all the tourists.
You can even go for a trekking trip to Nagaur, Jailsalmeer and Mandawa on a camel for 3 to 4 days or a trip across some of the greatest towns and cities of Rajasthan for as long as a fortnight by booking a special package.
Availability of Guides
There are no such guides available. The shepherd himself will guide you in Hindi or Rajasthani, the language you are comfortable with between the two, as you set out for your share of an adventure. If you need a guide speaking in English or any other languages, you will have to contact your tourist agency or your hotel's travel manager who will make the arrangements for you.
Best Time to Visit
The temperature is unbearable in summer. So, November to February is the best time to go out for a camel safari.
How to Reach the Place
Ajmer is the nearest city to Pushkar and is about 11 km away. You can reach Pushkar from Ajmer in a cab, private bus or a private car as per your convenience.
Interesting Facts About the Camel Safari Tour in Pushkar
It is available 24×7 all the year round on prior booking as well as spot booking.
It is one of the best adventures offered in Rajasthan.
Overnight camel safaris are also organized.
Through these camel safaris, you will get to see the real rustic and remote village lifestyle in Rajasthan.
The beauty of the true and non-commercialized places of Rajasthan can be enjoyed.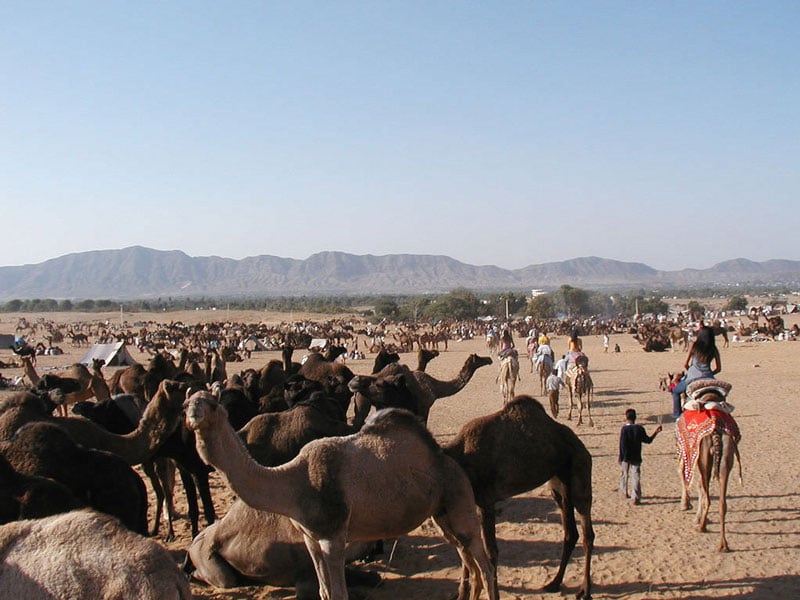 Nearby Attractions
Pushkar Yoga Garden
Pataleshwar Temple
Raghunath Mandir
Savitri Temple
Nearby Restaurants
Rainbow Restaurant
The Laughing Buddha Café
Sunset Café
Moon Dance
Fragrance of India
The camel safari tours that are offered in Pushkar are one of a kind and these adventurous trips must be experienced by each and every traveler who wants to visit the real desert regions and the architectural wonders of the state of the royal kings, Rajasthan. Thus, it is recommended that every tourist must try out at least one of these packages to enjoy a marvelous trip altogether.