Visitor Information
Popular For: Nature Lovers, Picnickers, Wildlife Enthusiasts and Photographers
Entry Fee: Entry Pass from Kerala Forest and Wildlife Department
Visiting Time: Day Time (8am- 6pm)
Visit Duration: Not Applicable
Vazhachal, one of the foremost waterfalls of the mesmerising southern india state kerala, is a gem. Together with Athirapalli, Vazhachal makes a garland of waterfalls adorning the Chalakuddy river in the town of Chalakuddy. This ethereal lies at a distance of mere 5kms form Athirapalli and conveniently falls within the east chalakuddy jurisdiction. It stands adorning the mighty Sholayar range at 1000 ft height. On the edge of this precipice lies these to spell-bounding waterfalls Vazhachal and Athirapally. Though athirapally is regarded as the largest waterfall in this southern state Vazhachal isn't far behind. With its rainforest charm and fountain of gushing white streams Vazhachal is represents the quintessential Malabar. Straight out from E. M. Forster's Passage to India. The western ghats unleashes is beauty here with a vast range of wildlife and flora and fauna. All of these makes Vazhachal quite a formidable location of Nature Lovers, Photographers and Wildlife Enthusiasts. Similar to Athirapalli, Vazhachal too is quite famous as a picnic spot. Its relatively calm quiet ambience and serene natural beauty makes it a good picnic spot.
Traveller Tips
You are going to cover an uneven forest terrain by foot. So dress accordingly and wear comfortable shoes.
As it is a remote area food and water will not be available. So come here well equipped.
Keep in mind you are visiting a forest terrain. Hence don't leave lighted matchsticks and cigarettes here and there.
Remember the water is quite shallow here. So you can easily travel through the waterfall but be careful, rocks and boulders can be slippery.
Unlike Anthirapalli this isn't that much deep. Hence swimming and bathing are prohibited here.
Things to Do
Relish the scenic beauty of the place.
Take a walk through the shallow waters of the waterfalls
Enjoy the day away from the hustle and bustle of city life. Relax and unwind with your family and friends
Don't forget to visit the riparian vegetation, an interesting part of this forest.
Explore the place and catch a glimpse of some delightful birds and animals.
Capture the beauty and ethnicity of the place. Unleash the shutterbug hidden in you.
Availability of Guides
Similar to other places set amidst nature, this too doesn't come with the luxury of guides. Guides are a hamper in enjoying waterfalls, lakes, mountains and places of this kind. Here local folks and ordinary town dwellers are enough to provide you with proper direction and then leave you on your own. Hence, guides aren't available here.
Best Time to Visit
The strength of the river and the waterfalls are best understood when they are fully flooded with water. Thus monsoon and winter are times to visit the place. The summer months of April-May-June aren't that happening as the water level is low. Monsoon and winter is the ideal time to visit. However the heavy lashing rains can prove to be difficult in travelling in a rainforest. Hence the most monsoon months seems most comfortable. September-October is the most favourable time to visit.
How to Reach
The Chalakudy town is 36km from the waterfalls.  Thrissur lies at 63kms and Cochin around 58kms. The nearest railway station is Chalakudy at a distance of 30kms. Thrissur railway station lies at 55km and Cochin airport at a distance of 68km. The Ernakulum railway station is a decent 2 hour ride from here. The place is well connected via road to Chalakudy, Thrissur and Cochin, all of which can be easily accessed by buses or cars.
Interesting Facts and Trivia
The Chalakudi river flows into Vazhachal after originating from the Anamudi Mountain Range.
They region has herbal plantation cultivated and maintained by the forest department.
Dream World Water Park and Silver Storm Water Park are 2 amusement park lying within these falls.
It lies 5 km upstream to Athirapalli Waterfalls.
It has a height of 249 metres.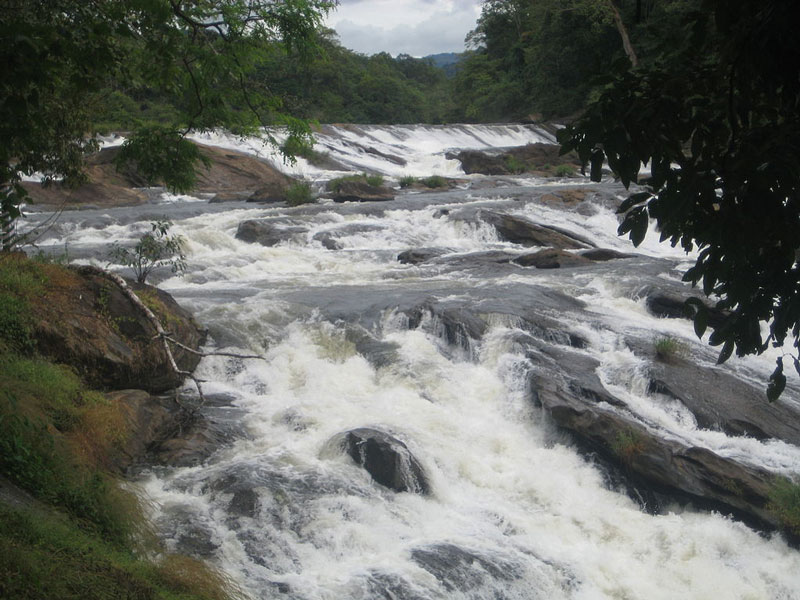 Nearby Attractions
Athirapalli lying within 5km of Vazhachal is the most sought after tourist destination nearby
Other than that the area has a range of waterfalls and dams within a few kilometres of it. This includes the Charpa Falls, Peringslkuthu Dam, Thumbormuzhi Dam and Garden, Idamalayar Dam, etc.
Ezhattumukham nature village lies within 3kms of Silverstorm water park. Hence lies within 10km from the Vazhachal.
The Chalakudi river and the Sholayar Dam are must visit destinations of Thrissur found in the vicinity.
Annakayam or Elephant's pit lies 20km from Chalakudy.
The Malakapara tea gardens lie nearby.
Nearby Restaurants
The closest eastery is DJ Bakery at Malayatoor road 20kms from Vazhachal.
There are some eating options in South Chalakuddy like Rose Bowl and Midnight Cruise.
Quite a number of excellent restaurants are there in Thrissur like the Indian Coffee House, Pathans, Noorjehans Hot Pans etc.
Water Gate in Athirapalli and Bethania Garden Restaurant at Thumbormuzhi are good options lying close by.
Overall, Vazhachal one of the twin gems lying near this temple town Thrissur is a sight to behold. With all its magical charm it embraces all kinds of people with an open heart. So hurry up and head to take stroll over the waterfalls. The waters are waiting for you.